One of the UK's Fastest Growing Franchises Working With Major UK Housebuilders with 100% Unsecured Government Funding Available
A Totally Recession Proof Business with Huge Demand In a Growing Sector…
Launched in March 2021 The Snag Doctor Network continues to grow with over 20 Territories taken across the UK.
You will be working with some of the largest names in the UK Construction Industry, giving them  a High Quality Guaranteed Service to invisibly fix all hard surfaces.
Your Service Is Totally Invaluable To Them…
Huge Cost Savings – We Save up to 85% on the Cost of Replacements
Vital Time Savings – Builders Can Hand Over Finished Properties Many Weeks Earlier
Massive Carbon Savings – Massively Reduced Transport and Landfill
You will be part of a huge growing sector with house building being at the centre of all political agendas…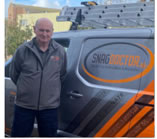 "The size of the market is absolutely massive. We concentrate on the Major House builders but there's lots of other industries we're getting into, such as letting agencies and council housing, hotel chains, the list goes on…"
Peter Lightbody – Snag Doctor Franchisee Hampshire
Exceptional Training and Support…
We have developed a high quality training course (4 week Head Office) and a suite of video tutorials. This is backed by a support team who are there to answer all and every question you have. We have trained numerous technicians over the years.
100% Funding Available…
We are very pleased that you can use the Government backed start-up Loan Scheme to purchase your franchise, and that this scheme can not only help fund the purchase of your franchise but also with initial working capital.
We work with a specialist Start Up Loan Consultancy who will submit your application with you having already done the Business Plan, Cash Flow, Profit and Loss and SWOT Analysis – This service is completely Free of Charge.

"It's not something that's out of anybody's reach, because the support that you've got there is immense. There is 3 to 4 years of case studies and Before and After photos which we use when approaching clients…in 10 months we have a strong foundation of Large House Builders that we work with now. In 3 years time we probably expect to have 3-6 operatives out on the road for us…this is something i'd urge anybody to do!""
John Hughes – Snag Doctor Franchisee South West
Exceptional Customer Retention Levels…
Your business model which is built around providing high quality guaranteed repairs and exceptional service will certainly be very much welcomed by your customers and you and your team will become totally invaluable and strategic partners of each Builder on an ongoing basis.
The House Building Industry Has Committed To Large Carbon Reduction Targets…
…and your service will significantly reduce the Carbon Footprint on each site you work on
Great Earnings and Profitability…
With anticipated earnings in excess of £50,000 Year One your business can grow to profit levels in excess of £130,000 by the end of Year Three.
Every Technician you take on is worth an additional £2,000.00 per Month to your Bottom Line Profit.

Our Exceptional Franchise Blueprint Will Grow Your Business Quickly and Profitably…
100% Unsecured Government Funding Available
A Growing Market With Huge Support For House Building
Numerous Markets Where Your Skills Are Valuable and In Demand
No Royalty Fees Until Month Four
Excellent Cash Flow
Website and Social Media Set Up
Company Set Up, Accounting and Tax Professionally Handled For You
Long Term Customer Retention
A Totally Recession and Covid – 19 Proof Business
Full In Depth Technical Training For 4 Weeks at Head Office
A Dedicated Support Team
A Fully Protected Large Scalable Territory
Ongoing Technical Updates and Support
An Ethical Approach with High Quality Repairs and Exceptional Service
Our Ideal Franchisees…

Please understand we are looking for serious business people to develop hugely profitable businesses in their area. This is not a man and van opportunity and although the first year may just be you alone we are keen for our Franchise Partners to grow their business as we know they can.

"Before I'd left my training, I had jobs lined up already… I didn't have any previous experience in snagging but John and Chris teach you everything with their proven blueprint…"
Stuart Todd – Snag Doctor Franchisee East and North Yorkshire
You need to be an ethical and honest communicator who is prepared to follow our Partner Blueprint which we know will guarantee very quick and ongoing profitability.
For immediate access to our highly informative website and prospectus including; case studies, your projected earnings report, franchise package, customer testimonials and much more, complete the form below to learn more.