Franchise Magazine
Franchiseek Franchising Magazine
As sponsors of the Franchiseek franchise magazine, we're delighted to bring to you the latest issue which is packed full of franchising news and exclusive franchising columns from proessionals.
Franchiseek Magazine is released monthly and includes regular columns from professionals including franchise finance, franchise marketing, legal, HR and more. Professional regular columns change each month, whilst the rest of the magazine is packed with franchise business news, franchisee case studies, and also general franchising discussion from the Quality Franchise Association and their members.
Franchise Magazine Latest Issue
You can read the latest franchise magazine issue below. The magazine is dynamic in that you can contact the franchises and professionals by clicking on their profile links from within the magazine.
Promote Your Franchise To Over 40K Subscribers!
Reach a massive 36,000 franchise prospectus plus a further 4,000 franchisors and suppliers with a Franchiseek digital magazine inclusion!
Benefits of Franchise Magazines
Technology has come a long way over the past 20 years, but magazines still remain a popular choice. Franchise magazines such as Franchiseek enable both tech savvy and newcomers alike to confidently browse franchise opportunities and read the latest franchising news in the format they so enjoy.
Digital franchise magazines are cost effective in that they can be shared by email, rather than in print. This is not only beneficial for the environment, but is quicker in terms of distribution as well. From within the magazine, articles can be hyperlinked directly to sources and websites, one of the advantages over printed magazines which would otherwise display telephone numbers or long URLs (which may be miss-typed and miss out on more information).
Why Feature in Franchiseek Magazine?
Enormous database of 40,000 readers
Digital magazine with clickable buttons, links and images
Direct link tracking integration with Franchise UK lead software
According to Statistica, more than half of people read digital magazines at least once a month, compared to printed
Include text, images and even embed videos into the magazine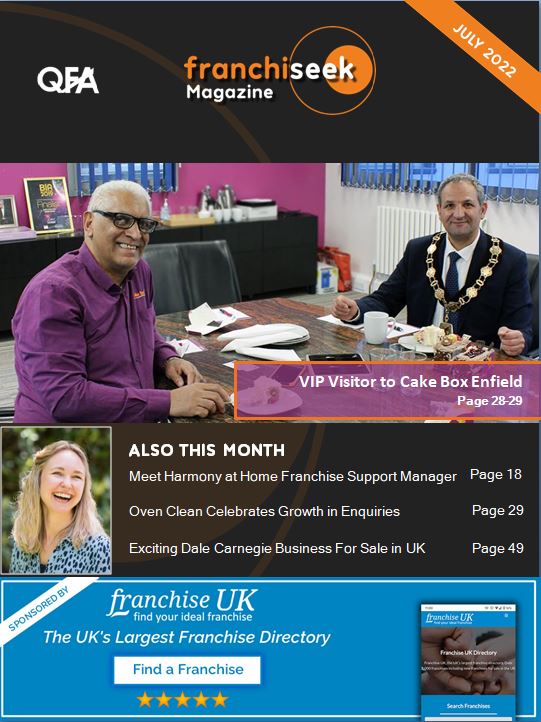 Discovery Days
Franchise Adverts
Case Studies & Franchisee News
Franchisor Interviews
Promote Products & Services
Discovery Days
Franchise Adverts
Case Studies & Franchisee News
Franchisor Interviews
Promote Products & Services
Discovery Days
Franchise Adverts
Case Studies & Franchisee News
Franchisor Interviews
Promote Products & Services
Discovery Days
Franchise Adverts
Case Studies & Franchisee News
Franchisor Interviews
Promote Products & Services