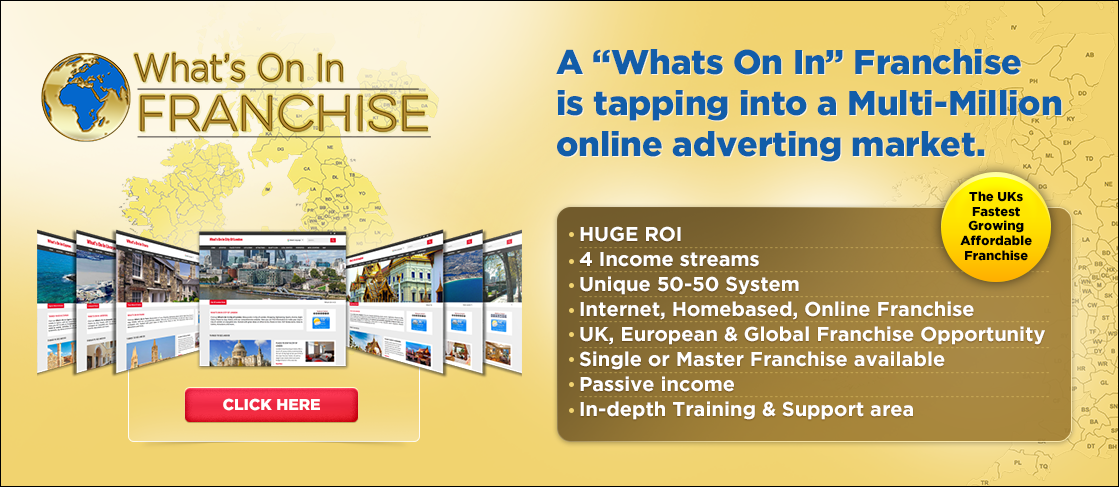 A "Whats On In" Online Franchise

A "Whats On In" Online Franchise

A "Whats On In" Franchise - UKs No 1 Leading Homebased Online…

Read More

Fantastic Services Franchise Opportunities

Fantastic Services Franchise Opportunities

Master Franchise Opportunity

Master Franchise Opportunity

Burgerim Franchise

Burgerim Franchise

What Are Master Franchises?

In order to understand what a master franchise is, we must first understand the definition of master franchising. Master Franchising is a relation between a franchisor and a franchisee in which the latter becomes a mini extension of the former in a specific geographical area or territory.

What is a Franchisor? Well a franchisor is a producer/company that gives contracts to others (franchisees) and allows their services or products to be marketed and sold under their patented name and cost structure. The power to make changes in products, distribution frequency and pricing rests with the franchisor. So basically, a franchisee is the person or persons who are appointed on a contract with the franchisor in a specific area. This franchisee is responsible for running the franchise successfully while following majority of the SOPs and protocols set by the master franchise. In return, the franchise pays the franchisee either a percentage of the profits earned from the sales transacted or a fee pre-agreed upon in the agreement signed.     

In master franchises, the franchisor signs an agreement and gives control to the franchisee and allows him/her marketing control over his franchise in a specific location. This method is a way adopted by giant franchises to extend their products and services to other areas, branching out over different states and countries, run by the locals of the area for more effective sales. This approach is selected by franchises for a speedy and quick spread of their products and involves little initial capital risk.

An example of such master franchise opportunities is McDonald's. They have effectively spread their franchises all over the world. Each franchisee operates in accordance with the specific area it is located in, adapting menu changes and prices. In Hindu majority countries, beef Big Macs are replaced with chicken and fish and in majority Muslim countries, Pork is replaced with beef, fish and chicken. Their prices are altered to include taxes and toys in Happy Meals are changed with what is popular in each country. The McDonald's franchise has handed over their products and pricing to the franchisee but the marketing and how they are advertised is the responsibility of the franchisee of each location.

Master franchise opportunities involve a technique of international expansion. It saves the franchisor the time consuming and stressful task of introducing their franchise in international waters. It is cost effective as the majority of work involving training, briefing and marketing of the product is outsourced to a franchisee local to the area. A qualified master franchisee of the local area will bridge the language as well as cultural barriers. It is a symbiotic relationship between two partners as both benefit from each other's money. One buys an already established and setup business and couples it with their own expertise of their geographic location, and moulds it to suit the needs of the market. It is considered a fruitful partnership where both partners benefit from the expertise of the other. Many international clothing brands, fast food restaurants, sports good stores and even whole sale stores are using this form of contract to expand all over the world.