Clear Brew
Professionally Cleaning beer lines since 2006
Our tried and tested methods, along with our own unique portable, water-fed mixing units, market-leading chemicals and industry tested inhibitors, mean that our eco-led repeat line cleaning service reduces costs, cuts waste, minimises risk, maintains and in most cases, improves draught beer line quality. With no upfront costs and seeking no contracts, Clear Brew becomes a vital repeat service that are customers come to rely on and are happy to endorse.
We have a nationwide network of highly trained franchised owner / operators who really care passionately about what they do by providing a transparent service that really adds value to any operator in today's licensed sector. We have just welcomed our 50th franchisee, committed and signed up to all the major trade shows, focusing on nationwide brand awareness and coverage. There really has never been a better to time to get involved!
Clear Brew are looking to continue to expand nationwide and are seeking highly motivated individuals who are enthusiastic, good communicators and have a desire to succeed.
By choosing Clear Brew Ltd, you can become your own boss, running a highly successful franchise with your own huge, protected territory, a training package, a full equipment pack, marketing launch and full on-going support.
This really is a golden opportunity with a complete package at only £17,500 plus VAT. You can run your business from home and enjoy benefits such as low overheads, an excellent daily cash flow, high profit margins and massive growth potential. The franchise offers a vital repeat service to your customers, regardless of the state of the economy. Further to this we are now proud to have become members of The Approved Franchise Association, which has adopted the Code of Ethics for Franchising from the European Franchise Federation.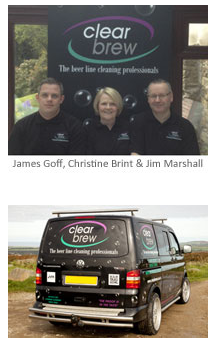 Clear Brew Franchise Testimonials
"I was looking to improve my work life balance; as a retail area manager I was working 24/7 and was a slave to the 'Blackberry and emails'. I realised to achieve the change I needed I would need to be self-employed, so had been looking at potential franchises on and off for 2 or 3 years. Clear Brew ticked all the boxes:
The variety of clients and venues keeps it interesting and fun, I am making a comfortable living as an owner/operator in less than 6 months, and with the size of my territory and the margins available I will be able to grow the business and further increase my income by taking on staff. I now have time to enjoy life!!!"
Alan Chick, Clear Brew Taunton
"Twelve months in and I can certainly say it's the best decision I have made in terms of work.
Clear Brew provide a regular and dedicated professional beer line cleaning service. We clean both keg and cask lines providing a fully managed service designed to maintain quality on a regular repeat 3 weekly cycle. Using a specialised water fed mixing unit, coupled with inhibitors, plus market leading chemicals.
This service is guaranteed to save our customers money, reduce their waste and improve the quality of their draught products, in turn it will also reduce their risk and maximise yields and add real value, profitability and sustainability to their business. My business and that of the other Clear Brew operators continues to grow, and my initial concerns of going it alone were unfounded and I now find myself enjoying being part of a large national team with great support, yet with the rewards of operating my own business."
Mick Woods, Clear Brew Preston