Why Advertise with Franchise UK?
0
Leads
Generated in last 12 months
£
0
Advertise from less than £4 per day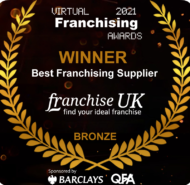 Franchise Advertising
Franchise UK was established in 2004, is the largest franchise advertising portal in the UK , since then we have provided franchise advertising generating cost effective franchise recruitment leads for franchising brands in the UK & globally. In addition to generating UK wide franchise recruitment leads via Franchise UK for franchisors seeking to advertise a franchise internationally we also own www.franchiseek.com, a global franchise directory established in 1999 that promotes franchising in 60 countries world-wide.
Why advertise my franchise with Franchise UK?
We have provided franchise advertising generating quality franchise lead generation for over 19 years. Many of our clients that have decided to advertise a franchise with us we have worked with for many years, please see a small selection of our franchise advertising testimonials below.
Franchise lead generation using state of the art technology
Included in all advertising packages is access to our state of the art franchise lead platform so you can easily review both quantity and quality of the franchise leads we generate for you. For those using CRM's our franchise lead platform also integrates with over 1,000 app's and CRM's via Zapier.
What Client's Say
"Joel and the team at Franchise UK have delivered unflinching support and help in our latest Snag Doctor campaign. This has directly resulted in a new Franchisee from Cumbria currently undergoing training and a second great addition to the team now ready to join us in the Newport and Cardiff Territory.

Great work guys and looking forward to working with you on multiple brands throughout 2023″
Thank you to the Franchise UK team for the seamless setup of our listing. The number of applicant responses has certainly exceeded our expectations, and they began the moment our listing went live. The reporting tools are helpful too and give us a clear view of who is applying.
Great customer service & in less than 2 months we have recruited 3 new franchisees from our Franchise UK advertising!
Having promoted our Franchise offering with "all the usual suspects" we have withdrawn from them all except Franchise UK. They are the only "Franchise for Sale" site that have truly partnered with Pink Connect, taken the time and trouble to really understand our needs (something everyone promises but no one else has done post payment). With no profit agenda they have kept in touch, invited us to events they have created and hosted, promoted us with many unique projects, not because that's what they originally said they would do, but because it has made a difference. We rely on Franchise UK for a constant stream of quality enquiries as a major part of our UK expansion. Thank you.
We already had a fantastic franchise business model tried and tested and working well for for our business partners, we just needed to send more of the right people in our direction.  We took the decision to put our faith in Franchise UK's leads generation platform, we are delighted to have made this decision, the promises are genuine!
We Joined over 4 months ago and have received an impressive 150+ leads to date. They are a Great company to deal with and also value for money which everyone looks for.
We work with a number of lead generators and have found our time, effort and money is spent wisely with Franchise-UK. Joel and his team not only deliver an all-round service to suit you and your budget, but also work hard to generate a good flow of leads, some of which are exceptional. We're working closely with another of their high quality lead enquiries right now who has reserved his territory and is completing his due diligence. We highly recommend Franchise-UK
During our first year of advertising with Franchise UK we received a really healthy number of new leads and have recruited one new person to our team, with a number of other good quality conversations ongoing. We've found Franchise UK to be well-run and easy to work with and would recommend Franchisors to try out advertising with them.
Having for 15 years worked with most of the franchise directories and having experienced the good bad and the ugly it was a pleasure to recently work with Franchise UK for the creation of leads for the recently launched Dice Box franchise. Our recent discovery day last week was a tremendous success with one territory reservation received within five days of the event and considering that it was totally supported through leads only generated by yourself I think is a great testament to the quality and number of the Leeds you produced in a relatively short time. It was refreshing to be speaking with leads that knew of our franchise and had a genuine interest and this saved a tremendous amount of time compared to when dealing with leads produced by others the normal trawling through conversations with individuals that cannot remember their inquiry or are speaking with so many franchisors that they are unable to make a logical decision. I certainly would have no hesitation in being able to recommend you to other franchisors that either have a discovery day to promote or wish to create genuine interested Leeds. We are looking forward to working with you again to support our next up and coming discovery day which we have immediately arranged based on the success of our first.
Request a Franchise UK Advertising Media Pack
Why Advertise with Franchise UK?
| | |
| --- | --- |
| | If you would like to find out more about advertising your franchise with Franchise UK, and to request a free Franchise UK Advertising Media Pack, please fill out the form or contact Joel Bissit as below. |