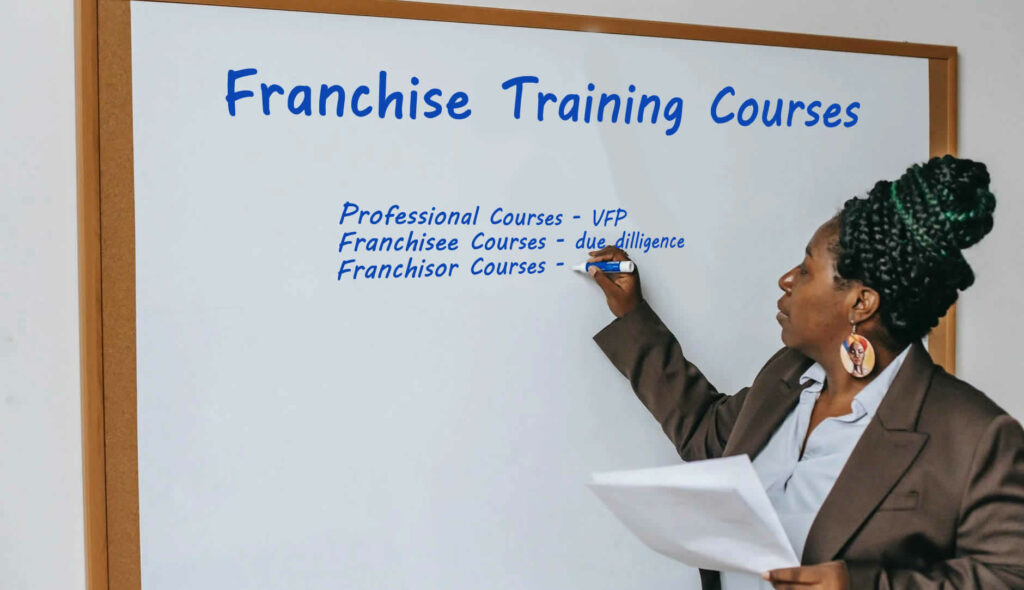 Franchise training courses
A franchise can be an appealing option as a business structure, with a large number of advantages. It is a popular choice for entrepreneurs looking to launch a new business, without the associated risks of going it alone.
Franchising provides the opportunity to operate under the trusted brand of an established business, backed by its ideas, operating methods and other support, such as franchise training. It offers tried and tested methods already in place, ready to be given each franchisee's personal touch at each new location.
The Quality Franchise Association have partnered with RUNO to bring a range of training courses for both franchisors and potential franchisees looking to get into franchising.
The training courses enable entrepreneurs to benefit.
Educate about the documentation within franchising such as the franchise agreement
Steps to take when buying a franchise
Steps to take when franchising a business
The parties involved when franchising such as the franchisor, franchisee and consultants
Due diligence
Franchise training programmes
Franchise training courses help the franchisee to launch and grow their business. They also help the franchisor, who wants the person representing their company to be successful. This means ensuring they have the required skills to succeed.
Successful franchises offer training programmes for every new recruit as a matter of course, no matter what their previous background is. The training can take numerous different forms, including onsite training and headquarters training. The QFA / RUNO franchise training courses can be used by franchisors to educate prospects about the basics of franchising.
As well as the QFA franchise training courses, most franchise businesses will offer forms of initial training specific to their business, such as training at HQ. Headquarters training has its own particular benefits, as it enables new franchisees to feel a part of the company, meeting the support team and seeing the operational methods at the outset. The support team will be an ongoing asset to help grow the franchisee's business.
It normally involves a mixture of training techniques to suit the learning style of most franchisees. It will help them to grasp the functional techniques and knowledge to operate their franchise properly, once they go at it alone.
Franchise training benefits the franchise as a whole, rather than just the individual new franchisees. When everyone gets to meet the team and discuss the business's future, it can boost team morale for everyone as a collective.
Less work and costs
Operating under a known franchise brand means far less work and costs involved in establishing the brand in the marketplace. The chances are it will be known already. The goal is that this will attract a steady stream of brand-loyal customers from the outset.
Another advantage of franchise opportunities is the way investors seem more willing to plough their money into a business with an established network, known brand and effective support structure.
Each franchisee can reap the rewards of established business relationships within the franchise, such as the distributors and suppliers. There are also advantages to having established relationships with marketing teams and advertisers, which will aid any new start-up.
The added support and security of a franchise can instil more confidence in the new franchisee, especially when franchise training courses are on offer. Franchisors can provide training schemes to hone the franchisees' skills in sales, advertising, managing the accounts and more.
There are lessons which cannot be taught through franchise training courses, nor classroom training with the franchisor and this is onsite training.
Onsite training
Onsite training can be tailored on a more personal level to cover areas where the individual franchisee is lacking knowledge. The trainer will be able to adapt their training methods to suit the needs of the franchisee without a strict structure being put in place.
Even though all of the topics in the manual may have been covered during HQ training, franchise training onsite will enable new franchisees to cover specific areas again if necessary.
As the onsite training normally takes place in the individual's place of work, it means they can practice how to operate on a regular working day, with the assistance of an experienced trainer there to guide them if they get stuck.
Ongoing franchise training
Although ongoing support is not always considered to be training, it fulfils an important role in providing additional training after the initial sessions. It is an asset for any new franchisee to have ongoing support on an everyday basis to help them run their business.
Everybody needs support at some point, and just because the initial franchise training course is over, this doesn't necessarily mean every new recruit will know exactly what to do in all aspects of their business.
Having a helping hand from an expert with previous personal experience of being a new franchisee can be invaluable in ensuring everyone gets the answers they need to move forward and grow.
Research shows training courses are useful – in fact, 68% of employees feel training and development is the most important policy their company has to offer. Once they have started out on the career ladder, 76% say career growth opportunities are crucial to keep them engaged.
Sadly, 74% of employees don't feel they are reaching their full potential and would like the extra push that training can offer.
Higher profits
Research also suggests a 24% higher profit margin can result from companies investing in training. When you put this statistic in a franchise setting, it further emphasises the importance of proper training.
Furthermore, market research shows the customer experience can make or break a brand, with 86% of consumers saying they will pay more for a better experience. Continuously improving the customer experience is dependent on the staff being able to deliver, so having the appropriate training is paramount.
Companies with engaged employees outperform their competitors by an amazing 147%. Almost four-fifths (79%) of employees of companies that deliver an above-average consumer experience say they are highly engaged in their jobs.
Noting these figures in relation to franchises suggests enjoyable and useful franchise training courses are a crucial way for any franchisor to heighten franchisee engagement and improve the customer journey.
Whether you're a franchisor looking to find aspiring and talented new franchisees to expand your operations, or whether you're considering becoming a franchisee yourself, contact us for further information on the available franchise training opportunities.