Dial a Dog Wash Franchise
£16,995 + White Van
Franchise Description :
A Dog Lover's Dream - Dial a Dog Wash is one of most famous and well-loved dog grooming service providers in the UK
Finance:
Yes through a third party
Contact Name:
Franchise Recruitment Manager
Love Working With Dogs? We've Got The Franchise For You!
Dial a Dog Wash is one of most famous and well-loved dog grooming service providers in the UK. We specialise in dog wash services which include full clips or trims, intensive shampoo and coat conditioning, hand drying and styling, nail clipping and I.D. chipping.
Our customers keep on coming back as we offer optimal convenience, less pet stress, one to one attention, no cage drying and all-natural products. In addition, all our groomers and employees are accredited with certificates from the DADW training academy.
Dial a Dog Wash is a business operating on a market which sees growing demands in the UK. The pet industry is worth £6.1 billion a year and it shows no signs of decreasing. However, it is not only us and our franchise partners who benefits from our services as our customers rest assure that their dogs are really well-taken care of as we only use products that are environment friendly and is specifically suited for all types of dog coating. With a great market and with high quality products and services, a Dial a Dog Franchise is worth venturing in as the possibilities are endless.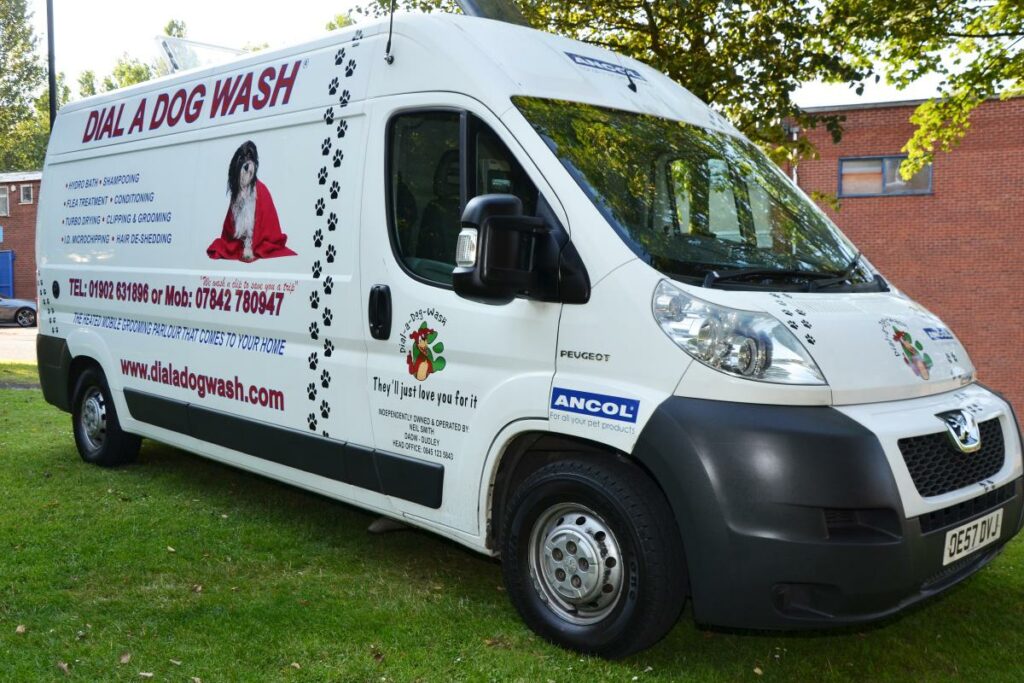 At, Dial a Dog Wash, we acknowledge the trend and growing demand in a premium but affordable dog grooming services and are committed in keeping up with the demands. That is why, we are encouraging entrepreneurs who want to share our successes through franchising. Experience in the field is not necessary but franchisees need to have a natural love for pets.
There are three ways in which you can become a Dial a Dog Wash Franchisee:
Brand New Franchise – The complete Dial a Dog Wash franchise package

Sub Franchise – The complete Dial a Dog Wash franchise package, alongside an area with an existing franchisee that has overflow work readily available

Resale Franchise – An established territory with existing customer base
Our new franchise and sub franchise opportunities require an investment of £16,995 + VAT plus a white van, and our resale opportunity prices will vary depending on area. Get in touch to learn more about our pricing structure and what's included.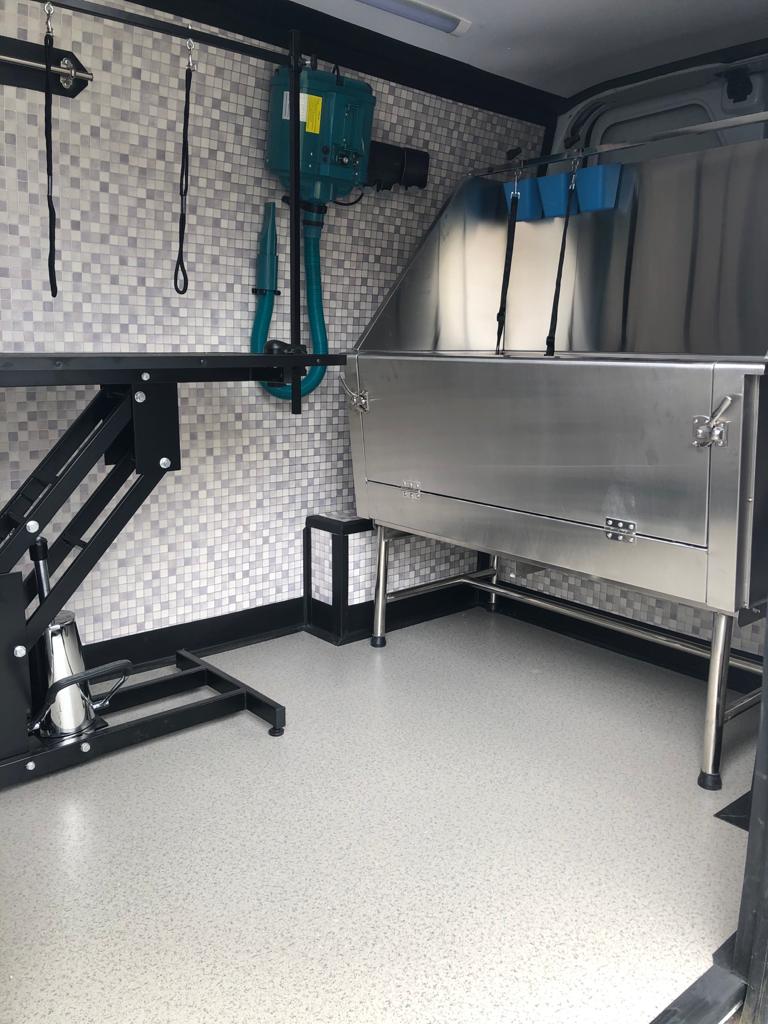 Full Training & Support Provided
As we are dedicated in keeping our standards high, new franchisees will undergo a comprehensive and extensive training programme. This programme will include topics such as intensive grooming training and marketing strategies and is done to ensure that the franchisee is fully equipped with knowledge in handling the business and in maintaining the standards required. Other perks that will be provided to the new franchisee are live interactive access to our Dial a Dog Wash forum, full back up and support, annual meeting with fellow dog groomers, 12 months public liability and discounted rates with grooming suppliers. In addition, you will also receive leaflets, business cards and other promotional materials to help advertise the brand in the local area.
Andy and Helen James started Dial a Dog Wash in 1999 in the UK after experiencing the mobile dog grooming operation in the United States. Demand grew quickly paving way for a franchise opportunity to duplicate the service in the UK. Today, with Dial a Dog is one of the leading dog washing service providers in the UK in a franchise type business model.
If you'd like to become a franchisee with Dial A Dog Wash, we can't wait to hear from you. Simply click below to make an enquiry and we'll send you our franchise prospectus which includes much more information.
Pet Franchises
With a reported 44% of UK households owning a least one pet, there are many Pet Franchises to help pet owners care for their pets. The health benefits of pet ownership, have long been known and pet owners are prepaid to pay to keep their pets healthy and looking good.
Ranging from grooming services to pet food delivery, vets to boarding services. There really is a pet franchise that may appeal to you. The old adage of never working with animals doesn't apply! If you like animals, a pet franchise could be the right business for you.
A pet franchise can offer a good life work balance and a lot of job satisfaction, with training on the business method and an abundance of customers in your local area requiring your product or service to help cater to their pets every need. With customer retention and loyalty high in this area of business a pet franchise may be worth careful consideration.
Browse More Pet Franchises Below
Van based Franchises
Van based franchises are a popular choice for many people seeking a new career opportunity. With a van based franchise there is a huge variety of options available offering freedom to run your business without necessarily needing to employ any staff or allow incur large overheads connected to commercial premises, shops etc. So what types of van based franchises are available?
Home Improvement & Disaster Recovery 
These services are at the top of the list of insurance companies & homeowners in a time of crisis, when there is a disaster at home, such as a fire or flood and many several franchise networks have been grown into national networks just supplying major insurers.
Courier 
This type of van franchise is an attractive option for many franchise seekers, who like to be out and about dropping off parcels to businesses and homeowners. Courier franchises can be flexible and some are low or even no investment and sometimes can even be run alongside an existing business or full or part-time job to create even more flexibility.
Oven Cleaning 
Many homeowners and businesses recognise the efficiency of professional oven cleaning. This business is a great source of repeat business as well as of course the oven will need to be cleaned on a regular basis.
Mobile Coffee Shop 
Coffee shops have grown to a huge size in the UK and is worth billions to the UK economy but there are now mobile coffee shop franchises that can tap into this growing market. The beauty of this sort of franchise is that you can take a quality product to areas that may not have had a major coffee brand nearby such as offices or industrial premises in retail and/or industrial estates. They also benefit from far lower overheads compared to retail coffee shops which are usually in expensive, prime retail locations.
Auto Car Repair 
Car scratch, bump and windscreen repairs have become increasingly popular with car owners wanting to keep their vehicles looking good. These automotive franchises specialise in many automotive services including alloy wheel repair, dent and scratch removal, windscreen repair & mobile tyre replacement.
Cleaning 
Both commercial cleaning & domestic cleaning are services often contracted by businesses and homeowners. These franchises can provide specialist cleaning services such as carpet and rug cleaning, as well as regular household and contract office cleaning.
Gardening 
Us Brits love our gardens and are prepared to spend, spend, spend to keep them looking good, there are many different type of gardening van based franchises available.  The specialist services provided include professional lawn care and maintenance, fencing, garden design and landscaping. If you enjoy working outdoors gardening franchises could be a viable business option.
Browse More Van Based Franchises Below