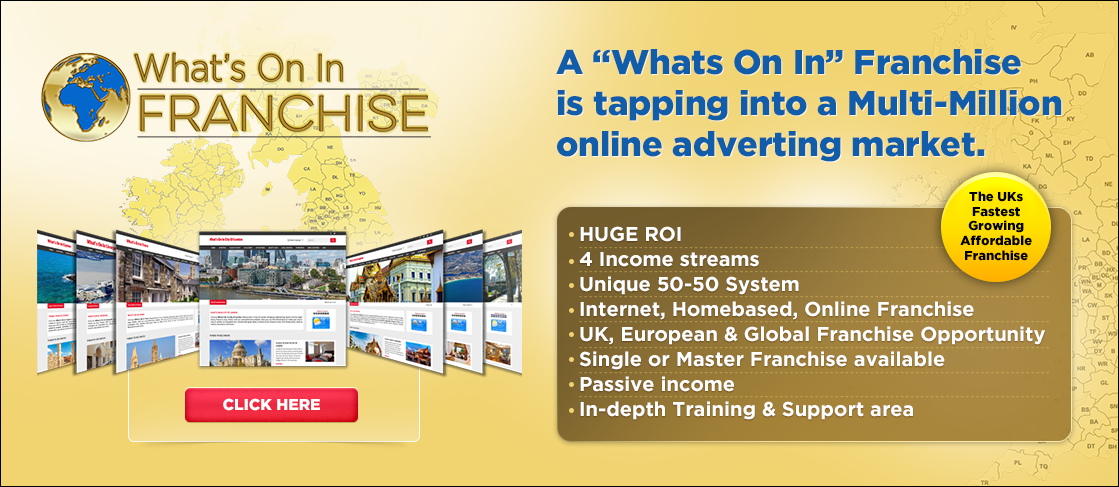 The "What's On In" is a unique Home Based Franchise that can generate you a main Monthly Income from within your OWN "Exclusive" Location, Post code area, or Territory. Allowing you to take a share of the Billions that is spent by businesses looking to advertise online.
"What's On In" within the next 12 months is poised to become the No1 go to websites for people wishing to find what's on in their Town, City, or location. Thousands of businesses are looking to "advertise online" but the lack of credible cost effective websites to advertise has been very limited….until NOW

We offer 3 Franchise models

Single Franchise which is a single postcode area, this does not have to be yours, our system allows you to operate in ANY postcode area 

Master Franchise which is 5 postcode areas or more
The Master Franchise is something very special, it allows you to plan for expansion and the joining package is excellent and is our most popular package for many…here are the reason:

Huge 50% (half price) discount off of ALL postcodes

Cheaper monthly management fees

Profit already built into the Master Franchise

6 months to pay, this makes it self-financing 

Choice of 5 postcode areas, (or more if you wish) linking together where possible

Use our "Pick & Mix" method to choose 5 postcodes.

This is excellent when used with the 50-50 system

FULL re-franchise rights. You can re-franchise your Master Franchise (or part of it) at a profit

FULL rental rights. You can rent your Master Franchise (or part of it) at a profit while still retaining ownership.

Corporate Franchise which is 20 postcode areas/locations UK or locations around the world.
Our Corporate Franchise are for those entrepreneurs that want to develop a European or Global income opportunity and is perfect for re-franchising. A Corporate Franchise allows you to enjoy HUGE profits.
This is based on the TOTAL number of websites/Cites you purchase in ANY country you like, UK, Europe, USA, or Asia.

Each website will offer you 4 incomes stream

Income from Business Advertisers within your own postcode area that place 
ads on your website, 20,000 to 30,000 businesses in all areas.

Income from Local Tradespeople, 40K income per year per postcode 

Income from Affiliates that place ads on your website. You would make a large commission when someone clicks on the ads and orders. The typical affiliate would be British Airways, Virgin, Marriott & Hilton Group 

Income from TotalJobs adding this FREE jobs link to your website offers an income every time someone clicks on the job they are interested in


We set you up with your own website or websites

We preload them with 25 potential advertisers 

We upgrade them as needed

You need NO technical knowledge

As we have said you have 4 Incomes streams with each website. As an (example) here is the potential taking a snapshot of a typical UK postcode area.
We only demonstrate acquiring 1% of the market within a postcode area, so we are VERY conservative when demonstrating potential earnings (*Earnings are always based on time & effort)

Example: 
We will use the CV (Coventry) postcode area as an example

Total number of Businesses within the CV postcode area 38,909

Average Monthly spend per advertiser is £166 +/-

If just 1% of Advertisers are advertising Monthly Income Potential £64,589

Even reducing figures by a further 50% the Monthly Income potential is HUGE
How long would it take you to build 389 regular advertisers? 4-6 months, this would then start to become a "Passive" Income.
Whats On In Advertising from Woi Franchise on Vimeo.

This trade's directory is aimed at tradesmen & tradeswomen.

We know in each postcode area there are 1,000 to 1,500 tradesmen or tradeswomen.

They pay just £40 for 1 year listing on our unique self-loading platform, so its 100% hands off

Annual Income Potential is £40,000 
The income potential is huge, and remember we ONLY base our figures on accruing 1% of businesses, rise to 2,or 3% then you are talking BIG numbers, which will, given time build.

The 50-50 system is proving very popular
It is a method whereby you have a freelance or self-employed person who is carrying out the sales within your "Exclusive" postcode, area or territory, they would be on a 50/50% split on all sales, and this would enable you to still enjoy a huge income while not carrying out sales yourself.
With the massive income potential within your postcode area it offers you the opportunity
to still capitalise on the wide open market.
We can advise you on this method, as there are 100's of competent sales people who would jump at a 50/50 sales split.

We offer comprehensive support and on-going training.

32 In-depth training modules covering every aspect of building your business

24-7 Email Support from our dedicated support team

Regular emails on building your business, tips, advice.

In-depth sales training emails, videos etc

We have saved the best for last. We offer a ranges of starting options
A Single Franchise (1 postcode area) is just £798 or £698 (No % of profit or turnover taken)
A Master Franchise (5 postcode areas+) is just £1,996 or £1,695 (No % of profit or turnover taken)
A Corporate Franchise is on request.
We also offer interest FREE finance terms over 3-6 months, and 12 months on our corporate franchises.
Our £698 or £1,695 options are our "Special Fast Track Package" to get you out the blocks faster and making your ROI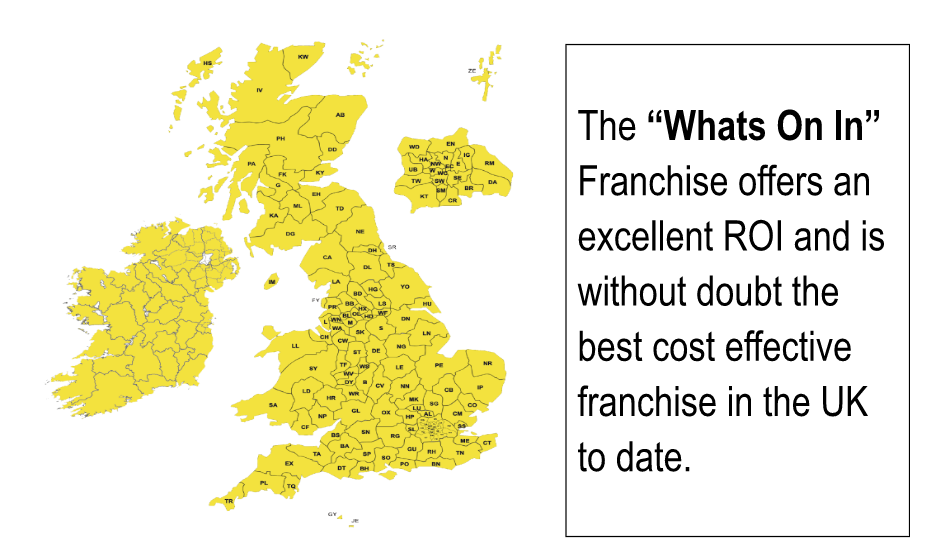 If you'd like to find out more about this exciting franchise opportunity with "Whats On In" click below to complete the enquiry form and we will be in touch.