Apollo Care Franchise
£20,000 + VAT
Franchise Description :
Apollo Care franchise is a forward thinking, dynamic home care company that has been trading since 2011.
Finance:
Yes, through a third party
Contact Name:
Franchise Recruitment Manager
Apollo is a forward thinking, dynamic home care company that has been trading since 2011.
Privately owned and managed by a former District Nurse, Apollo excels in looking after vulnerable people living in their own homes, sheltered housing or residential care settings providing services such as Personal care, Companionship and Medication assistance.
Apollo has recently gained the prestigious Investors in People (Silver) award as testimony to the excellent standards, values and practice that run though the heart of everything they do.
Using the latest Care Planner software system, Apollo franchisees build strong relationships with both clients and their family members providing a service that is reliable, individual and delivered to an excellent standard.
As the population ages, so does the need for high quality care services. People with long term medical conditions are now being treated at home and require extra support with their social needs as well as their medical condition. Focus is now very much on primary care services and the need for good quality care providers is now more relevant than ever before.
So, who are we looking for?
The Apollo franchise opportunity is a management franchise. franchisees manage, inspire and lead their team of care staff, providing services to people in their territory area over the age of 18.
No care experience is required as full training is provided and ongoing support is available for the life of the franchise.
Apollo support services are second to none! As well as receiving support from the head office team, other franchisees also provide support and advice to new franchisees coming on board.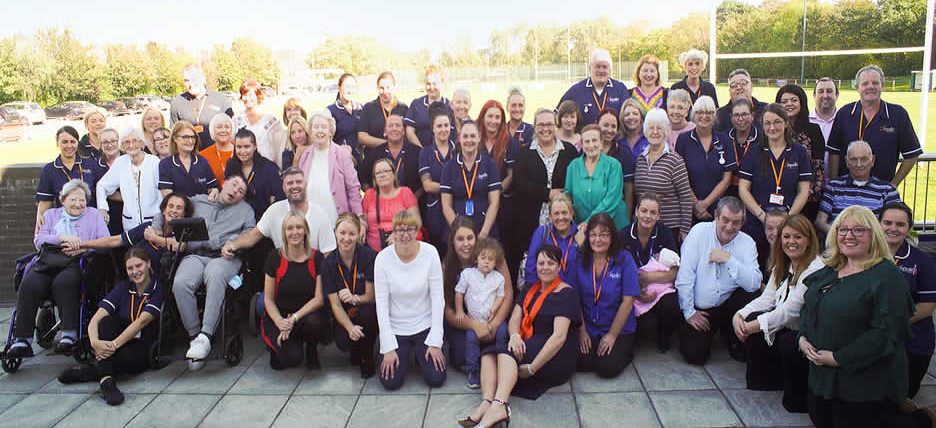 Support services include:
Every Apollo franchisee operates in their own, post coded territory area. These territory areas consist of a population of approximately 160,000 people.
The franchisee fee is £20,000 plus VAT. This fee includes everything the franchisee will need to become fully operational including software systems, CQC registration fee, all documentation and marketing material (including website)
Working capital is dependent on the franchisees own personal circumstances
On going service charge (management service fee) is set at 6% of monthly turnover
I wanted to improve homecare in my local area and give my family a better quality of life. The support I receive from Head Office has enabled us to achieve good in areas from the CQC this is something I am so proud of and the feedback we receive from our clients is heart-warming.

I came across Apollo Care and could see straight away that they shared my passion for improving people's quality of life and decided straight away that this was the company for me!

If you're caring and passionate about making a difference to people's lives, there's no better job than managing your own care company and the Apollo Care reputation and business model gives you a head start and support which you wouldn't get as a new start-up business.
I decided to buy a franchise of Apollo Care in 2013 after working as a Community Care Assistant for Cheryl for 18months. Having worked a couple of care providers in the past I was very impressed with the efficiency, dedication and passion felt throughout the staff force. So much so, that when Cheryl announced she was franchising I leapt at the opportunity.

My branch, Apollo Care West Wirral, started trading in January 2014 and has exceeded my expectations in growth and turnover. Cheryl has provided me with comprehensive training, detailed structure for running the business and aproven marketing methods to attract business. Apollo Care Franchising Ltd have been very supportive and we continue to meet regularly to discuss progeress, ideas and updates.
To find out more about this exciting franchise opportunity with Apollo Care, please click below to make an enquiry, and we will send you further information.
White Collar Franchises
White collar franchises are a leading sector within franchise recruitment. White collar franchise opportunities are often an ideal choice for a franchise seeker wishing to own a business and work alongside other business professionals. These opportunities are usually business to business.
Many white collar franchise opportunities can be home based so the need and expense for office premises can be eliminated, although the level of investment will vary among franchises some have low start up costs.
With training and a highly developed business method for many, a white collar franchise can be an ideal turn key solution for a business profession or anyone wishing to enter the world of business.
Unsurprisingly many franchise seekers attracted to white collar have often risen through the ranks in management posts for large corporations and may find themselves in a redundancy situation or perhaps decide to take early retirement and wish to take control of their lives, income and use the valuable business experience they have gained through their careers.
There are a vast scope of different types of businesses that fall under this genre these include business coaching and mentoring, consultancy, recruitment, cost reduction, accountancy and finance.
Browse more white collar franchises below