Leading the Way … because pet care matters
It's well known that we are a nation of animal lovers and with the launch of Leading the Way Pet Care comes the opportunity to turn what might be your pleasure into your future business.
To engage in something that makes you happy brings natural rewards and the enthusiasm to please pet owners and their pets will be top of your wish list.
The well-established OSCAR Pet Foods home delivery franchise has been the inspiration behind Leading the Way Pet Care, guiding you through the stages of providing a professional and compassionate pet care service to pet owners.
Raising the standards of professional pet care, there is no stone unturned!
As the UK's only pet care service offering CERTA Accreditation in Companionship, Health, Welfare and Disease Control, we make sure your pet receives accredited and evidence-based care. Our distinctive dog-matching service means your pet's temperament, energy and health needs are given careful consideration, and our bespoke transport system provides ultimate safety when travelling to and from destinations. At Leading the Way, it's all about excellence.
What to consider when choosing a dog walker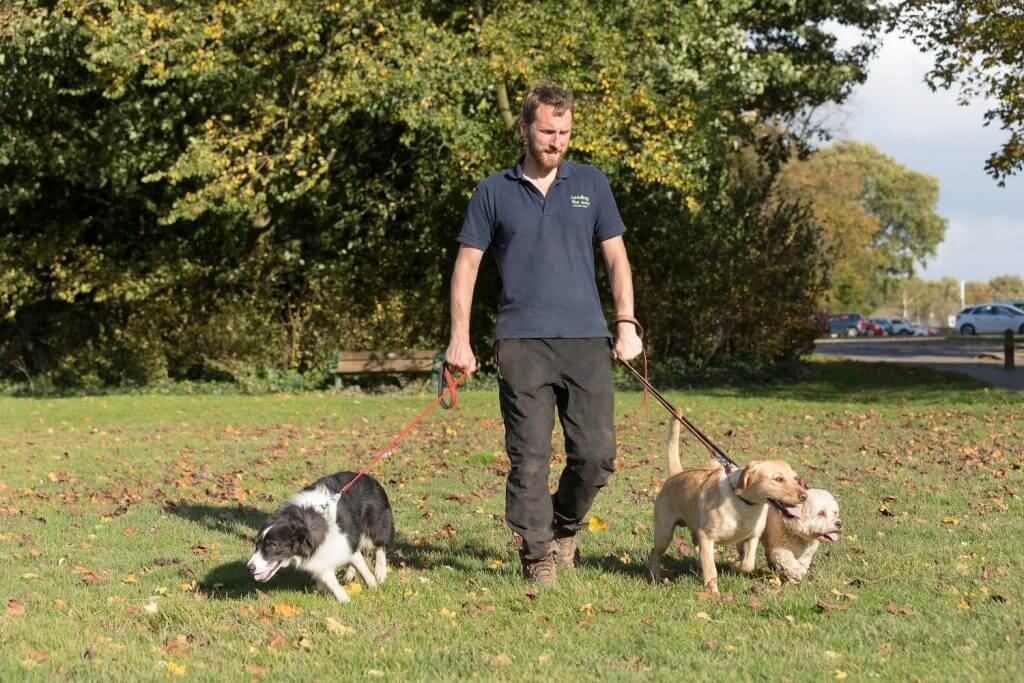 Choosing a dog walker or pet service provider can have many benefits for both you and your pets. By choosing to have someone visit your pets you're not only providing the best for them, but also making your life that little bit easier.
Unfortunately, the dog industry isn't regulated; anyone can set up as a dog walker. Knowing what to look for, and having the right questions to ask, can be the difference between choosing someone who cares about you and your dog or discovering the nightmare scenario of someone who doesn't.
We know you're reading this because you love your dog, which is absolutely pawesome! So, please remember, with their safety and well-being at stake, never be afraid to ask questions and, above all, try to listen to your gut instinct.
How many dogs do they walk at one time?
Asking how many dogs your dog will be walked with, and whether it will be the same ones each time, is really important – you don't want your dog too overwhelmed or the walker being distracted by managing too many at a time. Also, if there are new dogs added all the time it may be stressful for yours. At Leading the Way, the rule is no more than four dogs together at any one time or per group; this ensures dogs receive the proper care and attention they need.
Are they fully insured?
The first thing you should know about any prospect dog walker is whether they are properly insured. The person you entrust your precious dog to must have full insurance – with cover that extends to safe transportation if they are going to travel with your dog in their vehicle. Never be afraid to ask for proof of insurance! All Leading the Way franchisees are fully insured.
Are they professionally trained?
The next important question to ask is whether they have a good knowledge of essential training and behaviour. An ability to read and understand normal dog behaviour (and most importantly any changes in behaviour) means a walker can respond appropriately, empowering them to keep your dog as stress free as possible in difficult situations. If your dog does something accidentally wrong, you need to know that the walker can deal with it safely and calmly, without shouting or physically punishing them. As the UK's only pet care service offering CERTA Accreditation in Companionship, Health, Welfare and Disease Control, Leading the Way always makes sure your pet receives accredited and evidence-based care.
Are they pet first aid trained?
Should an accident occur, basic first aid training will give them confidence to deal with an emergency, and the ability to make a decision to get assistance from a vet if they are unable to reach you. Essentially, you need them to be responsible rather than careless.
Do they provide safe transport?
Does the dog walker have a suitably equipped vehicle to ensure that all dogs are transported safely and are not in harm's way when in the vehicle? Make sure you are shown around the vehicle and ask the walker to explain about the features and benefits to you and your dog. All Leading the Way vehicles are fitted with RSPCA standard crates to ensure the safest environment for pet transportation with proper ventilation, non-slip flooring and plenty of room.
Do they have contingency plans when things don't go to plan?
Does the walker have the flexibility & knowledge to manage unexpected events and situations such as extreme weather (either too hot or too cold for walks), a dog suddenly running off or a surprise altercation between dogs?
We all hope these things will never happen, but you should check that your dog walker can confidently deal with all of the above scenarios.
There are many factors to look at when choosing a dog walker because entrusting them with your dog and giving them access to your property is a huge decision. In appointing someone from 'Leading the Way Pet Care', you're taking the stress factor away as all our professionals are educated and trained to a high level. We have your pets' best interests at heart and an unrivalled support network at our fingertips.
Ask for a copy of our brochure – Leading the Way … to a new career
To find out more about the Leading The Way franchise, or to make a general enquiry about Leading The Way's services, please make an enquiry below.