Spitting Pig Franchise
£12,500 + VAT
Franchise Description :
Spitting Pig hog roast catering franchise opportunity
Finance:
Yes, through a third party
Contact Name:
Franchise Recruitment Manager
Low Cost Franchises
So what is a low cost franchise? Well I suppose everyone will have a different definition of what they think a low cost opportunity is but for these purposes we will use an investment level of £15,000 or less as the guide price for a low cost franchise.
So does low cost therefore mean low earnings or profit? No, some low or even no upfront investment franchise or business opportunities can represent very high earnings potential. So why would a franchise business sell it a low cost even if the earnings potential was high? Well the initial franchise is generally determined by the cost to set-up which includes training, equipment, product and premises not the actual earnings potential. Sure sometimes with a recognized brand just the area alone will have a impact on the price as the largest the franchise area or territory, the more business will be obtained. That said that's generally not the case for less known brands or new brands and if a franchise requires a lot of franchisees to provide national coverage and set-up costs are quite low then many will have an initial fee of under £15,000 to try to recruit as many franchisees as quickly as possible to grow their brand and provide a better service to their customers.
Some of the low cost franchises for sale under £15,000 include product distribution, pet related, children fitness and swimming, travel agency and even financial and business advice franchises so there is a huge choice of opportunity even if you are seeking a lower initial investment. The main thing to consider if the "overall" investment, just because a franchise has a low initial fee doesnt mean you won't need to invest additional funds so when choosing a low cost franchise opportunity make sure you find out about all costs involved before you invest and as always seek professional advice.
Just because a franchise investment is low cost doesnt mean you should not carry out thorough research before you make any commitment. Regardless of initial investment check out the business and seek professional advice.
Browse More Low Cost Franchises Below
Join The Hog Roast Revolution
Established for over 25 years, Spitting Pig are the UK's largest hog roast catering company and due to high demand, we are expanding our franchise network.  Spitting Pig are leaders in the field of hog roast catering, we also design and manufacture our own unique hog roasting machines and Spitting Pig branded equipment. We generate all your enquiries for you, chase these and turn them into bookings, create all the paperwork and then pass the completed bookings on to you. Leaving you free to concentrate on delivering the events. We cater for all kinds of events from weddings and private parties to corporate events and Christmas dinners. This is a fantastic fun and fast paced industry where you can create great memories over great food. You don't need any previous catering experience, as you'll receive training in all aspects of the Spitting Pig franchise, on the ground from our experienced hog roasters and in the office from our admin support team. You'll also receive help and support from our existing franchise network. So when you join Spitting Pig, you become part of a proven system of operation through a tried and tested business model. We care about who we work with and we are passionate about making you successful. Find out if your local area is available for your own Spitting Pig franchise - Enquire Now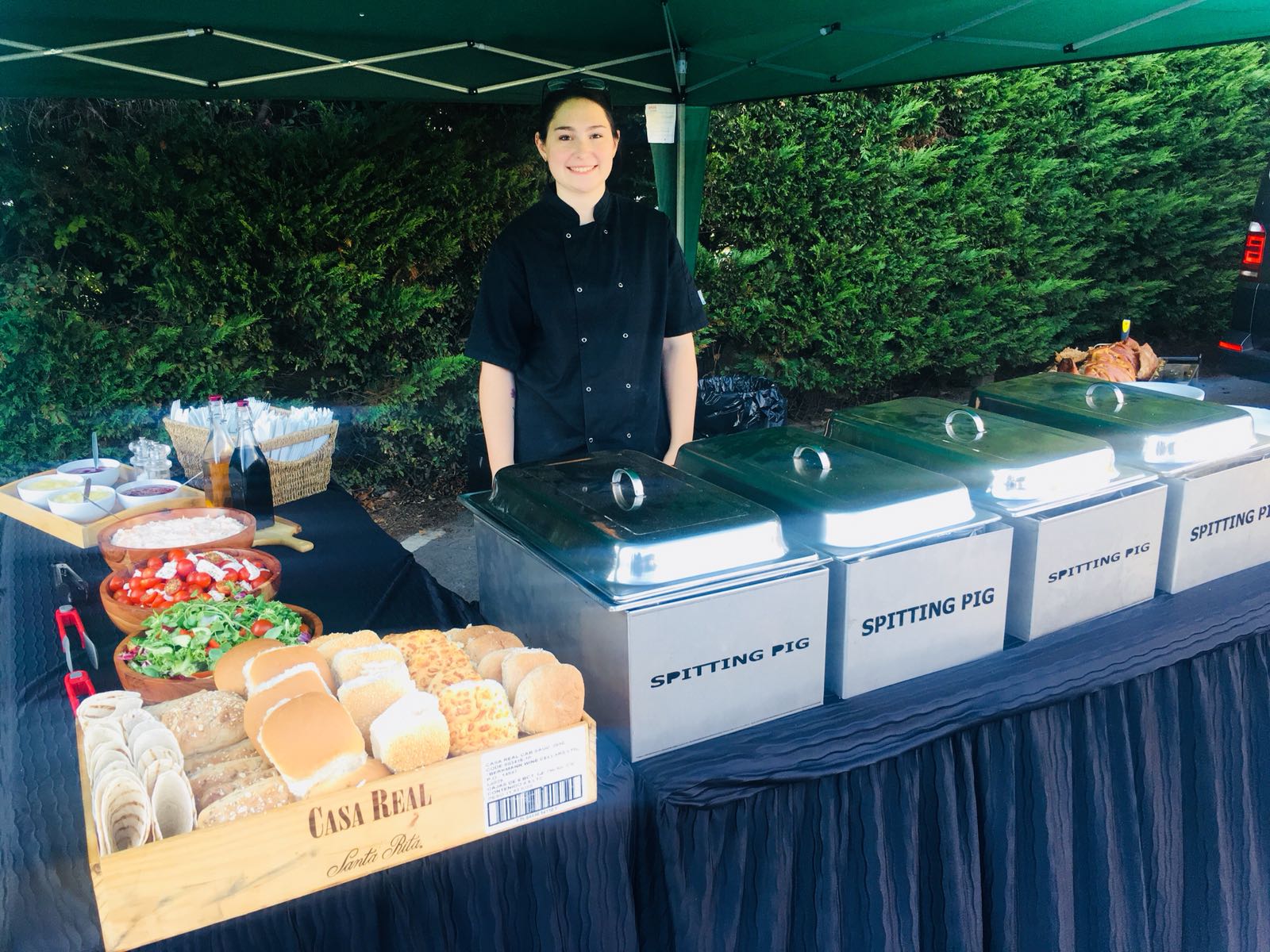 The investment required to become a Spitting Pig franchises is £12,500+ VAT, and for this investment, you get everything you need to get started with your Spitting Pig hog roast catering business.
Here's what the investment will get you:
You will be entering into a high profit margin business, and can turn profit in year one. A truly rapid return on your investment.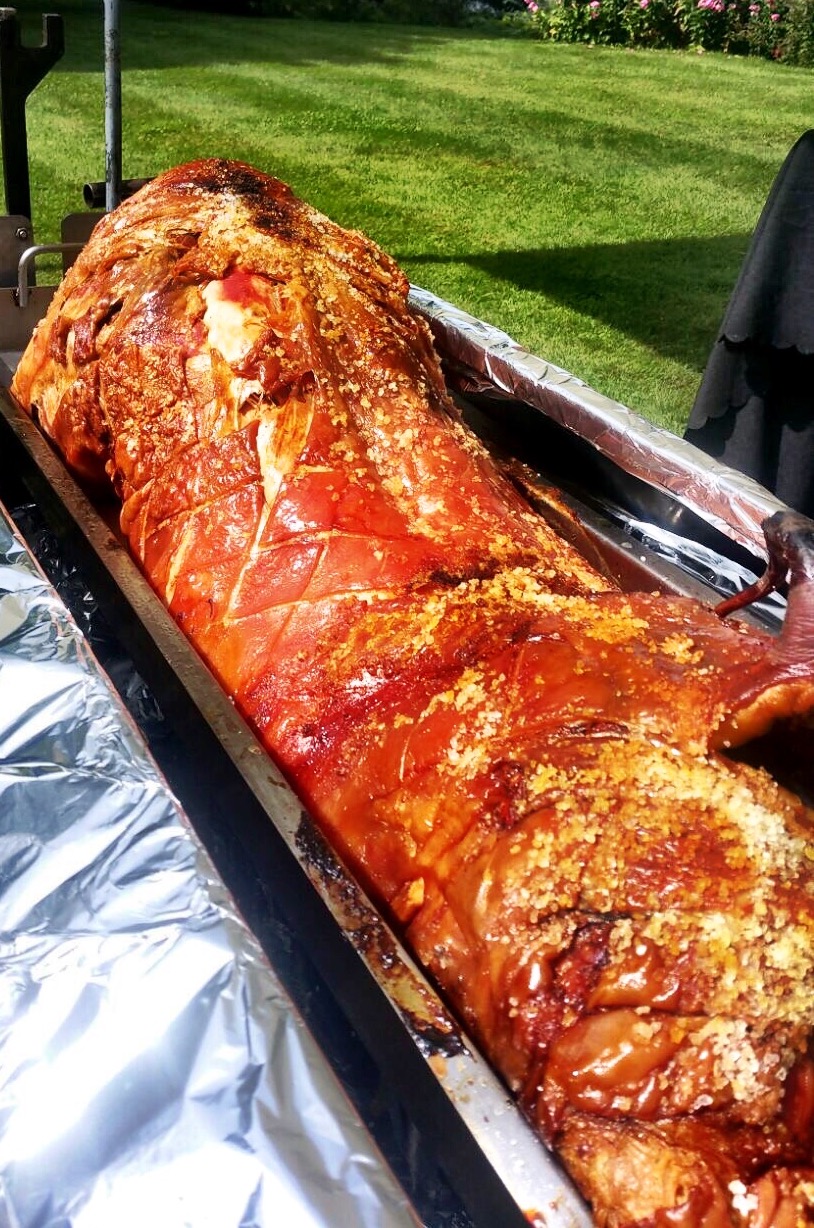 With so many satisfied customers, it's easy to see why we're one of the UK's favourite Hog Roasting companies. Here are what some of our customers think.
Just a quick note to say thank you very for Friday night. The chef's were excellent along with the food. It really added to a great night and a really special Christmas party for all our staff. We will not hesitate in recommending using you again. Thanks again
We would just like to thank Spitting Pig for providing excellent food and service for our leaving party at Putney Lawn tennis club on the 4th September. We would also like to express our special thanks to Anthony who is a credit to your company. He was efficient, flexible, positive and well organised. In addition he is just a nice bloke who is just what you need when you are moving house and up to your eyeballs in stress. Please pass on our thanks to him. I understand the club is already looking to re-book the Spitting Pig and we will certainly be using you for our 40th in a year or so. I would be grateful if you could acknowledge that you received the email as I want to ensure that this thank you is given. All the best Michelle and James Greening
I just to say thank you for the catering you have organised for our Summer party. Everyone was very impressed with the food and the staff were great as well. Regards. Mariana Turkova, Business Support Assistant, Thames Water Utilities Ltd
I had to let you know what a wonderful day Matthew and his helpers gave us on Friday. We had a great day; food was delicious and service was good. Please thank him and his crew. Regards, Peter Grove
It was a great event and very well done by the Spitting Pig team. We are were very happy with everything. I am sure that you will get more business out of this, we have several friends with BIG Birthdays over the next couple of years and many will want to have something catered on the day. So no feedback except to keep doing what you do!! Thank you
Are you the kind of person that's passionate, excited and driven to succeed? Why not join the Spitting Pig in the Hog Roast Revolution!  We're holding a number of open days at our head office in Lancashire. If you'd like to find out more about the Spitting Pig franchise opportunity, please do not hesitate to get in touch by enquiring below. We'll send you further details of the Spitting Pig franchise and details of upcoming open days.