It is 24 years since Pirtek Swindon became the 16th Pirtek Centre to open its doors in the UK.   Today, the original Licensee – Andy Edwards and his team – continues to provide an impeccable service to customers across Wiltshire and now also in Somerset.
The year is 1993.   Bill Clinton has just been sworn in as the 42nd President of the United States.   Movie-goers are flocking to see Jurassic Park and Schindler's List.   The FBI is laying siege to a compound of the Branch Davidians in Waco, Texas.   And Meatloaf has the world guessing what precisely he is so against with his chart-topping song "I would do anything for love.  But I won't do that".   Meanwhile, in Swindon, Licensee Andy Edwards – ably assisted by wife Kay – is about to open the doors of the UK's 16th Pirtek Centre for the first time.
In the intervening 24 years, Andy and Kay Edwards and their team have seen the arrival of three more US presidents (and five British prime ministers); seen the Jurassic Park franchise rebooted; and ridden out two recessions to become one of the UK's longest-serving, most-established, and most-respected Pirtek Centres.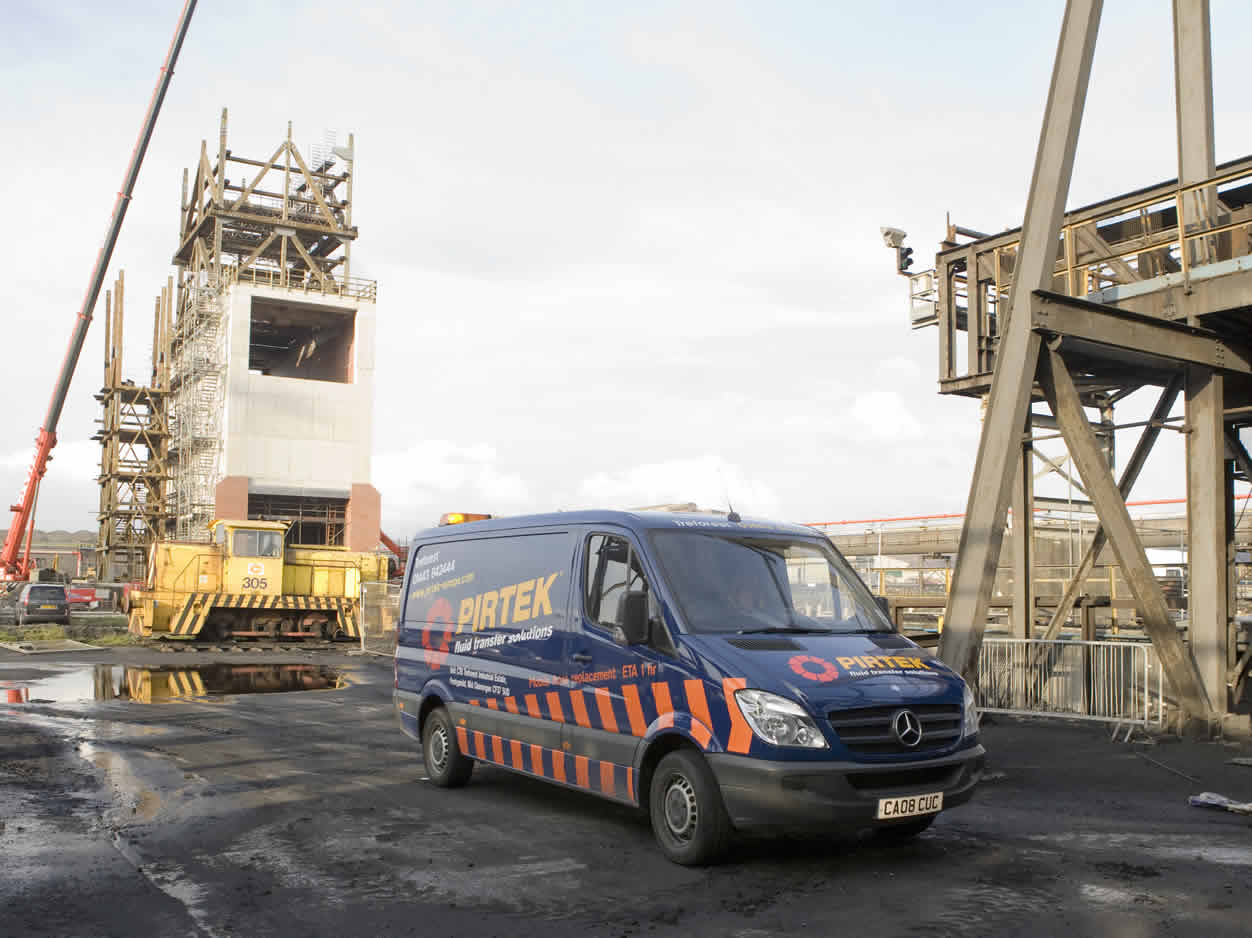 Built along familiar Pirtek lines, Pirtek Swindon has also branched out and diversified to become a recognised expert in the manufacture, supply and installation of highly specialised brake hoses for the rail industry.   And as if that application were not sufficiently demanding and rigorous, Pirtek Swindon has been working for the Armed Forces at Salisbury Plain for the past few years, supplying hoses to some of the most exacting standards imaginable.
Andy Edwards is welcoming, affable and modest.   But when asked for the secret of his 24 years (and counting) success, his response is rapid and laser focused.   "Customer service and having the right team in place," he says.   "Customer service is at the heart of everything we do.   From the day we opened our doors, we have had a policy that the customer is always right.   We do not try to defend our mistakes.   We do not duck when our mobile service vans arrive later than expected.   Our entire team is honest and focused upon getting our customers problems resolved as quickly as possible."
That ethos is present in everything that Pirtek Swindon does.   To satisfy the needs of its customers in the rail sector, Pirtek Swindon personnel have undergone specialist training to allow them to work trackside.   The Centre now has seven mobile service vans on the road, each manned by a trained and qualified Mobile Sales and Service Technician (MSST) to ensure the fastest possible response to customer emergency calls.   And the Centre has dedicated two members of staff – one based at the Centre; the other on the road – to satisfy the demands of the rail sector and the Armed Forces.
"We are only ever as good as our last mistake," Edwards asserts.  "If we do a great job for a customer, they are unlikely to phone their friends and competitors to tell them just how good we are.   But if we let a customer down, that news spreads like wildfire.   Everyone at Pirtek Swindon – from the MSSTs through the admin staff to the trade counter and workshop staff – know that the customer comes first." It is a policy that has clearly worked.
Not content with running the highly successful Pirtek Swindon Centre, Edwards and his team helped rescue the once ailing Pirtek Westbury Centre.   That Centre is now owned by Edwards and is already beginning to benefit from his "customer first" approach. "Pirtek Westbury has enormous potential but we're starting from a less than perfect position," Edwards explains.   "But we are slowly winning back customers that were let down in the past, and the Centre is very much on an upward trajectory."
Perhaps the greatest compliment to the continued success of Edwards and his team is that they have become the target of a "dirty tricks" campaign in which a competitor has attempted to undermine staff and customer confidence and morale by starting a scurrilous (and entirely false) rumour that Pirtek Swindon and Pirtek Westbury had fallen out of favour with Pirtek UK.   "When I first heard about it, I was furious," Edwards recalls.   "But, with the benefit of hindsight, it is almost flattering.   We have established such an excellent reputation that the only way that a rival can compete is through lies and deceit."
Unfortunately for that rival company, the dirty tricks campaign has truly backfired.   Edwards says that the vicious rumours have galvanised his team to aim even higher.   "Our team took this very personally," he says.   "Like me, they live and breathe Pirtek and any attempt to undermine that will merely make us all work harder."
Thankfully, Pirtek Swindon and Pirtek Westbury customers have also been unmoved by the dirty tricks.   "Our customers want their problems resolved quickly, efficiently, safely and cost-effectively.   They are not interested in petty politics or what the rumour mill has to say," Edwards concludes.   "For almost a quarter of a century, we have consistently proven our commitment to our local customers and to the local community.   It would take a lot more than a few rumours to undo what we have accomplished in the past 24 years."
If you would like to find out more about the Pirtek
Franchise Opportunity

, please call 01323 700 414, Click Here, or simply fill out the enquiry form below.

Read more franchising news at Franchise UK directory.