Pirtek UK, the leading Fluid Transfer Solutions provider, has channelled the "Calendar Girls" to create a truly unique new 2017 calendar whilst raising almost £10,000 for the Prostate Cancer UK charity.
The Pirtek calendar has become a mainstay of offices and workshops up and down the land.   But those receiving this year's calendar will have noticed something of a departure from the norm.   "The Pirtek calendar has traditionally featured a Pirtek girl on one side and either a Pirtek van or the Pirtek Racing BTCC car on the reverse," says marketing manager Tammie Argent-Peters.   "But this year, we decided to do something a bit different."
Brave Volunteers
Argent-Peters reports that the initial idea came about in an internal meeting at Pirtek's Acton headquarters.   "We thought it would be a good idea do to charity calendar similar to the one from the movie 'Calendar Girls' but using staff from the Pirtek network.   Daniel Peters from Pirtek Ashford (who is also on the committee) immediately volunteered," she recalls.   "I then contacted centres and staff in the network to ask if they would like to take part, and Pirtek Racing BTCC driver Andrew Jordan who also agreed immediately."
Despite the prospect of being naked in a draughty Pirtek Centre, Argent-Peters ultimately persuaded seven volunteers to shed their inhibitions (and their clothes):  Daniel Peters, licensee at Pirtek Ashford; Pirtek Racing driver Andrew Jordan; Jon Oswald, Pirtek UK Network Support Manager; Scott  Synclaire, MSST at Pirtek Park Royal; Serkan Algan, Pirtek UK European Procurement & Technical Manager; Grant Petrie, Pirtek UK Sales Development Manager for the Scotland Region; and Pirtek UK Management Accountant Craig Stamp.
"The first stage of the shoot took place at Pirtek Ashford on a cold rainy day.   But I arrived armed with a make-up artist, photographer and a head full of ideas for various poses and shots.  At first the boys were a little shy but once we got the first image out of the way they got into the swing of it.   They were all naturals," Argent-Peters recounts.   "We were all treated to a fish and chips lunch by Daniel Peters and then our models were relieved of their duties late afternoon."
Day two took the team to Pirtek Leyton in the morning where they shocked a few people on-site at GBN Services whilst taking shots of Grant Petrie on a piece of machinery that was in the workshop for maintenance.  The two-day shoot concluded with visits to Pirtek Leyton and Pirtek Park Royal.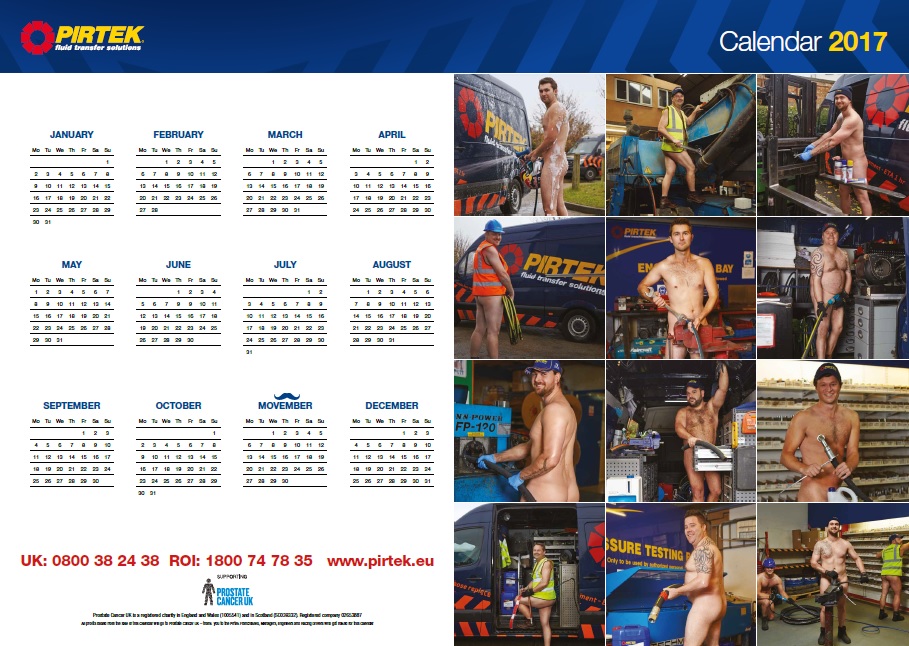 Charity Fund
The calendars have been on sale to the 85+ Pirtek UK Centres and to customers in the UK and Ireland.   To date, more than 5,500 calendars have been sold, raising just under £5,000 for Prostate Cancer UK, a charity that Pirtek has supported for several years.   The company's recently-appointed CEO Alex McNutt agreed that Pirtek UK would match and make up the amount raised so the light-hearted calendar will contribute £10,000 to the charity fund.
"We operate across a number of male-dominated industry sectors," explains Alistair Wiggins, joint managing director of Pirtek UK.   "So it seems appropriate that we should support a charity that does so much to promote men's health."   This view is echoed by BTCC racing star and calendar-shoot participant Andrew Jordan."Prostate Cancer UK does some incredible work to promote and safeguard men's health," he says.   "I was only too happy to take part in the project and I am delighted that my friends at Pirtek invited me along."
"Despite it not being everyone's cup of tea in what is ostensibly a male-dominated industry, the calendar has been very well received and has raised a lot of money for a very worthwhile charity," Tammie Argent-Peters concludes.   "It was not an easy thing to do but we are enormously proud of everyone that took part."
If you would like to find out more about the Pirtek
Franchise Opportunity

, please call 01323 700 414, Click Here, or simply fill out the enquiry form below.