The Splashback Man
Franchise Description :
The Splashback Man Home Improvement and DIY Retail Franchise Opportunity
Finance:
Yes, through a third party
Home Improvement Franchises
The UK DIY market alone was forecast to be worth over £8.3bn in 2017 so the home improvement market in the UK is a huge opportunity for anyone interested in the sector.
So what sort of home improvement franchises are available? Some of the different types of home improvement franchises include;
Granite worktops and other granite sheets for kitchen and bathroom renovations
Locksmith franchises
Guttering & roofing
Disaster recover, fire, flood etc
Drive way construction and cleaning
As more and more pressure is put on governments and local authority to build more new homes this will no doubt increase demand for the above for both the new home build market and ongoing for renovation and repair works. Many people seeking this sort of opportunity may already have a trade and industry experience and wish to work for themselves but with the backing of a franchise brand to help with new business generation and any existing contractual business locally but all franchises usually offer full training and support so dependant on the home improvement franchise this could be a way for someone to change direction.
As with any business opportunity or business purchase you need to take professional advice and carry out due diligence before you invest.
Browse More Home Improvement Franchises Below
Who is The Splashback Man?
The Splashback Man specialise in creating glass mirrors and splashbacks. During our 20 years of experience, we have taken on many projects including residential properties, health authorities, commercial buildings, schools and due to our contemporary creations have appeared on ITV 1's 'I Own Britains Best Home'.
There is a huge customer base for this service - not only homeowners but also kitchen showrooms who require a skilled individual to fit the glass and provide a quality service and products as kitchen fitters generally have not been trained in templating or fitting the glass...
At The Splashback Man we are brimming with fresh ideas and the confidence that with such reputable craftmanship we can take on any project and specialise in creating bespoke size glass mirrors, glass splashbacks.
For those updating or having a new kitchen fitted something simple and stylish like one of our kitchen splashbacks could be just the thing they need. The kitchen is no doubt one of the busiest areas of people's home and replacing conventional tiles with a glass splashback will make it much easier to keep the area clean and tidy.
Unlike tiles, with grout lines which can harbour dirt, a splashback is a seamless, smooth surface which is simple to clean. More hygienic and practical than tiles, and available in a colour and style to perfectly complement your decor, our kitchen splashbacks make a stunning addition to any home.
There is just no escaping the fact that running your own business can be hard work, however you are doing it for yourself and the rewards of a Splashback Man franchise will be there for you to see from day one. If you possess the following attributes then a Splashback Man franchise could be just what you have been looking for:
What kind of support can I expect from The Splashback Man as a Franchisee?
We ensure that you are well equipped to start and grow your business. Training, ongoing business support and a wide range of resources are available when you become the Splashback Shop franchisee in your area.
One of the main benefits of franchising is that it is a business partnership between franchisee and franchisor. Head office support is essential especially in the early trading days of the franchisee and it will always be readily available.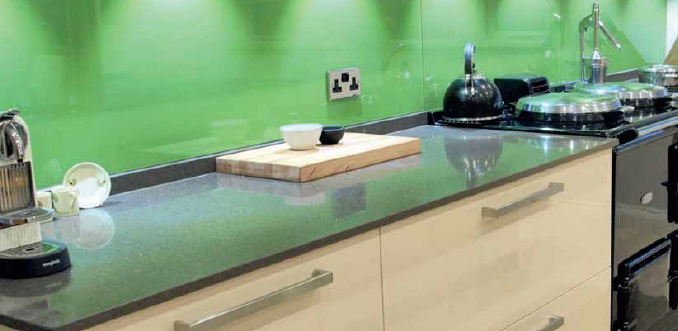 In the early days there will be a very much hands on approach gradually stepping back and letting you take complete control as you become more confident, professional and experienced.
I just wanted to say how happy I am with the service you gave me. Fitting out my new salon meant that I had a lot of worries and anticipation about the end result. Splashback Shop advised me on all aspects of the design and encouraged me to be more innovative than I usually would. Everyone worked really hard and managed to keep within my budgets and time constraints, which was one of my main concerns. I now have an amazing salon and have been getting loads of compliments off my clients about how good the place looks.