Furniture Revolution Franchise
Franchise Description :
Furniture Revolution home improvement and decoration franchise opportunity
Finance:
Yes, through a third party
The Furniture Revolution Story
Having been keen furniture up-cyclers for many years, we decided to paint up some furniture for one of our shops to use for displaying our products. We were delighted when customers started to ask if they could buy this furniture and we then started to paint up furniture to sell. To compliment this new business opportunity we decided to sell a range of chalk paint and furniture accessories.
Part of the condition to become a stockist was to attend the supplier's training program, after which we felt even more confident in being able to complete work to a professional standard. So we had our paint nicely displayed with up-cycled furniture for sale and we started doing paint demonstrations.
What we did not anticipate was the amount of people who would ask us to paint their own furniture, which quickly became the most rewarding part of the business. At this stage, we also realised that most people just wanted their dark pine furniture painted a different colour (not necessarily shabby chic). As the chalk paint is great for shabby chic, but not so good for producing a modern smooth waterproof finish, I looked for an additional paint range that would enable us to offer a finish suitable for all types of furniture including kitchens. We also discovered that once you did a piece of furniture for a customer they would want more doing.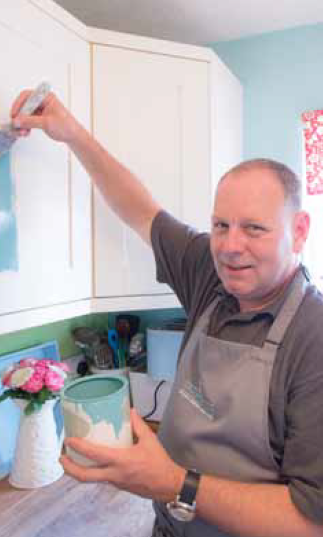 For example I painted two kitchen stools for a customer, who asked me to paint their kitchen, dining room and utility room. The other advantages are, a very high profit margin with the materials costing just 5-10%, working for ourselves and choosing the hours that suit us.
Richard Cass - Managing Director.
Why join Furniture Revolution?
So many people think of starting their own business - not just for the financial rewards, but for the opportunity to be your own boss and run your own life. But the downside is that although you get all the rewards, you also take the risks. Taking on a franchise within a proven operation reduces those risks substantially. by joining Furniture Revolution, you can reduce the risks even more.
Established Track Record - As a franchise buyer, you become part of a proven system of operation. Your franchisor offers a concept with products and services that have sold successfully. You have history to learn from and to help you predict your own future.
Faster Start Up - You have a short learning curve as a franchise owner, because you have assistance from a franchisor with lots of experience to draw upon.
Purchasing Power - The group purchasing power of franchisees can make a big difference in costs of doing business.
Name Recognition and Brand Awareness - With an established franchise, you get the benefits that occur from marketing an established brand of products or services.

What Support Can I Expect With Furniture Revolution Ltd?
We ensure that you are well equipped to start and grow your business. Training, ongoing business support and a wide range of resources are available when you become The Furniture Revolution Limited Franchisee in your area.
Once of the main benefits of Franchising is that it is a business partnership between franchisee and franchisor. Head office support is essential especially in the early trading days of the franchisee, and it will always be readily available. In the early days there will be a very much hands on approach, gradually stepping back and letting you, the franchisee, take complete control as you become more confident, professional and experienced.
Our Support Package Includes:
What you can earn out of the Furniture Revolution Limited Franchise is, in the final analysis, up to you: How hard you work, and how gifted you are. Its no different to anything else, but you'll be suprised how the numbers can stack up...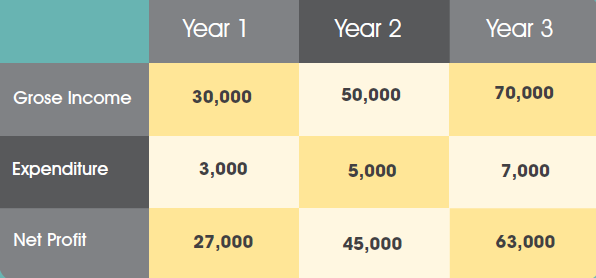 The above figures are estimated and with hard work and determination, could be potentially exceeded. The above figures are projections and are not intended to be warranty or guarantee of individual franchisee earnings.
There is just no escaping the fact that running your own business can be hard work, however you are doing it for yourself and the rewards of a Furniture Revolution franchise will be there for you to see from day one. If you possess the following attributes then a Furniture Revolution franchise could be just what you have been looking for:
A willingness to work hard, because there is simply no substitute for hard work.
A willingness to persevere because there will always be times when things don't go according to plan.
The desire to work for yourself, and take proper control of your own destiny.
The desire to work with others who all share your commitment to the highest standards.
The ability to paint (with training)
To be able to market and promote the business
To be good with customers
To care and have high standards
To be professional