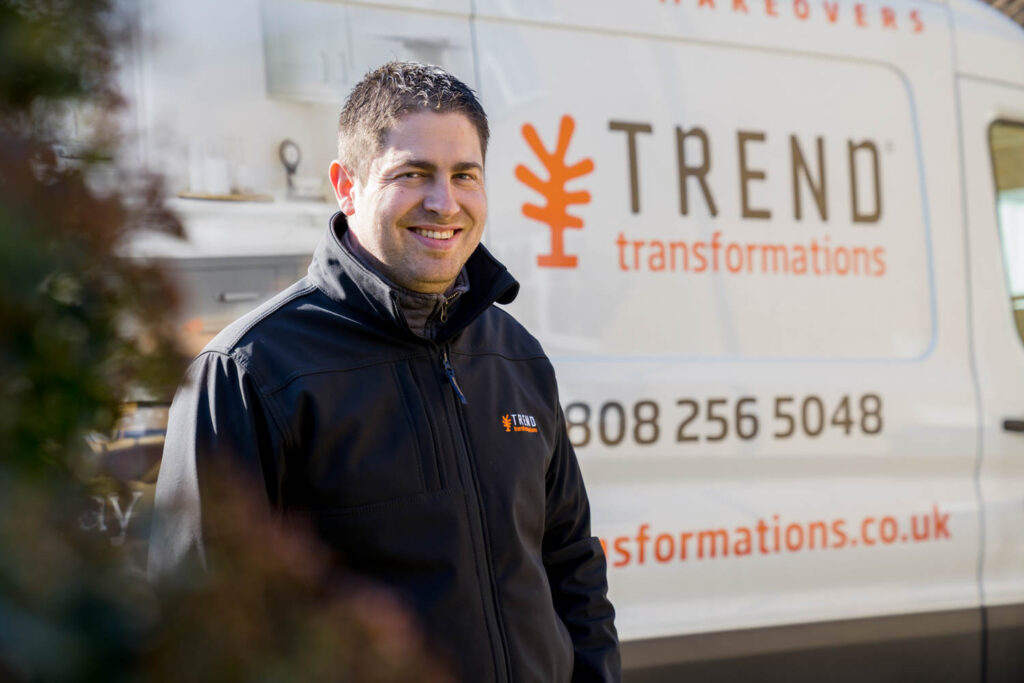 A green business opportunity for eco-minded entrepreneurs
Do you want to run your own profitable business but still do your part for the environment at the same time? With a Granite & TREND Transformations franchise, you no longer need to choose between the two!
Never before has climate change been as high-up the news agenda as it is today. With activism and protest making headlines everywhere, world events such as the COP26 meeting and the recent government report on environmental impact, stories about our impact on the environment are an almost daily feature. Websites such as the BBC have even added a dedicated "Climate" option to their menu bar for the first time ever.
But it's not just politicians and journalists that are talking about it – it's homeowners too. Just lately, we've seen a big rise in the number of reviews which mention the eco-friendly properties of our products as a key factor in customers choosing to come to us. Today, consumers are just as interested in corporate social responsibility (CSR) as they are in a company's products and services, and environmentally friendly products and practices are more front of mind than ever before.
In the past, engaging in responsible and sustainable business practices sometimes meant reducing profitability, or the quality of your product but those days are long past – especially if you work in partnership with a franchise like ours.
The Granite & TREND Transformations franchise represents an opportunity, not just for you to make a great living as your own boss, but also to do your part in helping to make home improvement more eco-friendly – making your business more appealing to customers at the same time.
We take our commitment to environmentally friendly renovations very seriously, not just because this issue is important to customers and makes great business sense, but also because we firmly believe it is the right thing to do. This commitment to sustainability reaches into the heart of every single part of what we do here at Granite & TREND: From process to product, to installation and beyond.
We never stop improving our manufacturing facilities and we are constantly striving to find sources for our materials that have the absolute minimum possible impact on the environment.
At our advanced production facilities, we:
Recycle the 70% wasted in traditional quarry mining as key granite and quartz ingredients in our etherium® By E-stone surfaces, meaning between 30-70% less waste at source
Use 7.5 million tons of recycled glass each year, enough to cut our carbon emissions by 2.5 million pounds
Produce 22% less waste material and 20% fewer polluting emissions than standard processes
Use 3 – 5 times less water, energy and raw materials than any other rival company
As a Granite & TREND franchisee, one of the key selling points that will make you stand out from the crowd will be your ability to help customers makeover rather than start over. Our Top that fits on Top is designed to be installed directly on top of existing kitchen and bathroom worktops, meaning there no form of demolition is necessary and far less waste sent to landfill.
This greatly reduces the environmental impact of renovating kitchens or bathrooms. Refacing instead of replacing means 75% less waste going to landfill from every installation we do – totalling more than 22 million pounds every year!
And this is not just good news for your customers and the planet but for you and your business too. By helping your customers make environmentally-friendly and efficient choices in transforming their homes, you'll be able to prove to your customers that having an eco-friendly kitchen or bathroom does not mean compromising on quality and style – but it doesn't end there, it also makes great financial sense too.
With a vertically integrated system of supply, manufacture, and installation like we have at Granite & TREND Transformations, more sustainable practices mean lower overheads too. Savings you'll be able to pass onto your customers, allowing you to drive forward your business as the go-to option for affordable beauty in home improvement.
Isn't it time you made your mark in the green revolution and built your own business that's both profitable and ethical? Learn more about the TREND Transformations franchise.