PetzArk Franchise 
About Us
For over 20 years we have been providing pet care, home boarding, dog walking, day care and puppy socialisation services for dogs and pet care services for all types of pets.
The PetzArk brand is synonymous with high quality pet care and customer service, we treat each and every pet as if it were our own.
Whether holidaying, travelling for work, or other reasons, our clients need to know that their beloved pets are being cared for in a safe, loving and nurturing environment where they will thrive.
With hundreds of satisfied Customers, PetzArk provides that peace of mind.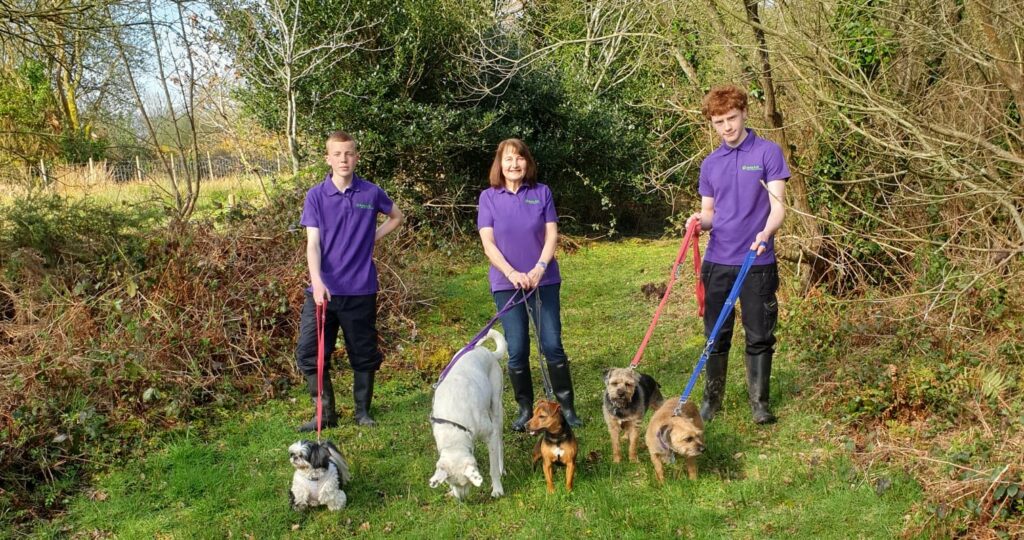 The Opportunity For People Who Are Passionate About Pets 
With our extensive experience we'll train you to run your own pet franchise. You'll have the benefit of using an established system and we'll be there to support you along the way. It's your business but you won't be on your own.
If you think you would thrive on the challenges and rewards associated with running your own business then you will love running your own PetzArk franchise.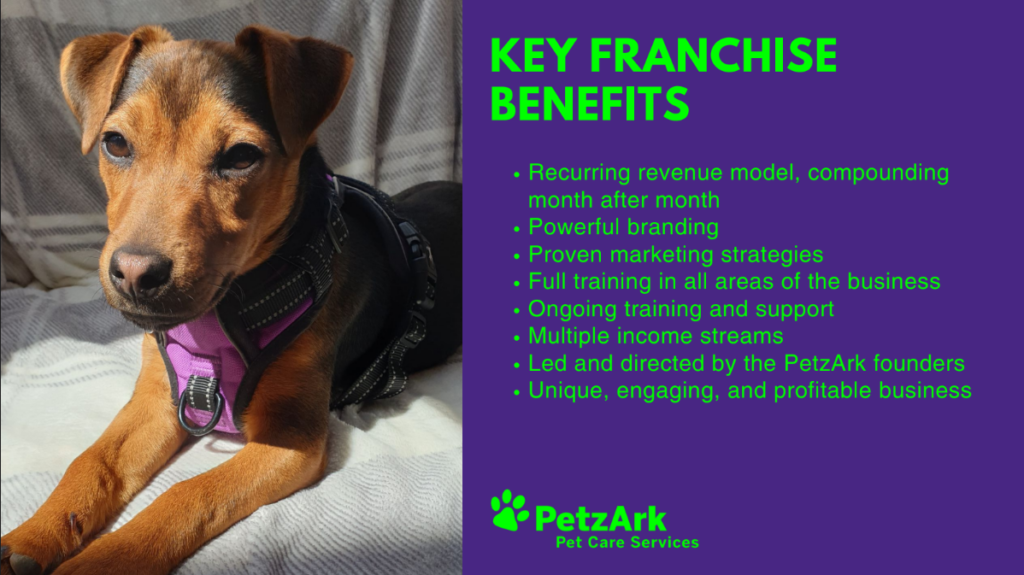 Market Overview 
The pet care industry offers a rapidly expanding market with a long term growth trajectory. People are increasingly treating their pets as humans, relying on them for companionship and gaining a sense of fulfilment. They want their pets to feel cared-for, comfortable and mentally stimulated even when they aren't around to do it themselves. Please see below for some important industry statistics.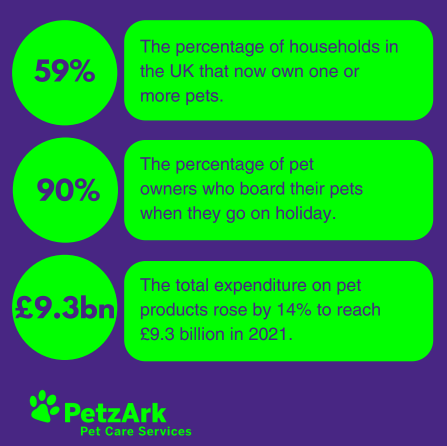 Why Choose The PetzArk Franchise?
At PetzArk, we understand that a lot of the draw of owning a business is the financial freedom and personal autonomy that it provides. We know, because that's why we started building the PetzArk business in the first place.
But what if you could enjoy daily freedom without having to build and maintain your business all on your own? At PetzArk, we don't just provide you with a powerful brand, superior service offerings, and multiple opportunities for repeat revenue. We also provide valuable and essential training and systems that make the everyday management of your business easier.
As a PetzArk franchisee you will have the benefit of launching your business with a sustainable and proven model, in an industry that's growing every year. We want our franchisee partners to not only feel well-prepared to succeed in the industry, but to be supported and mentored throughout the entire process, we know that for our brand to succeed every location needs to provide the same amazing experience.

The Franchise Package 

Rights to trade under the PetzArk brand name

Exclusive territory

A central website

Full training in all areas of the business, this includes the day-to-day running of your business, backend systems, products and services

Processes, systems and templates to run the business

Ongoing support and regular business updates from our highly experienced management team

Operations manual which covers all areas of running your business

Health and Safety plan

Emergency plan

Initial equipment

Branded clothing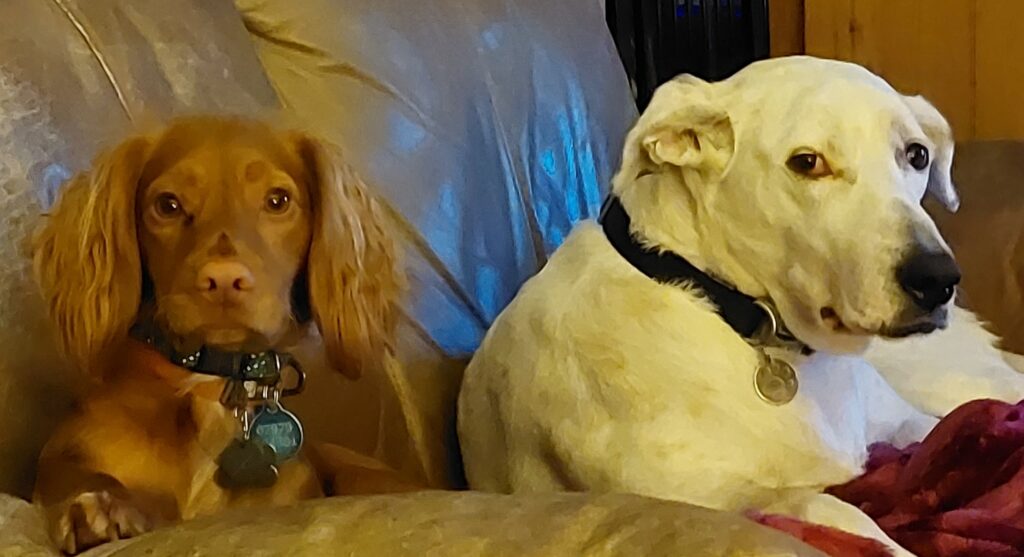 The Numbers
Franchise fee: £12,950 + VAT
Ongoing Fees: 10% of turnover 
Below are the potential PROFITS we would expect you to achieve in the first three years. We will discuss this with you in greater detail at your franchise meeting and will provide a full breakdown of the figures.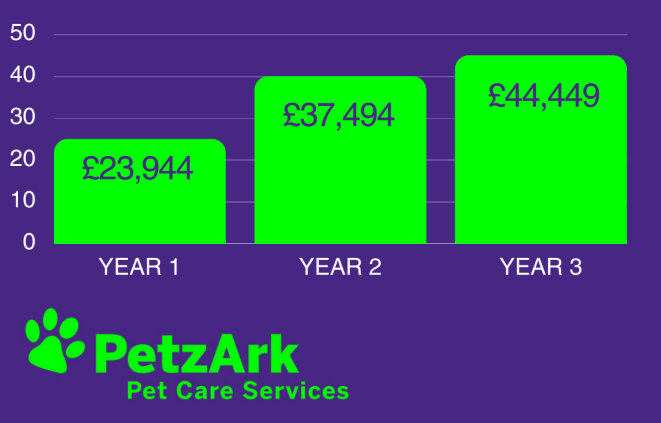 Are We A Good Fit? 
Experience is not necessary, but passion is! For your sake, and for ours, we want to work with pet service franchise owners that are set for success, that have the skills, values, and passion required to thrive with a PetzArk franchise.
The characteristics of what makes a great franchisor for us are: 

Willing to support, develop, nurture and mentor others

Dynamic team player

Drive and determination

Entrepreneurial Spirit

Understands and willing to help develop brand values

Previous experience of ownership of Dogs/Cats/Pets (including handling/training)

Trustworthy, Open, Honest and prepared to act with Integrity

An understanding and love of dogs and other pets
If you are interested in setting up a meeting and getting further information please click "REQUEST FREE INFO", fill out the form and one of our team will be in touch!