Marla Custom Blinds Franchise
£11,995 Minimum Investment
Franchise Description :
Marla Custom Blinds franchise opportunity with full training and support
Finance:
Yes through a third party
Contact Name:
Franchise Recruitment Manager
Marla Custom Blinds Franchise Opportunity
An outstanding franchise opportunity with a market leading business in a highly profitable industry
With hundreds of franchises to choose from, it can be difficult deciding which one you are ideally suited to and which one will meet your dreams and aspirations.
With Marla Custom Blinds your local blinds and shutters franchise business will be a leader in the market place, supplying and fitting the widest range of tailor made blinds, awnings and shutters of any specialist in an industry sector worth in excess of £1billion and growing.
Established in 1995, Marla Custom Blinds has a proven track record of operating profitably over a number of years and we'll guide you in targeting the most lucrative parts of the residential, commercial and contract markets to ensure your blinds and shutters franchise business is a success. You'll also be joining at a perfect time, when growth of the Marla brand, and its planned roll-out across the UK offers everything you could wish for in a franchise.
A Marla Custom Blinds franchise opportunity ticks all the boxes with a highly attractive investment package.
Your initial investment is only £11,995, and includes £5000 towards a 3 month launch marketing campaign. It adds up to a genuine franchise opportunity with full training and support to get you going from day one.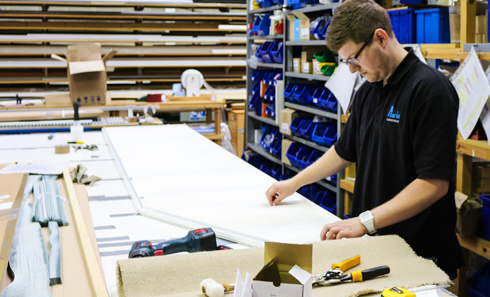 Not only do you benefit from the support of a loyal and passionate team at Marla, we also make sure you receive first class marketing support. A highly tuned marketing campaign is optimised to deliver well qualified leads through a range of channels, assuring your business develops in line with your ambition, and a continued investment in marketing.
Everything you need to make it happen…
Your expert support and guidance includes…
With the team at Marla on hand to help you from day 1, you can be confident that your investment will reap rewards. We are a family business, with passionate and positive personnel, so you'll be surrounded by like-minded people who are available to support you whenever you need it.
An expansive, exclusive territory
Marla Custom Blinds offer you the flexibility to mark your preferred territory, with the credibility to stand out in the market.
As a Marla Custom Blinds franchisee you will be provided with an exclusive franchise territory designated within Local Authority boundaries and any enquiries that are received from your area will be automatically passed on to you. And because we're rolling out our business in untapped areas, we can be flexible with territory location.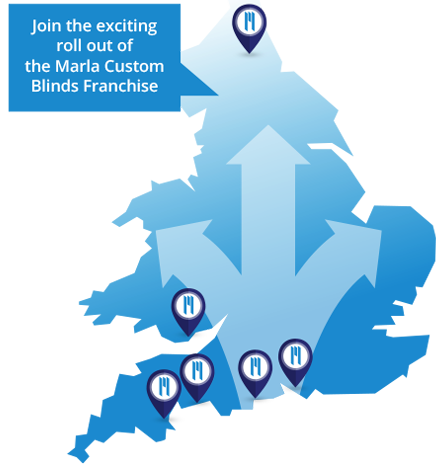 I chose to go with Marla Custom blinds because of the structure and business package it comes with. From the time I spoke to the Business Manager to the training it has been done professionally. The support given afterwards and the ease of communications from the head office and to me as a franchisee has been tremendous. Anyone wishing to take up the franchise business in window blinds should always consider Marla, as you won't walk alone in the journey of running your own business
I was originally attracted to Marla by the fact that there's real substance to the franchise. It's so much more than an easily replicated branding applied to a "me too" business idea, it's a fully scalable business, with unique and exclusive products, full support and training, and a proven track record operating a franchise locally before rolling it out to other franchisees. As time went on it became clear that Marla are committed to the success of their franchisees, and that the availability of an experienced business development manager supports my ambitions to take the business in a management franchise direction, and to scale it up to become the leading domestic, commercial and contract blind supplier in the North East.
Whilst this franchise is suitable for an individual owner/operator, it is also perfect as a management franchise and we are keen to hear from ambitious, business minded people who are looking to create a substantial business and an asset for their future.
If you'd like to find out more about the Marla Custom Blinds franchise opportunity, then we'd love to hear from you! Simply click below to complete the enquiry form, and we'll send you more information.