Invest In The 'BOOMING' Coffee Marketplace
CAFÉLAVISTA is the leading innovator and market disruptor offering a Franchise Investment Opportunity in the 'Booming' coffee industry that is delivering 15.33% annual returns.
You may be surprised to learn that our Coffee Investment Franchise out-performs virtually every sensible investment opportunity available today including bank savings and investments, property and Buy2Let investment and even the Stock Market.
Our Coffee Investment Franchise is providing our clients, people just like you, with guaranteed 15.33% annual returns paid to you monthly PLUS we give you a significant share of all the ingredients used.
This is not about starting your own coffee shop, running your own business or selling our products as affiliates. This is about you purchasing commercial coffee machines from CAFÉLAVISTA, which you rent to Vista Rental Ltd, our sister company who in return will pay you a guaranteed monthly payment for the next 6 years.
In addition, you will also receive a significant share of the ingredients used by your machine(s) during this time which is paid to you at the end of each year of the agreement.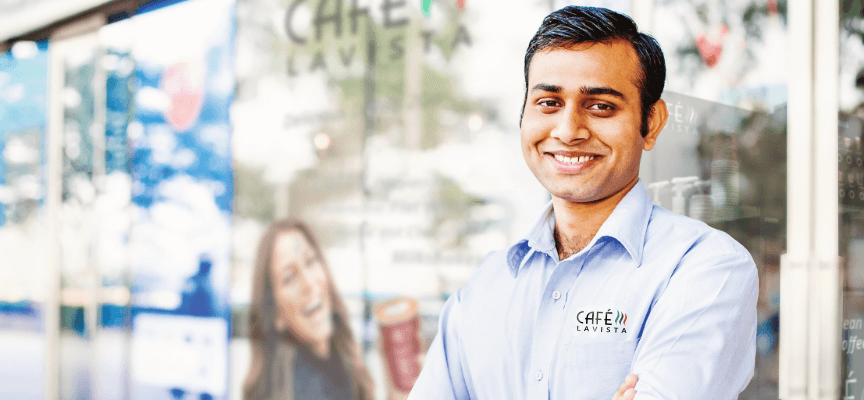 There are 3 simple steps.
1. You Purchase Machine(s)
Each CAFÉLAVISTA Bean2Cup – barista quality coffee machine costs £3,000 + VAT. When you purchase 1 or more machines, you agree to rent back the machines to VISTA RENTAL Ltd, our sister company. They are also your customer and provide you with a fixed 6-year guaranteed return of 92% on every machine you purchase. (see chart below)
2. We Rent Your Machine(s)
VISTA RENTAL Ltd site your machines(s) on flexible easy in, easy out terms to busy office locations that generate significant on-going profit throughout your 6-year agreement. This rental income comprehensively covers your guaranteed monthly payments and you will also receive a profit share from all the ingredients used.
In return, VISTA RENTAL Ltd agree to pay you 72 fixed monthly payments for each machine you own. When your 6 Year Agreement is completed, and you have received your final monthly payment, title and ownership of your machine(s) reverts to CAFÉLAVISTA Limited.
Ultimate Flexibility – Early Buy Back Option
After receiving 36 payments, should you also wish to take up our early buy back option, CAFÉLAVISTA Limited will purchase back your coffee machine(s) at the fixed cost of £1500 per machine. Alternatively, simply let your agreement run for a further 3 years and receive all the guaranteed payments and benefits this investment brings.
3. Your Share Of Ingredients
You also receive a fantastic share of the ingredients used. You will receive £0.03p per cup dispensed from each machine you own for the duration of the 6-year agreement.
For example: From a small 10/12 person office the average cups dispensed from a machine should be about 40 cups per day – this would provide you with an extra £300 (10.00% Annual ROI) per year, which represents a 6 Year TOTAL of £1,800 (60.00% ROI over 6 years).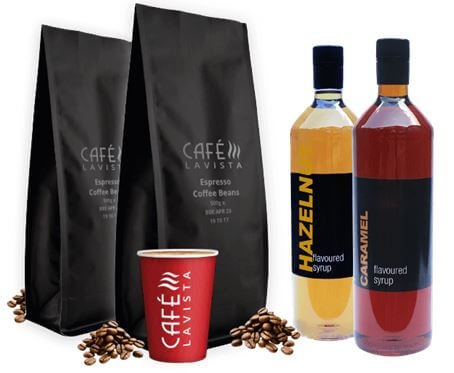 Calculate your total investment returns
Please look at the tables below to calculate your total investment returns from both guaranteed rental income and ingredient income.
Guaranteed Rental Income Per Machine Owned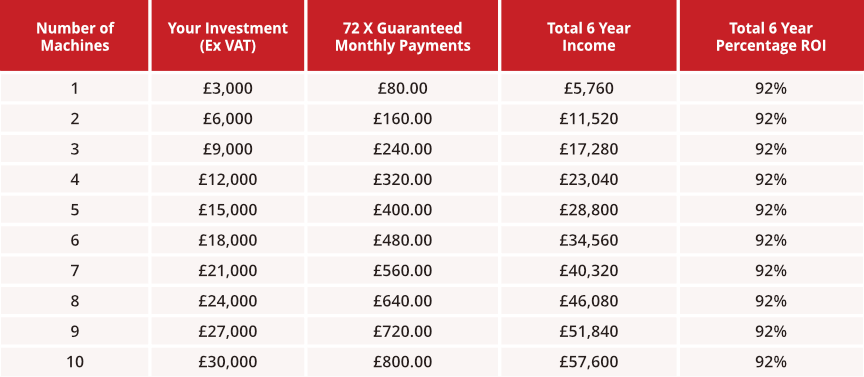 Let's See How This Looks Combining The 2 Income Streams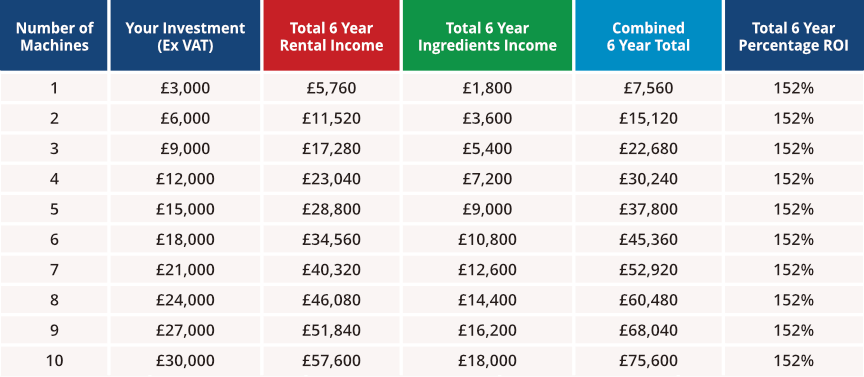 Whether you are an individual or a business owner, this investment opportunity is highly tax efficient. All investors can reclaim VAT and enjoy significant capital allowances over the 6-year agreement making this a fantastic investment whether you invest in a single machine or multiple machines.
CAFÉLAVISTA is a dynamic company operating in the food and beverage sector, with a management team who have over 30+ years' combined experience in the franchise and food and beverage industry.
We're a rapidly expanding business founded on solid experience but with an innovative and pioneering approach leading to some industry leaders to call us the "Uber" of the coffee industry.
We offer individuals and businesses the opportunity to increase their income by owning a low risk, 100% asset backed business that offers a guaranteed return on investment and a hugely profitable share of ingredient sales.
Investing with CAFÉLAVISTA is a genuine alternative to Property Investment, Buy2Let or even investing in the Stock Market. Today, investors are looking for guaranteed returns over shorter time periods and a CAFÉLAVISTA Coffee Investment Franchise is the perfect solution.
We are based in Treforest, South Wales just 5 miles north of Cardiff where our dedicated team is here to help answer any questions you may have. We can always be contacted on the telephone number above during normal working hours.
This is a popular low-risk asset backed opportunity which simply means you own each machine you purchase during the 6-year agreement. This allows you to participate in this booming market sector and earn a guaranteed return of 15.33% on every machine you purchase.
How Large is the Marketplace?
Who Invests With CAFÉLAVISTA?
Our Investors come from all walks of life including private individuals, business owners and even those who are looking to make their money work harder for themselves in retirement. Each one has a different reason for investing with CAFÉLAVISTA however the most popular reason is that we offer an easy to understand business model that provides a great return on investment.
For further information and to download a copy of our prospectus, click below to complete your enquiry.