Bodystreet
£20,000 Minimum Investment
Franchise Description :
Low investment level, fitness concept with awarding winning support and backed with a success guarantee makes Bodystreet a franchise worth investigating further.
Finance:
Yes through a third party
Contact Name:
Mark Holland
Join the Fitness Revolution
Bodystreet is the ideal franchise for anyone interested in fitness, health or sport who is seeking to own and operate their own fitness business. Unlike the big box gyms Bodystreet operates in small, intimate studios where the entire focus is on the customer; their needs and targets and to help them achieve success through the Bodystreet method.
With Bodystreet, gone are the days of clients spending hours in the gym each week. Bodystreet is an innovative workout studio that combines expert personal training with the buzz of Electro Muscle Stimulation (EMS). For your clients this means that 20-minute, once a week is all it takes to get fit, tone up and build muscle. And, since our concept uses intimate, boutique style studios you can offer a safe, one-to-one service that will be especially welcomed as we come out of lockdown. Our German heritage means that Bodystreet has always operated with the highest of hygiene standards, and now with enhanced adaptations our offering is even more attractive.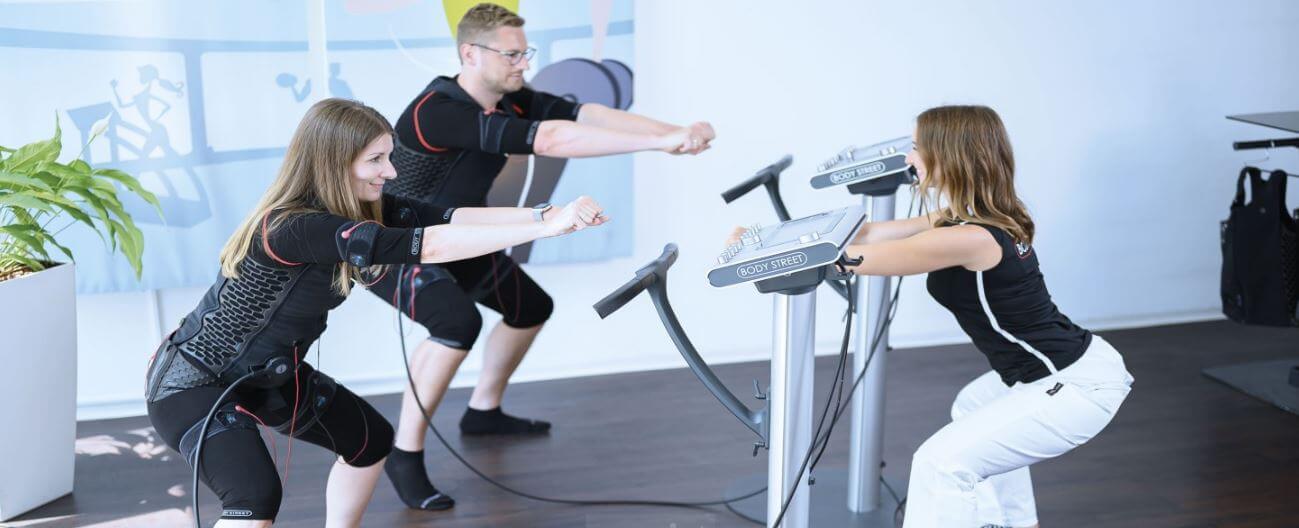 EMS is a recognised technology that has been used throughout professional sport and athletics to deliver increases in performance. Used in Bodystreet, EMS stimulates the muscles in exactly the same way they would be in a normal gym workout however, unlike a traditional gym workout where each move is delivered by a single muscle contraction, an EMS workout delivers 85 contractions in the same time. Which is why just 20 minutes once a week is all it takes.
This franchise has developed its innovative business model over 12 years, and now delivers training every week to more than 40,000 people in over 300 studios in Germany, Austria, Italy and the USA. Now, Bodystreet is looking for new franchisees to capitalise on the opportunity here in the UK.
What can you expect from a Bodystreet franchise?
Where can you set up a Bodystreet studio?
Unlike many gyms, Bodystreet studios don't require a huge amount of space. In fact, you can set up your studio in a really compact site; the average Bodystreet unit is just 800 square feet.
This is fantastic news for someone who wants to reduce their set-up costs and ongoing expenses. Not only can you save money on rent, but you can also minimise your utilities, insurance and other bills too.
Training and Support Provided
For you, the benefit of a franchise is that the lessons have been learnt in advance. This is no exception with Bodystreet. You will have access to an efficient studio concept that is tried and tested; many of the time- consuming processes have been taken care of for you. Starting a business is a personal decision and should you decide in favour of Bodystreet you will be supported from the very beginning.
When you start your Bodystreet business you will benefit from our market-leading experience that is based on over 300 successfully established studios.
Your initial training package takes three weeks and includes training in business management, sales and marketing as well as operations as we prepare you to be a successful Bodystreet owner. Training doesn't stop at launch; ongoing training is organised throughout the year helping you to grow through each stage of your business. Annually you, and your team, can attend the kick-off meeting where the coming year's plans are announced.
In addition to the training we provide in-house through our Bodystreet Academy, we have partnered with one of the UK's leading training providers to deliver industry recognised qualifications to you and your team. This is also combined with an accredited Apprenticeship programmes which, for those really ambitious team members, can go right up to a Foundation Degree in management. Learning whilst earning we call it.
We are looking for franchisees who want success without the unnecessary risk. Bodystreet, and our method, has revolutionised the fitness market in Central Europe – especially in Germany. Our success is based on two key factors – our highly popular and consumer friendly once-a-week 20-minute workout and our sophisticated franchise concept.
Our business can be run by people from just about any background. Whilst health and fitness experience is not vital, we can train you and your team, a keen interest in sport or fitness is a must to have credibility in the studio. What is most important to us is your attitude and determination. Key qualities are:
If you like to learn more about Bodystreet and how our business could be great for your future click 'Request Information' and fill out your details – we'd love to share with you why we think Bodystreet is an incredible investment opportunity and learn more about you and your plans for the future.