ActionCOACH's annual franchise conference was the usual mix of great speakers, friendly sporting competition and recognition of the numerous successes of the network which now exceeds 150 franchise owners.
The two-day event kicked off with guest speaker Tosin Ogunnusi, a motivational training and performance improvement specialist. Tosin is a professional fire-walking, board breaking, bar bending, and glass-walking instructor and trainer, hypnotherapist, and trainer of neuro-linguistic programming. He wanted to talk about ways to improve the power and delivery of presentations and he certainly did that! John McCarthy, a franchise owner since 2014, explained, "His stage presence was incredible and his delivery was outstanding. Rarely do you experience someone who is such a powerful and authentic presenter, who can ensure the whole audience engage and gain such benefit from their presentation." Easy to see why Tosin won The Professional Speakers Academy Award for 2016 Trainer of the Year.
The year's franchise owner awards were judged on the recent client survey results of 250 clients surveyed by independent research company, Smith & Henderson. Stuart Johnson won the award for Overall Best Client Ratings with an outstanding Net Promoter Score of 100%. Roger Pemberton, Matt Ewer, Neil Canty, Simon Buck, James Dodd, Roger Lamb and Kevin Stansfield won the awards for their region. Stuart Johnson explains what the results mean to him, "To be voted UK Best Client Ratings 2016 through an independent survey of coaching clients is a great honour in itself but to achieve 100% net promoter score is amazing and something that makes me extremely proud. I'll be using the score and award as part of my marketing to generate new clients and I have thanked all my clients for their great feedback."
Unsurprisingly, franchise owners were keen to share their successful client generation techniques and client growth stories from the past 12 months with seven of them presenting over the two days. David Poxon joined the franchise in January 2015, "I found the two-day conference a superb investment of my time and picked up several key learnings during each session which I could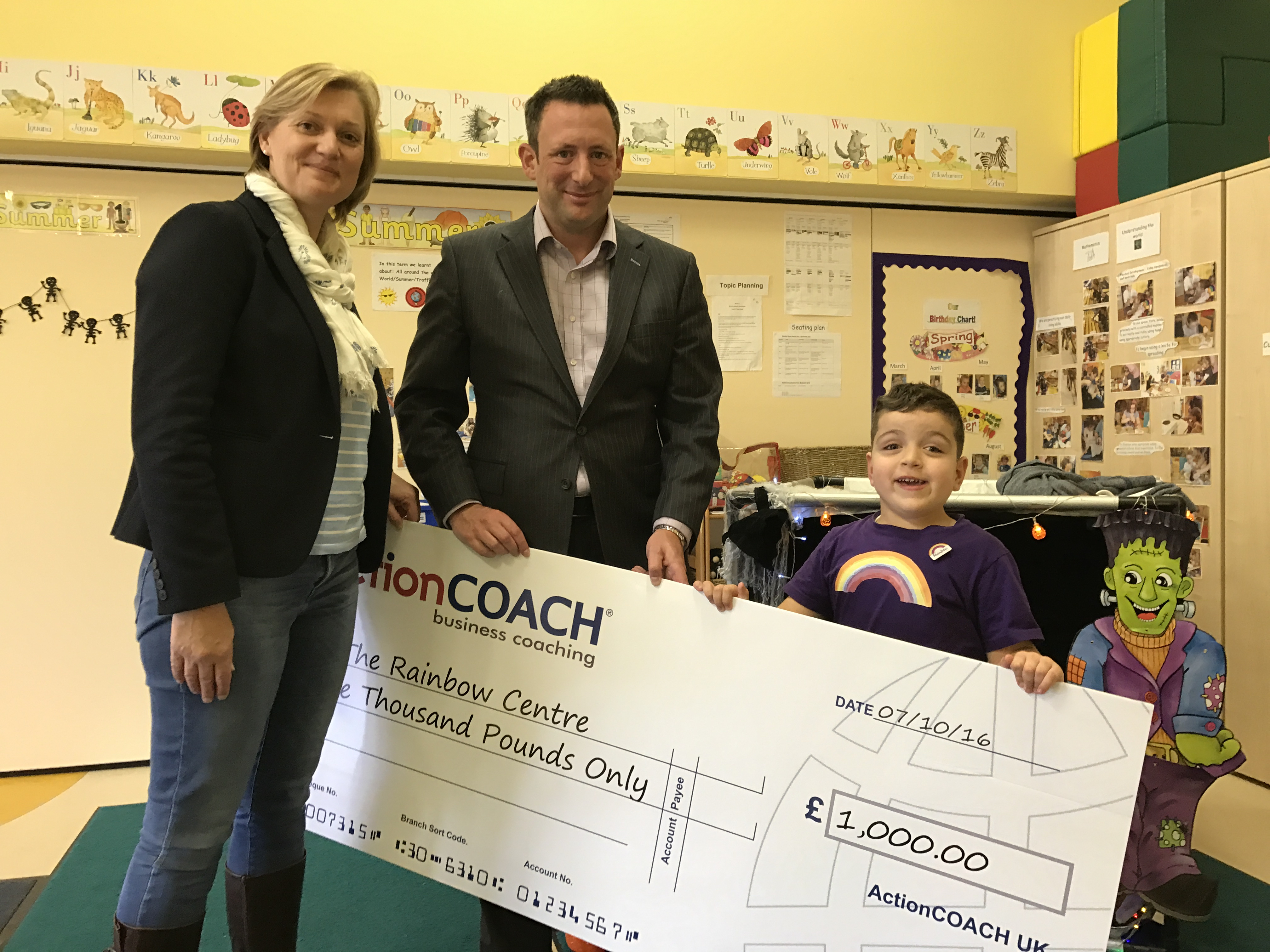 implement in my business straight away. I continue to be very impressed by both the quality and the abundance of the ActionCOACH network – it's genuinely a world-class environment."
Franchise owners weren't the only winners at this year's conference, Jeff Shrimpton's UK team won the touch rugby tournament on the last day of the Global Conference in August this year, with his charity of choice receiving a cheque for £1,000 at the UK conference. Jeff chose a charity local to him in Hampshire, The Rainbow Centre, who inspire and support children and adults with neurological conditions like Cerebral Palsy and MS to become active and reach their full potential.
The conference ended with ActionCOACH's own version of the Ryder Cup with golfers split into teams representing either the north or south of the UK. Team South prevailed as the last team entered the 19th hole just as the sun set on a great two days of learning and camaraderie.
To find out more about this exciting
franchise opportunity

, Click Here or call 01284 277 004

Read more franchising news at Franchise UK directory.