Cambridge-based franchisee, Marshal Konzvo, is celebrating a remarkable first year-and-a-half in business. After just 13 months of trading, Marshal broke the £1 million turnover barrier and his business is continuing to grow month-on-month.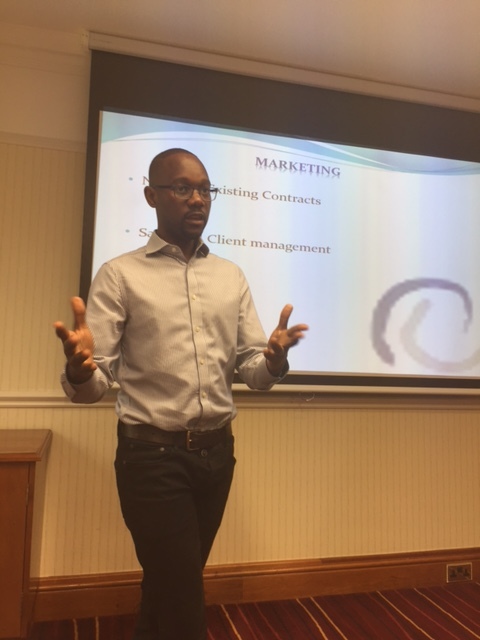 It was in January 2017 when Marshal took the decision to start his own healthcare recruitment franchise. He left his previous career in IT behind him, and took the bold move to launch Match Options Cambridge. He used his savings to finance the new business, and with the help of Match Options head-office, set off on a new career.
Marshal had an idea he wanted to move into recruitment, and liked the idea of a franchise as it is far less risky than going it alone as you have the support of a successful business behind you. So he started to do his homework, and Match Options stood out. The demand for qualified doctors and nurses has never been so high, both in the NHS and private care sector. Add to this the dramatic increase in the ageing population and the huge strain this is placing across the board on the UK health sector, and Marshal could see it was the perfect time to get into healthcare recruitment – as healthcare organisations need help!
Marshal, who is 37 years-old, explains: "It just felt like the right time to get involved in this sector, I had an idea I wanted to move into recruitment, but when I started to do my research into healthcare placements it started to really stand out. There basically has never been more demand for qualified healthcare practitioners, whether that's doctors, nurses and in particular care staff. Organisations simply can't find enough quality staff, so they need help and this is where we come in.
"I put in a lot of research before I bought my franchise, and Match Options instantly appealed. It was also at the start of its franchising journey, so I thought I would be able to grow alongside them. Their hunger and desire to make this work stood out a mile, and all the directors have been very accessible and helpful. I chose a franchise as it is obviously less risk and a lot of the groundwork has already been done for you, so you have far less headaches than going it alone. Franchising is a system that is proved to work.
"So far things are going very well, even better than I expected. To achieve £1 million turnover after 13 months in business is amazing, and testament to all my hard work but also the Match Options brand. It really does set you up to succeed. The training went well and the support I receive is fantastic, the directors really know their stuff and I can call on this knowledge whenever I need it.
Match Options is a recruitment agency providing healthcare staff on a temporary and permanent basis. It not only places doctors and nurses but healthcare assistants, care support workers, and domiciliary care workers. It also places health workers in the likes of schools and prisons, meaning the market potential is huge.
Match Options has been successfully operating in the care sector since 1999 providing high quality services to the local communities it works in; there are currently seven company-owned branches and four franchisees throughout the UK. With the huge market potential on offer the company is now seeking additional franchisees who are committed and passionate about growing the business throughout the UK.
Michael Celestine, Operations director, Match Options explains: "There has never been a better time to consider starting a healthcare recruitment business. There is an acute shortage of qualified health staff across the board in the UK, so organisations need help finding quality staff. The care sector is also one of the fastest growing markets in the UK, and this trend can only continue. There will be an extra five million people over 65 in the next 20 years. This is huge challenge whether they are being cared for at home or in a hospital or care home environment."
If you'd like to find out more about becoming a franchisee with Match Options, please click here to find out more – > Match Options Franchise