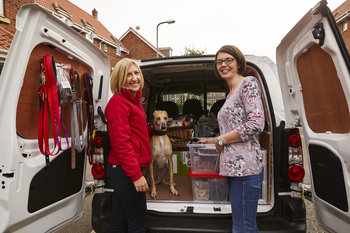 Home delivery has seen massive growth in recent years, and everyone is benefiting from the convenience of direct-to-the-door delivery of products and services. Busy pet owners are thankful for the hassle-free way to shop for pet food and accessories via the OSCAR complete service.
Emma Shaw from Desborough in Kettering says "There is no doubt that the convenience of a reliable pet food home delivery service is a good reason to choose OSCAR, but when you discover what else comes with it there is no turning back.
"I now have two dogs, Ludo and Hetty, but my first meeting with Rachel Knight was for Ludo and his sensitive tummy. Nothing was too much trouble for Rachel when helping me to find a suitable food for his condition; she took time and patience to get it right. Rachel's friendly approach and her knowledge of pet nutrition are unrivalled, and her regular visits and messages to make sure Ludo was making good progress are beyond my words of appreciation.
"Where can you find a pet caring service like OSCAR? Rachel is always there for my dogs and we are there for her too, ready to give her a top-class recommendation."
OSCAR is dedicated to providing a home delivery service which enables its customers to enjoy the benefits from a range of tasty, nutritious pet foods – complete with toys, treats, accessories and health care products, including advice from experts.
If you would like to find out more about the OSCAR Pet Foods Franchise, please click here: Oscar Pet Foods Franchise