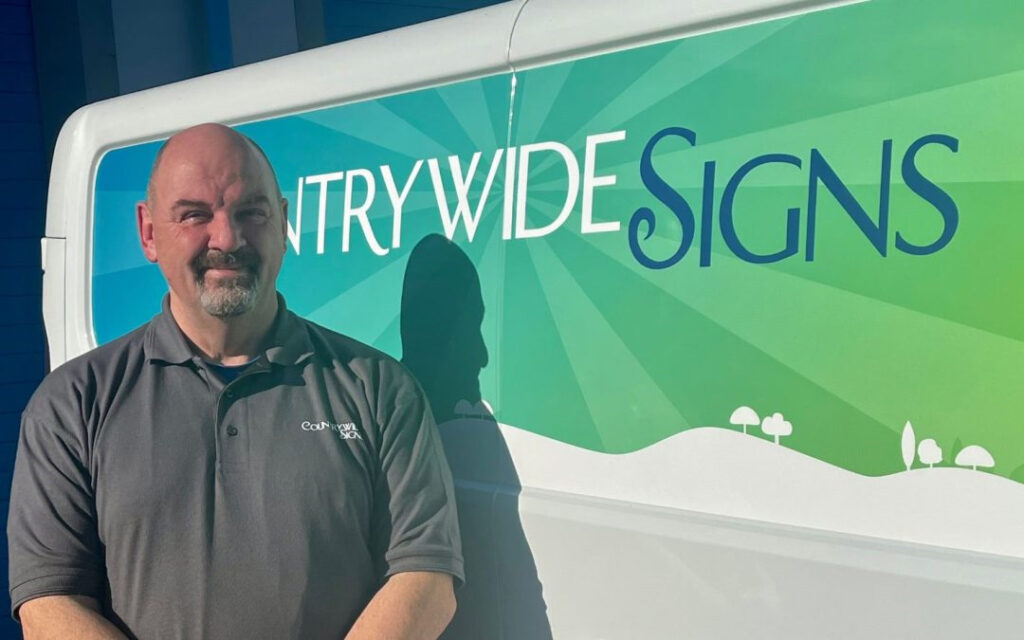 The latest franchisee to join the network is Michael Langford taking over the Boston and Grantham area as Countrywide Signs Boston. Learn what makes Michael such a great example as a franchisee.
Michael Langford, Countrywide Signs Boston started as a franchisee this month. Coming from a background in sales in the motor trade, Michael is a perfect example of what it takes to build a business. The practicalities as a sign erector are easy to teach, however recognising how to grow a profitable business needs to be second nature. He's a great example of what's needed to succeed as a Countrywide Signs franchisee.
Director Justin Pearce says: "Michael brings a wealth of sales experience, an enthusiastic professionalism, and a positive can-do attitude to the territory and has big plans to develop the territory above and beyond its previous success. We wish Michael much success and our continued support as he embarks on his Countrywide Signs journey."
Michael became the new owner at Countrywide Signs Boston the beginning of March. Michael completed his franchise training and practical induction at the end of February and is the new franchisee at Countrywide Signs Boston, taking over from Dave and Dan Jordan who left the network in late 2022 due to health concerns.
The business package sits somewhere between a resale and greenfield opportunity due to the nature of the change in ownership. Michael has access to a proportion of the original customers from the previous owners, however there is a great opportunity to promote his offering to other prospects within the territory.
Michael comments on his experience so far: "There has been a lot to get to grips with on the business-side, however, there's no starting from scratch like if I were to start a business on my own. There's a tried and tested structure to follow and online systems for both agents to place orders and for me to manage planning and fulfilment which is definitely a massive help."
He continues: "Training was very thorough and if I have any questions there's always someone the other end of the phone to help. I have a nice balance of existing agents like Newton Fallowell Grantham, Tony Ruby and Buckley Wand to erect signs for as a starting point and prospects in the area to contact and build relationships which I've already made a start with. The sales-side comes quite naturally to me having worked in sales and management for many years and I enjoy being back to the days of face-to-face visits to talk shop."
It's early days for Michael, but he's proving to be a great example of a franchisee with the drive to learn and the ability to utilise his existing skill-set to further develop and grow his new business.
If you would like to learn more about becoming a Countrywide Signs franchisee, please get in touch here.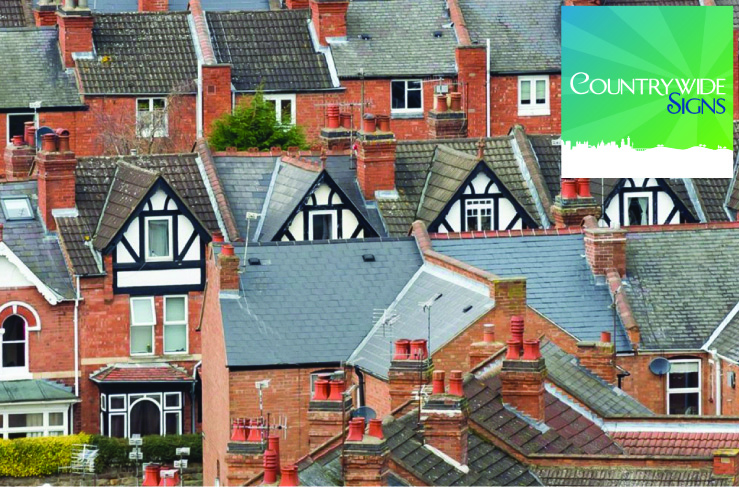 Why Does the Property Sector Remain Such a Stable Marketplace for Countrywide Signs?
Countrywide Signs understand that many are feeling cautious this year. Recession is a worry, but in the right sector, with the right business and support structure, it doesn't need to be! Luckily, they operate in two very accommodating sectors. Franchising and property.
Everyone listens to the negativity in the press; it's human nature. There might be some negative sides for some when it comes to the property market. For property sign erectors however, it's the fluctuations which provide a well-balanced business model.
According to PropertyIndustryEye, data has shown that the number of property sales agreed in the first week of this year was in fact higher than the same period last year. Echoing this message are reports from online platform Rightmove. Rightmove analysis has recorded an impressive 55% increase in the number of people contacting estate agents in January compared to the two weeks prior!
Director, Justin Pearce comments: "The year for the property sector has started well. As property sign erectors, we keep a close eye on the marketplace. Our 25 years of experience shows a clear correlation between the sales and the rental sectors." He adds: "There's a natural balance between sales and lettings. Both can perform well, but also on the flipside if one is booming the other may see a decline, however this all leads to opportunities for our franchisees."
Adam Davison, Head of Business Development, explains how the sales and rental market impacts Countrywide Signs…
"Statistics currently show that demand from homebuyers is still up by 4% compared to the pre-pandemic market in 2019, however this demand doesn't stop with sales. High demand in rental property is also continuing, which is reflected in the increasing rental prices throughout the UK.
"None of this suggests that 2023 house moves will decline. In the main, people will never stop needing housing whether purchased or as rentals."
If you want to learn more about the industry we operate in and how the property sector impacts our network, get in touch here.