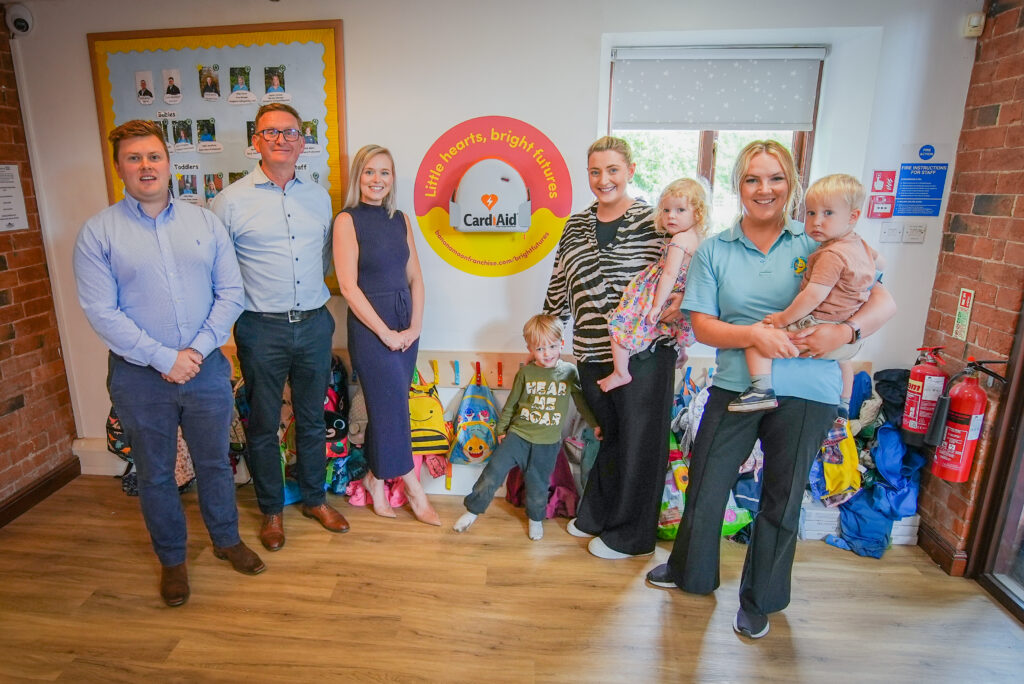 UK nursery franchise Banana Moon have launched their 'Little hearts, bright futures' initiative, aiming to install an automated external defibrillator (AED) at each of its 47 UK nurseries by the end of 2023. The first CardiAid defibrillator was unveiled in Hatton in July. 
The franchise believes the initiative not only supports the local communities in which the nurseries operate, but also adds to the already-attractive franchise proposition.
Mark Bates, Founder and Managing Director, commented:
"We're extremely proud to launch our 'Little hearts, bright futures' initiative. This lifesaving equipment will help us to ensure our children have the best chance of a bright future, no matter what life throws at us. It also reassures our parents that their little ones are in the best possible care in our nursery settings. And it's also good news for our franchisees, as it cements our commitment to best practice in the childcare industry."
Banana Moon launched in 2006 and began to franchise the business in 2010, with 10 franchises signing up in the first year. The network now has 47 locations across the UK with an average of five nurseries opening each year. Last year, the company announced they had been accredited as FMembers of the British Franchise Association (bfa) – the only nursery franchise to do so.
Mark continued:
"The childcare industry can be extremely competitive, but we've repeatedly proven our credentials over the past 13 years. Our latest campaign gives added credibility to our already-attractive franchise proposition. Parents are reassured by our nurseries being part of a successful national franchise, meaning they have the support of a hugely experienced national team and access to initiatives such as 'Little hearts, bright futures'."
The 'Little hearts, bright futures' initiative means members of the communities local to the nurseries are within minutes of the AED, boosting the survival chances of people who have an out-of-hospital cardiac arrest (OHCA). 
A defibrillator plays an essential role in the chances of bringing someone back from an out-of-hospital cardiac arrest. According to the British Heart Foundation (BHF), early CPR and defibrillation can double the chances of surviving an OHCA.1 The devices will be registered with local ambulance services, who can direct 999 callers to the defibrillators, meaning vital treatment can commence prior to the ambulance arriving.
Mike Bates, Banana Moon Founder and Chairman, commented: 
"Despite our growth over the past two decades, we proudly remain a family business at our heart. Three generations of my family currently work in the business. Family is so important to us, which is why we're so hands-on with our franchisees – we're always thinking of ways to support them in delivering exceptional childcare.
"We hope our 'Little hearts, bright futures' campaign will raise awareness of AEDs and the difference they can make, and we encourage other nursery groups and franchises to do the same."
Kully Shahi Owner of Banana Moon Day Nursery in Wollaton and Littleover said:
"Our 'Little hearts, bright futures' defibrillator is a testament to the support we get from being a part of the Banana Moon franchise and their commitment to the health and well-being of everyone in our care. While we hope these AEDs won't be needed, we hope they give reassurance to parents and members of our community. Here's to little hearts and bright futures!"