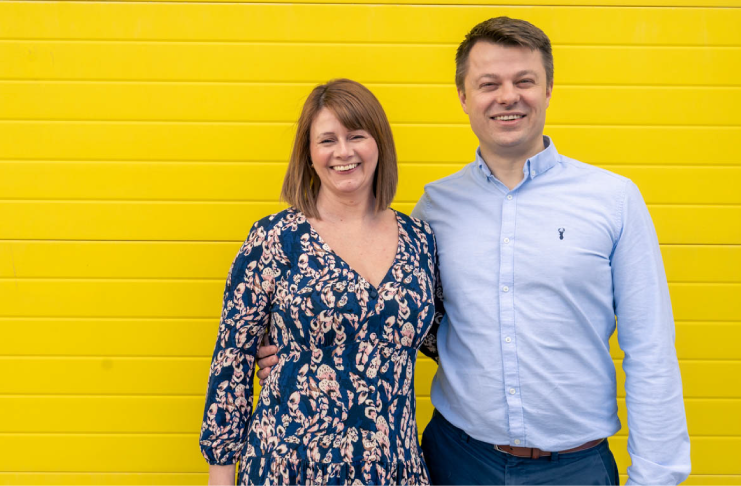 Good luck to an old friend and a huge Granite & TREND welcome to our newest franchisee!
It's always sad when we have to say goodbye to one of our franchisees. We pride ourselves on working very closely with all our partners, not only guiding them through their crucial opening months, but also continuing to build on that relationship throughout their time working with us. However, when our partner from the very successful Nottingham showroom decided to retire, it did come with a silver lining – welcoming someone new to the fold! 
Which is why we are very happy to introduce Paul Watkins, the latest business owner to join our rapidly growing network.
Before joining us as a franchise partner, Paul was very new to the kitchen and bathroom renovation sector. Though he had always had an interest in DIY and home renovations, he actually came from a well-established career as a management consultant for a well-known accountancy firm. 
"I wanted something that was better for the long-term, something more sustainable." Paul told us.  "My previous job was very up and down, depending on what was happening with the market and especially recently, but this is a much more stable way to make a living. Also, I really wanted to spend a lot less time on video calls and more time doing practical things." 
A Granite & TREND Transformations franchise not only gives you a route into a more hands-on working life, but also empowers you to take control of your career and fulfil your ambitions to be your own boss. However, unlike going it alone, it also offers you the very best of both worlds: the independence and freedom of running your own business, but also with all the support and backing of a large, successful brand.
"This franchise strikes a great balance. You're never on your own, never left adrift – you've always got the franchisor there to help and the rest of the network to lean on. Since joining Granite & TREND, I think about my working life in a much more positive way. I feel like I can solve any problem, finally make all the important decisions and be in control of taking the right action – something that is always missing in corporate roles."  
While a Granite & TREND Transformations franchise provides a tried and trusted way for new and aspiring business owners to make the move to self-employment, some people, like Paul, opt to purchase an established territory instead. With that desire to break into home renovation already in place, the Nottingham resale was simply too good an opportunity to miss. 
"Instead of starting from scratch, I wanted to be involved in something that was already off the ground and where I could learn all the right new skills from the current owners. I already knew about Granite & TREND, so when the Nottingham territory came up for sale, I knew it was a great location and I could clearly see that the finances were viable. With a new franchise, you can't always be sure how it will work in a new area but, with an existing one, you can really hit the ground running.
"I've got all the key staff in place already and they're really great, so I've been able to pick up from where the previous owner left off straightaway. I've really benefitted from all their experience of running the business." 
Paul has big plans for the future of his new franchise. With the established business that has already been built up over the years, he has a solid base from which to continue to grow the franchise from strength to strength. He has plans to grow his sales by 50% over the next year – an ambitious goal, but one that is well within his grasp with the power of the Granite & TREND brand behind him.
By offering a highly unique range of products, such as the Top that Fits on Top and a huge selection of worktops, flooring, glass mosaics and other secondary products, we ensure that our franchisees can always stay well ahead of the competition. Through our constant innovation in bringing new products and services to the market, all our franchisees can feel confident that their investment will continue to grow in value for many years to come. 
"What really attracted me to Granite & TREND Transformations was the product. Once I had seen the quality of it, I could see that our customers would be very happy with it too. It was something that I would buy myself, so it was something I could believe in and sell."
As most of our franchisees stay working with us for a long time, openings like this don't come up very often but, if you are also interested in buying into an established territory, watch this space for all the latest opportunities!
Is it time you found a new career that you can really believe in? Whether you want to step into a business that is already trading, or prefer to build your own venture from the ground up, the Granite & TREND Transformations franchise gives you everything you need to succeed.