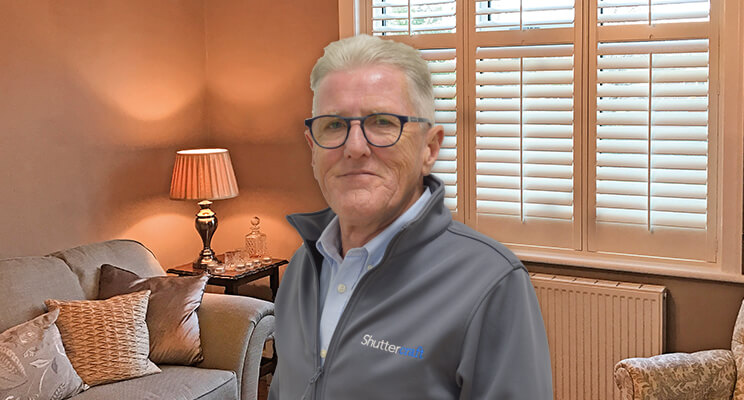 Mark Richardson – Why I joined the Shuttercraft franchise
For more than 30 years, Mark Richardson had enjoyed a career as a successful salesperson in the motor trade. His positive nature and soft sell approach saw him bounce back from three redundancies, but at the age of 62, Mark finally decided to do something for himself.
A few years ago, he attended a franchise exhibition where he first came across Shuttercraft. Having recently had shutters fitted in his own home and been very impressed, he was sold on the concept. The timing, however, just wasn't right.
"When work is going well, you tend to put your dreams on hold and forget about them," said Mark. "But then I realised it was now or never and so I went back to a franchise exhibition in October where I talked in length to the team at Shuttercraft. I'd considered another shutter franchise, but what attracted me the most to Shuttercraft was how this had the potential to quickly become a management franchise."
Mark was determined to build his own business that didn't rely on storing or wasting stock, that was cash positive and that he could take a back seat in further down the line while enjoying a healthy income, and then possibly sell for a lump sum. Shuttercraft ticked all of the boxes.
An investment requiring commitment
While Mark had been employed all his working life to this point, he worked in commission-based roles where the money you earned was reflective of the work you put in. He certainly wasn't expecting to have success handed to him on a plate in return for paying the £25,000 franchise fee.
However, he still had to be sure that the infrastructure and support was there to help him be as successful as he could be. By speaking with the Shuttercraft team, both at the event and on his Discovery Call, as well as existing franchise partners, Mark understood that he would get all of the training and support he needed. He also felt the cost of the franchise fee reflected this and the quality of the organisation.
Mark said: "There were other franchises, including the other shutter franchise, with lower fees. But the set up and support being offered by Shuttercraft was excellent and demonstrated great value for money. The cost is not insignificant, but I felt comfortable that it would motivate me to succeed, provided I took advantage of all the help available. I see this as more of a partnership – the perfect balance between being employed and starting a business completely on your own."
Being 62, Mark wants to grow his Shuttercraft business as quickly as possible. He aims to achieve £40,000-£50,000 profit in the first year within his East Midlands territory and hopes to take on a second territory soon after.
Building on a solid skillset foundation and personal experience
With solid sales experience already under his belt, Mark is confident that his honest and soft technique will be easily transferrable to shutter sales appointments. Having first-hand experience with his own shutters, which he admits are of lower quality than those supplied by Shuttercraft, he will also be able to explain the benefits of the products to potential customers with practical examples.
The practical fitting doesn't phase Mark either as he is a self-taught DIYer and has renovated four properties in the past. With his partner being an accountant, he is also confident with the business reporting side of things too. Mark will need to develop new skills in marketing and advertising though, which he is both apprehensive and excited about.
"Technology is definitely my weakness," said Mark. "Thankfully there are people on the Shuttercraft team that will help me with that, especially the digital advertising and website, the latter of which is included in the franchise fee. I know that I will also be able to call upon the support of my neighbouring franchise partners, who I have already met and are doing very well."
He is looking forward to "Making the franchise dream a reality"
To find out more about franchises similar to Shuttercraft, take a look around the Franchise UK website or complete the enquiry form below.