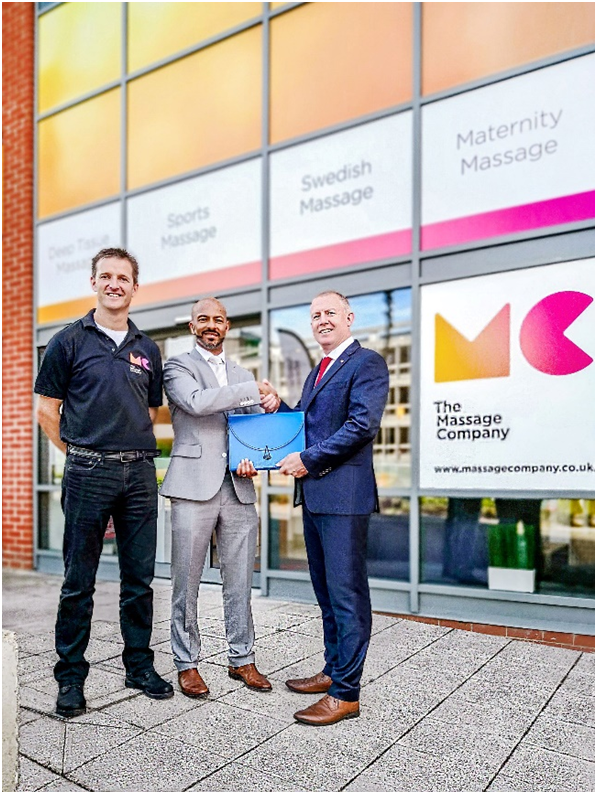 The Massage Company are excited to announce the signing of their third franchisee, Sunny Sachdev into their membership-based massage franchise – the first and only business of its kind in the UK.
Their first franchisee location is due to open shortly in Tunbridge Wells. The Massage Company founders, Elliot Walker and Charlie Thompson, are very excited the business will now also be looking to open in The Midlands with such a credible franchisee.
Sunny has a strong management background and was looking into ideas for a new business when he enquired into franchising and was researched the business model developed by the Massage Company. Sunny says, "Right from the very first call I could see they were well informed and passionate about this new business. The lure of joining a franchise that was new to the market and being only the third franchisee excited me. I felt the TMC team would provide high levels of support which I may not have received taking up an established franchise. Another key factor was having the choice on choosing a territory as opposed to being restricted."
Sunny will actively start his search for a property in the Solihull, Leicester and Nottingham areas. He is looking for 2,000 – 3,000 sq. ft of space.
Since the pilot centre was opened in 2016, The Massage Company has now signed 5 locations. Elliot Walker, Founder and Commercial Director responsible for franchising said, "It is our intention to grow a nationwide network of franchisees and it is vital that we spend time doing our due diligence, to carefully interview and be selective in taking franchisees into the network. My goal is to balance the integrity of our selection process and protecting our network of existing franchises alongside allowing potential franchisees access to our business to see what we do so they can make an informed decision before joining.
As we went through this process Sunny's business acumen shone through and we believe he will build a very strong business and we look forward in supporting him in this."
The Massage Company is an award-winning Membership Based Massage Business that encourages customers to return monthly for massage treatment that address musculoskeletal pain and allows customers a break from their hectic schedules.
Founder & Operational Director, Charlie Thompson said "We have built an operational & training support structure that allows us to develop exceptional business minded franchisees and we look forward to taking Sunny through this journey. This is a new type of business in the UK and it is myself and my team's intention to ensure that all our franchisees including Sunny have full training and support from the moment they join our franchise and throughout the lifetime of their business to ensure the optimal chance of building a strong successful business."
You can find out more about the Massage Company Franchise opportunity by clicking here -> The Massage Company Franchise