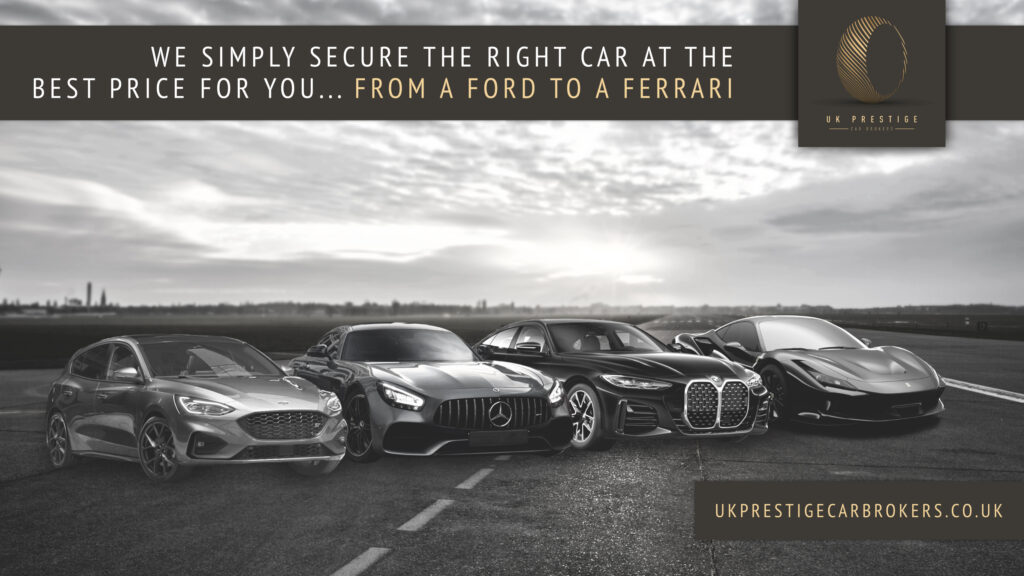 UK Prestige Car Brokers  
FORGE YOUR OWN PATH
What we do 
UK Prestige Car Brokers provide an unrivalled service; however, our clients do not return to us for this reason alone. We apply an honest and impartial approach to our work and this work ethic has allowed us to carve out and nurture long-lasting relationships with both clients and dealers. We are in contact with our larger franchised dealerships as well as our specialist dealers everyday and we keep fully abreast of new prices, model launches and special offers.
We help our clients buy the right car at the best price with a hassle-free experience and do not charge our clients for our services.
UK Prestige Car Brokers make buying or selling any car easy and enjoyable. By comparing the best offers from national dealers, UK Prestige Car Brokers will make sure that a client can buy or sell a car at a price that's right for them.
Who We Work With
We work with an extensive and varied group of contacts to provide the service we do and we have strong links with all the major car franchises throughout the UK.
What Do We Do For Our Clients?
At UK Prestige Car Brokers we work together with our clients to find their perfect car.
It can be hard work finding the right car, getting the best deal, selling your current car and navigating the complicated finance options. That's why our tailored services help to find the perfect vehicle; all our clients need to do is look forward to getting their new car.
Decades of Experience
UK Prestige Car Brokers are specialists in finding the perfect car. For both buying or selling, our clients all benefit from our decades of industry experience, breadth of contacts and a highly professional yet personal service.
From a Ford to a Ferrari!
Why Us?
UK Prestige Car Brokers provides: 

Unique, bespoke personal and professional service to private and business clients looking to buy and/or sell cars

A car finder service – connecting buyers with sellers and sellers with buyers

The best possible price for a car without the inconvenience of a client having to sell it privately, hawking it around the car dealers or using the online car buying websites

Clients do not pay a fee for our services as you will be paid a fixed fee by the Dealer who ultimately supplies or buys the car, you work for consultancy fees

Assistance to car buyers in helping them make an informed decision as to how to finance their new or used car, UK Prestige Car Brokers are FCA compliant

Easily run from home

No stock

No expensive forecourt

No high working capital requirement or motor trade insurance

Dealer commissions

An excellent income

Being your own boss
What Our Franchisees Say

"After several months of researching franchises throughout various organisations, I came across UK Prestige Car Brokers. I was looking for a business that I could run from home and make changes in my lifestyle, enabling my wife and I to have a better work life balance. I met with Colin Smith and the franchise consultants several times. I was extremely impressed with the detail of the business, but also with Colin who I found to be genuine, honest and reliable. These factors in the main, along with the projections for the business helped my decision and progress to becoming a UK Prestige Car Broker Franchisee. Since joining UK Prestige Car Brokers, I have had excellent training, and an excellent business and personal relationship with Colin, who provides a wealth of knowledge and excellent support on an ongoing basis. After 3 months since my start, I am currently building a client list and invoicing business, via marketing and business networking. This I can clearly see will only develop further to achieve everything we set out to do from the beginning. I can highly recommend Colin and UK Prestige Car Brokers for anyone who may be interested to join the team who has a passion for cars and would like to get involved."
STEVE LINSLEY
Regional Director (Cheshire), UK Prestige Car Brokers

"From a Regional Director's (Franchisee's) perspective I can not recommend UK Prestige Car Brokers highly enough. Having come on board not long before the country was locked down and industries ground to a halt; the support, teamwork and advice I have received is second to none. The hard work over the past 7 months is now starting to pay off and I'm confident in the direction my business is heading as part of UK Prestige Car Brokers. If you're passionate about cars then it is most definitely a job, a business opportunity, a lifestyle, worth considering."
STEVE JEWELL