TopGear Tuning Franchise
£9,650 plus VAT
Investment Info:
Monthly fee is from £312 plus VAT
Franchise Description :
Run your own automotive franchise with TopGear Tuning and benefit from huge rewards
Finance:
Yes, through a third party
TopGear Tuning Mobile Franchise Opportunity
Run your own engine remapping business with TopGear Tuning's leading mobile franchise opportunity
This is a fantastic opportunity to set up and grow your own engine remapping business, with the potential to be up and running within 3 months. With the support of the largest tuning company in the world, you'll be able to offer ECU tuning and aftermarket services in your chosen area.
This is a unique and dynamic franchise opportunity in the booming remapping market, which enables you to start up and grow your business from under three months.
Equipped with a van and the latest tuning equipment, diagnostics, you'll travel to clients in your area providing the highest quality services to clients and upholding the TopGear Tuning philosophy.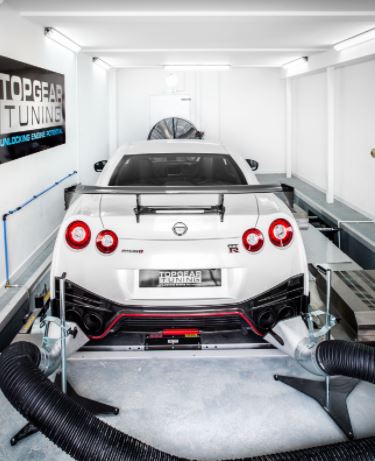 Unlike similar businesses, we pride ourselves over quality rather than quantity and we allocate our franchisees with expansive areas as opposed to saturating them, with a healthy territory size of over 1,000,000 people.
From training to equipement and ongoing support, you'll receive absolutely everything you need to set up and trade under the TopGear Tuning brand name. This includes:

A large, expansive territory of over 1,000,000 potential clients

Full van livery which advertises your business effectively

Custom website

Business support and full equipment training

High quality diagnostic machines and remapping equipment

We supply all marketing materials , banners , leaflets etc.
To maximise the exposure of your business, you'll be added to our dealer map for customers to find you online, driving leads for your business. What's more, as an official mobile franchisee, you will get exclusive use of our dyno facility for any customers that want to test the TopGear Tuning power.
A TopGear Tuning franchise costs from £9,650 plus VAT and this includes everything you need to get set up. Ongoing, there is a monthly fee from £312 plus VAT payment which includes marketing your services, over the 5 year franchise contract with the option to continue after this period at no extra cost.
One of the benefits of the TopGear Tuning franchise model is that if you already own any of the equipment included in the investment, such as tuning tools, this can be deducted from the franchise cost.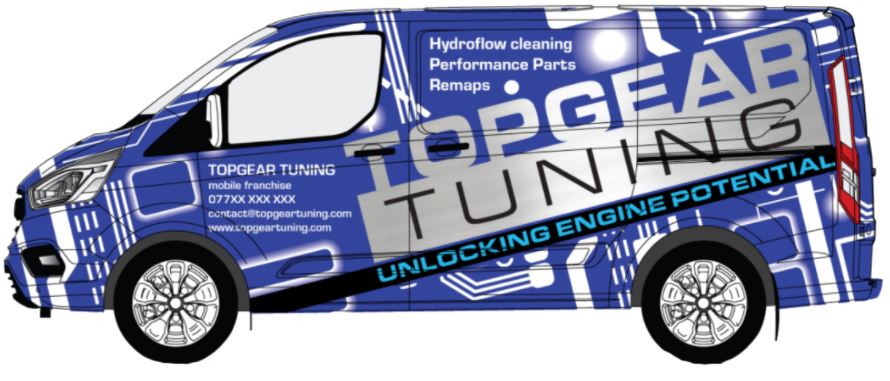 If you would like to learn more about the TopGear Tuning franchise, get in touch below. We'll send you a copy of our franchise brochure, along with more information about the investment and earning potential.
Van based Franchises
Van based franchises are a popular choice for many people seeking a new career opportunity. With a van based franchise there is a huge variety of options available offering freedom to run your business without necessarily needing to employ any staff or allow incur large overheads connected to commercial premises, shops etc. So what types of van based franchises are available?
Home Improvement & Disaster Recovery 
These services are at the top of the list of insurance companies & homeowners in a time of crisis, when there is a disaster at home, such as a fire or flood and many several franchise networks have been grown into national networks just supplying major insurers.
Courier 
This type of van franchise is an attractive option for many franchise seekers, who like to be out and about dropping off parcels to businesses and homeowners. Courier franchises can be flexible and some are low or even no investment and sometimes can even be run alongside an existing business or full or part-time job to create even more flexibility.
Oven Cleaning 
Many homeowners and businesses recognise the efficiency of professional oven cleaning. This business is a great source of repeat business as well as of course the oven will need to be cleaned on a regular basis.
Mobile Coffee Shop 
Coffee shops have grown to a huge size in the UK and is worth billions to the UK economy but there are now mobile coffee shop franchises that can tap into this growing market. The beauty of this sort of franchise is that you can take a quality product to areas that may not have had a major coffee brand nearby such as offices or industrial premises in retail and/or industrial estates. They also benefit from far lower overheads compared to retail coffee shops which are usually in expensive, prime retail locations.
Auto Car Repair 
Car scratch, bump and windscreen repairs have become increasingly popular with car owners wanting to keep their vehicles looking good. These automotive franchises specialise in many automotive services including alloy wheel repair, dent and scratch removal, windscreen repair & mobile tyre replacement.
Cleaning 
Both commercial cleaning & domestic cleaning are services often contracted by businesses and homeowners. These franchises can provide specialist cleaning services such as carpet and rug cleaning, as well as regular household and contract office cleaning.
Gardening 
Us Brits love our gardens and are prepared to spend, spend, spend to keep them looking good, there are many different type of gardening van based franchises available.  The specialist services provided include professional lawn care and maintenance, fencing, garden design and landscaping. If you enjoy working outdoors gardening franchises could be a viable business option.
Browse More Van Based Franchises Below
Automotive Franchises
We Brits love our cars, according to a study by the BBC in 2016 the number of cars alone on the roads increased by over 600,000 per year to a staggering 25.8 million! As the number of cars increases of course the number of a franchisees potential clients increases so automotive franchises have been very successful, particularly over the last 5-7 years.
There are many type of automotive franchises including car bumper & scratch repair, windscreen repair, valeting & detailing, tuning so there is a great amount of choice for you if you are seeking a new business within the automotive business sector, which according to the SMMT the automotive sector is worth over £77bn a year to the UK economy.
So what sort of person do you need to change career and set-up an automotive business franchise? You may have previous industry experience but what's great about franchising is with every franchise you will receive full training and support from the franchisor so many will not require previous automotive experience.
Browse More Automotive, Van and Car Franchises Below