Tan And Deliver Franchise
£From £9,950
Franchise Description :
Tan And Deliver offer a franchise opportunity to increase your income without risking your current employment. Unlike other franchises you have the freedom to build your business to suit your lifestyle
Finance:
Yes, through a third party
Tan & Deliver are proud to offer you this exciting opportunity to run your own successful Sunbed Hire Business with the potential to earn a significant income. This unique business can be run alongside your existing job and commitments.
We know it can be daunting making the move to become self-employed. That's why we have developed a franchise opportunity to increase your income without risking your current employment. Unlike other franchises you have the freedom to build your business to suit your lifestyle, whether you want to work a few extra hours per week or make it your full time business.
Due to our rapid success and growth, we are now looking for highly motivated, enthusiastic people to run their own Tan & Deliver Franchise in their local area.
As a Tan & Deliver Franchisee, you will run your own business using our brand, systems, support and proven model. You will receive personal, experienced guidance every step of the way, from the day you start and as you continue to grow.
You'll deliver what we consider to be the best home hire sunbeds on the market to local customers within your dedicated territory. Operating with a branded uniform and fully equipped tool kit, you will be part of a well known National brand, while enjoying the benefits of being your own boss.

The Opportunity
As a Franchisee of Tan & Deliver you will be providing a unique and desired service in your chosen territory. The Tan & Deliver Franchise allows you to build a successful business which will fit in with your family or lifestyle commitments.
You can run the Business alongside your existing job or commitments.
We have a proven business formula which will form the basis on which your Franchise will operate. We have proven systems in place that you will follow and which are designed to improve overall productivity and increase sales.
With clear target markets our winning business model is backed up by successful sales and marketing strategies.
All our Social Media and online marketing has been comprehensively tried and tested and consistently reaps rewards.
Being part of a recognised brand your position with potential customers will instantly be enhanced, giving them the confidence that they are hiring from an established and reputable company.
You will have a large exclusive territory giving you the opportunity to build a sizable business with the extensive training and support tailored by our leading experts the earning and growth potential is limitless.
Unlike other Franchise Models, you will be earning from day 1. You retain 100% of all Profits. After 2 months trading the Management Fee commences. This Fee is dependant on your Fleet Size and is paid monthly.
We will construct and monitor the initial Marketing and Advertising for you and guide you in the most effective ways of promoting your Franchise and the Business.
We commence our Marketing Campaigns 4 weeks prior to your Launch Date. This will generate a large list of Customers and mean you can start generating an income from day 1.
We will construct your Social Media Presence in the form of Facebook, Instagram and TikTok.
All aspects of the above will be fully covered in Training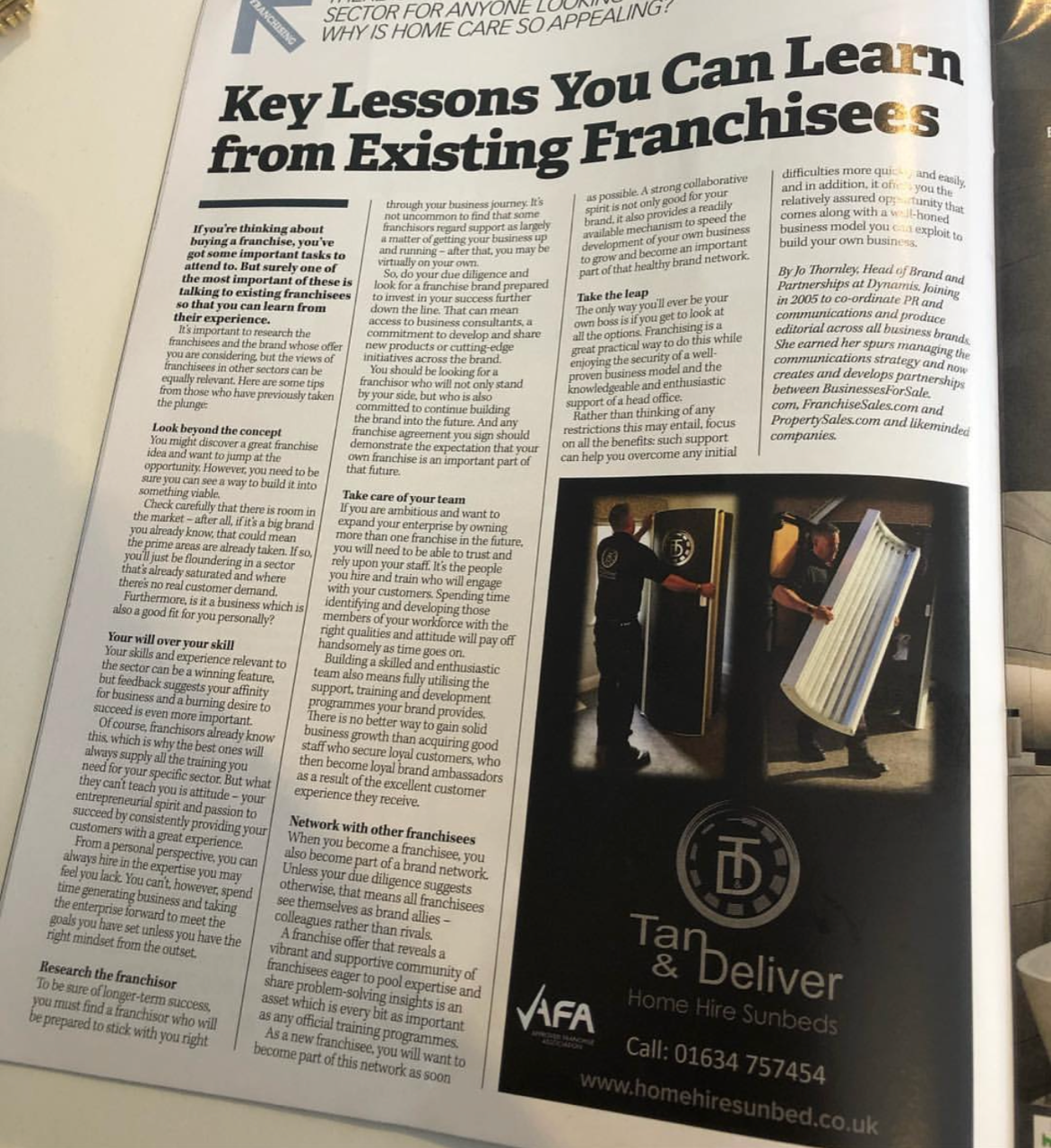 Franchise Packages:
10 Sunbed Package
Franchise Package is £29,500 +vat
10 X Tan & Deliver Sunbeds (Black Edition) (Worth £35,000 RRP)
5 Sunbed Package
Franchise Package is £19,500 +vat
10 X Tan & Deliver Sunbeds (Black Edition) (Worth £17,500 RRP)
Included in all packages (Scaled to Fleet Size and Package)

Rights to use the Tan & Deliver brand name

Your own exclusive franchise territory

Full Training provided at our Head Office or a location to suit.

Processes, systems and templates to run the Business

Tailored Marketing products.

Fully supported Social Media marketing package

Initial Localised Marketing

Ongoing support and regular business updates

Central Website with dedicated Web Page

Branded Uniform

No Management Fee for first 2 months of operation

Tanning Lotion and product starter pack

Tool Kit, parts and spares provided

Stationary package

Legal support

Vehicle Sign Writing / Branding
Management Fees:
£17 per Sunbed in Fleet per month from month Two
Example: 10 Sunbeds in Fleet = £170 P/M  inc Vat
£22 per Sunbed in Fleet per month from month 13
Example: 10 Sunbeds in Fleet = £220 P/M  inc Vat
Additional Sunbeds:
Additional Sunbeds can be purchased at anytime at £2010 + Vat each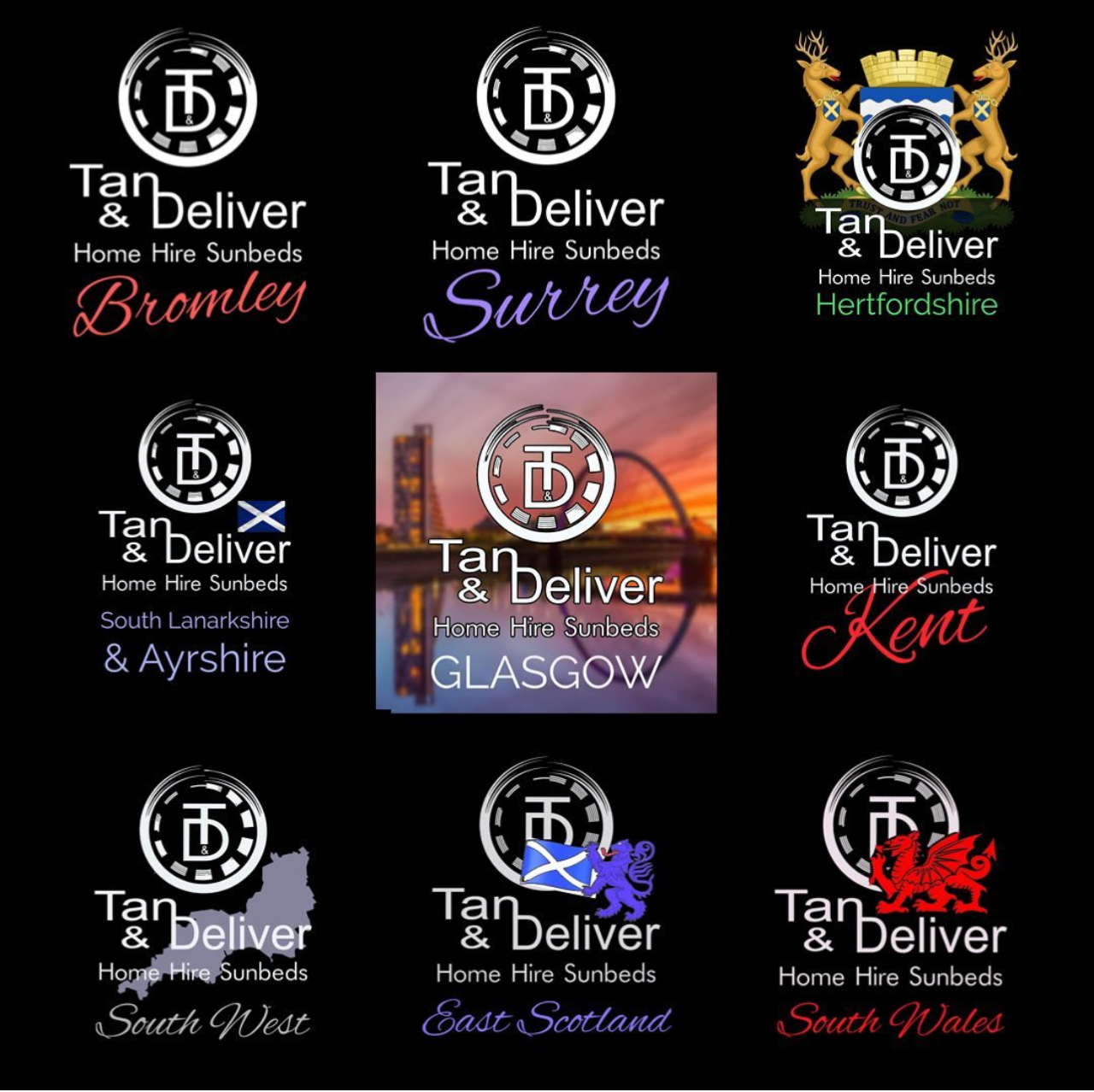 TESTIMONIALS
Ian Willis (87 Sunbeds in Fleet)
Franchisee of Scotland East
I started to look into changing my career in the summer of 2018 . Tan & Deliver caught my eye along with other small business ideas. After lots of research and talking with the owners Jonathan & Trevor of Tan & Deliver, I decided to invest in there brand and myself. I become a franchise owner in October 2019.
After purchasing the initial franchise fee and investing in 25 tan beds it only took  3 weeks of advertising and receiving bookings to realise I needed more beds to supply the demand. So we expanded!! A lot quicker than I originally expected. My work schedule suits my family perfectly as I generally only work 1-3 days per week and very flexible hours. Already in my first 6 weeks of operation I have many fantastic online reviews, so it proves that the product is as good as Tan & Deliver say they are. Every step of the way since my first phone call to T&D in 2018 to today January 10th 2020 everything has been met with complete professionalism. Tan & Deliver are definitely one of the few companies that actually want your franchise to succeed and will help in any way possible . I am proudly representing the Tan & Deliver brand in Scotland.
2022 Update
I invested into the Tan & Deliver Franchise covering East Scotland in late 2019. We have been growing rapidly ever since and struggled to keep up with the pace of supply and demand .
I started small to see how it would grow and thank you to Jonathan and Trevor's knowledge, guidance and support I have expanded to well beyond my dreams very quickly .
Investing into the Tan & Deliver name has been a great decision for my family.
After 2 years and 7 months I have expanded from 25 Tanning beds to 87 at present and more coming due to the demand.
Jonathan and Trevor at Tan & Deliver were confident that expansion on this level is easily feasible if the right steps are followed . They were correct and my family are very grateful for this opportunity.
As a proud franchise owner I would tell anyone who is looking into this as a potential small second income or like myself my main income to support my family. 'It is true, everything what Tan & Deliver (Jonathan and Trevor) offer is seriously worth considering.
Dario Zambonini
Glasgow / Tyne & Wear Franchisee
(120 Sunbeds in Fleet)
​Well…..what a find this was! It took me a few months to take the jump as I'm a multiple business owner, you always think things are too good to be true…..(Jonathan got the ear chewed off him but I'm gutted I left it so long!!) Well sometimes, and more often than not, I'm wrong! This has been the best business I've ever backed so quickly!! Here's my growth, I went and met, Jonathan and Trevor, great guys, with the right passion, desire and confidence for anyone to get involved! So I thought let's take a punt… I bought the Glasgow territory and 20 stands to hire out, after a couple of weeks I instantly realised I never had anywhere near enough!! I had a quick chat with Jonathan and Trevor n bought north Lanarkshire and Renfrewshire territories along with another 50 stands…… All 70 have been hired out ever since! From that success I have taken the full of Tyne and Wear and ordered another 50 stands taking me to 120 stands!! The reason I secured all these big areas is because I have such belief and know first hand how "dare" I say, how easy it is to actually make money, and I have a personal target of 300 stands! One of the other major reasons and this is a massive one, considering I have other businesses, is the low low overheads. They're next to nothing, I mean if you have a garage and a van this could be run from your home.
To conclude,
If you have money to invest in a business (or a loan it'll be paid in no time) you would be seriously mad to pass this opportunity by, "your area" won't last long, I'm a Glasgow boy, I own all that area and have already got Sunderland and Newcastle…let that sink in……
We currently have 9 very successful Franchisee's that would be more than happy to speak to you about their experience as a Tan & Deliver Franchisee. Please fill in the form below for further information!