Safestay Franchise
£25,000 Minimum Investment
Franchise Description :
Safestay hotel and accommodation franchise opportunity
Finance:
Yes, through a third party
Contact Name:
Franchise Recruitment Manager
Safestay's goal is to become the leading operator in the hotel and accommodation market, whilst providing guests with a one of a kind modern hostel experience.
Each Safestay hostel is designed to suit a wide range of guests, from families and young adults to school groups, backpackers and business travellers. Safestay hostels are adaptable to any physical space, size and location.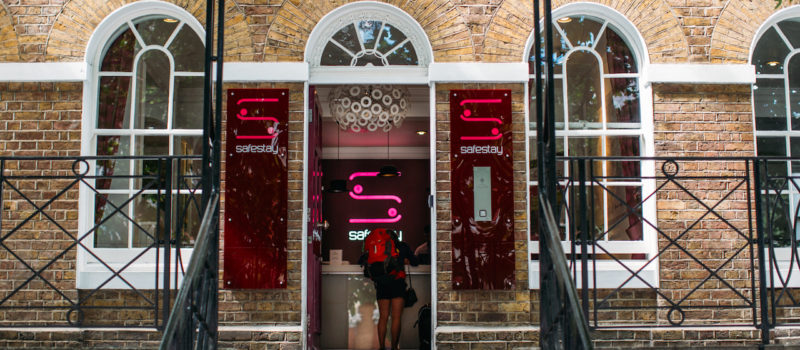 Owning a Safestay franchise offers the independence of small business ownership supported by the benefits of a big network.
You don't necessarily need business experience to run a Safestay franchise. We will support you all the way and provide the training you need to operate to success.
Franchises have a higher rate of success than start-up businesses. You will be leaning on Safestay's structure, market knowledge, procurement expertise and financial acumen.
We have developed a new innovative brand within the rapidly expanding hostel market. Awareness of the quality hostel is changing traditional perceptions of what a hostel is like to stay in and as a result, demand is growing.

These are exciting times for those involved in the sector and Safestay is carving out its own unique reputation.
You may find it easier to secure finance for a Safestay franchise due to our track record and being listed in AIM. It may prove to cost less to buy a Safestay franchise than start your own solo venture.
Safestay has an established reputation and image, proven management and work practices, a highly effective marketing and digital platform and can offer ongoing support. As a single operator your chances of success are stacked much higher as a franchisee.
Safestay leads the way with a range of stylish, superbly located accommodation offering quality that is affordable and comfortable. Each hostel is designed to appeal to a wide range of guests, from families, school groups and young adults to backpackers and savvy business travellers. Safestay's hostels are all chic statement buildings, with upscale, quality interiors throughout and equipped with amazing social spaces.
0
Number of Safestay Locations
0
Breakfasts served in 2017
Franchise investment costs
The cost of a Safestay franchise depends on the number of people you'd like to cater for.
Up to 250 rooms: £25K
Up to 400 rooms: £50K
Over 400 rooms: £75K
As well as the initial investment, there are ongoing monthly fees which provide you with marketing resources, support and training to help you to succeed.
Marketing Fees: 2%
Digital Platform
Brand Marketing
Brand Assessment
Royalty Fees: 8%
Management Coaching
Revenue Management
Groups Management
Lean Management
Supply Chain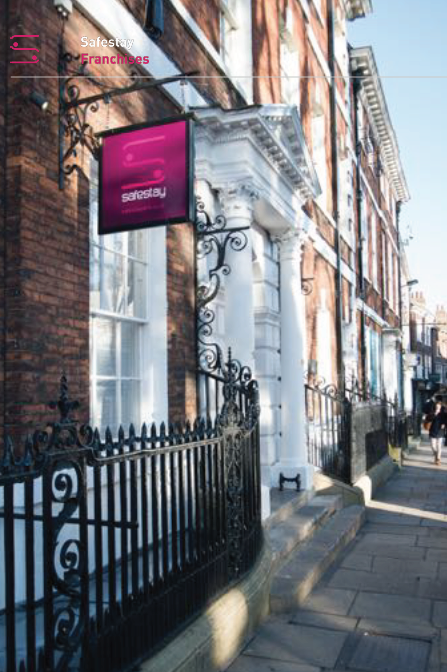 If you would like to find out more about this exciting franchise opportunity with Safestay, please fill out the enquiry form below and a member of our team will be in touch.
Travel and Leisure Franchises
Many of us Brits love to travel, with city breaks being some of the most popular trips, it is so convenient to book a package trip and let the agent make all the travel arrangements. You could experience what it would be like being the other side of the desk with your own travel and leisure franchise.
A franchise in travel and leisure may be an option for those who are interested in travel and keen to develop an income stream from an area of business that excites and interests them.
Many travel & leisure franchises are home based so if you have space, a phone and internet connection at home this franchise may be right you. Particularly if you would like to avoid the additional expenses of leasing commercial premises.
With many travel arrangements booked online by PC, mobile or tablet. You could thrive as a professional travel agent sending your customers to far flung places around the globe. Many travel and leisure franchise specialise in certain areas of travel, these maybe cruises or holiday cottages for example.
Browse More Travel & Leisure Franchises Below
White Collar Franchises
White collar franchises are a leading sector within franchise recruitment. White collar franchise opportunities are often an ideal choice for a franchise seeker wishing to own a business and work alongside other business professionals. These opportunities are usually business to business.
Many white collar franchise opportunities can be home based so the need and expense for office premises can be eliminated, although the level of investment will vary among franchises some have low start up costs.
With training and a highly developed business method for many, a white collar franchise can be an ideal turn key solution for a business profession or anyone wishing to enter the world of business.
Unsurprisingly many franchise seekers attracted to white collar have often risen through the ranks in management posts for large corporations and may find themselves in a redundancy situation or perhaps decide to take early retirement and wish to take control of their lives, income and use the valuable business experience they have gained through their careers.
There are a vast scope of different types of businesses that fall under this genre these include business coaching and mentoring, consultancy, recruitment, cost reduction, accountancy and finance.
Browse more white collar franchises below
Management Franchises
Management Franchises remain to top choice amongst white collar franchise seekers. With business consultancy services estimated to be worth £7bn to the UK economy. Many companies chose to employ franchised business consultants in order to reduce costs and improve their businesses operations.
This can be both enjoyable and a lucrative area of business. Working as a management consultant is considered by many to be a professional role, if you have a passion for business and are brimming with enthusiasm, the training programmes that many management franchise can provide you with the right skills, techniques and on-going support required for you to operate your franchise.
A management franchise can also offer a good life work balance, with consultancy hours mainly being set around traditional office hours, a management franchise could be the solution for more leisure time and is ideal for people who enjoy business and have a desire to inspire other local businesses to thrive.
Browse More Management Franchises Below