Revive!
£27,500 + VAT
Franchise Description :
Revive! UK Franchise, specialising in SMART Auto-Repairs for body damage and bumper scuffs, bonnet chips and alloy wheel refurbishment.
Finance:
Yes, Through a Third Party
Contact Name:
Cathryn Hayes - Franchise Director

Revive! UK offers an exceptional business building opportunity. Operating in the rapidly growing SMART auto-repair industry, our franchise owners provide a vital service, repairing damage to car and van paintwork including bumper scuffs, bonnet chips and the refurbishment of alloy wheels.
About The Revive! Opportunity
As a Revive! Franchise Owner, you will provide a SMART repair service from one or more vans, fitted out to a very high standard providing you and in due course your employees with a 'state of the art' mobile workshop. You'll provide a top-quality service for automotive repair which includes: minor damage, scrapes, chips and scuffs to vehicle paintwork, bumpers and alloy wheels; all of which costs well within an insurance policy excess.
Being mobile allows you to keep your overheads low whilst at the same time offering convenience to your customers. Every van is branded in the Revive! livery, which together with your own business contact details, provides an outstanding mobile advertisement for your services. Revive! is looking for ambitious individuals, from all working backgrounds.

Smart Repair Training
No previous experience is required to become a Revive! franchisee.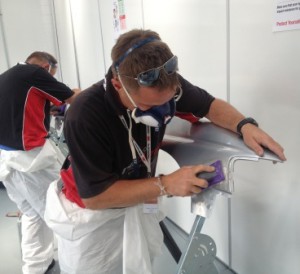 All new Revive! franchisees are trained on a 4 week residential programme in our IMI approved Training Academy. You will also receive a week of training in the field, where you will be working out of your own Revive! van, supported by one of our Technical Trainers. During training, you will learn all there is to know to be successful, including sales & marketing, application & product repair, colour mixing and health & safety.
With our unequalled, fully certified training we provide you with an unsurpassed standard of skills and knowledge, which in turn will ensure you have every opportunity of achieving your potential and future business aspirations.
What is included with the franchise investment?
A Revive! franchise business will cost £27,500 + VAT. Subject to status, major banks can lend up to 50-70% of the total amount.
You will receive:
The highly recognisable Revive! brand
A large exclusive territory
Active National Marketing
A Head Office Sales team generating National Account work
Our ever expanding fleet and insurance programme where we provide repairs for insurance works, auto-sales and company vehicles
Your own area of the main Revive! UK website, promoting you and your services in your own territory.
A great business launch package supplemented by ongoing training and support
Award winning, fully Accredited Training & Support
Committed Head Office Staff dedicated to helping you achieve success
Access to a proportion of at least 30 million vehicle owners in the UK largely disenchanted with having massive excess values applied to their insurance policies
What's Next?
We are proud of our brand and we care about our team of franchisees, so we are looking for individuals who can live up to our values of Technical Excellence, Outstanding Customer Service, Integrity and Unity. If you would like to find out more about the Revive! franchise opportunity, please fill out the enquiry form below, and we'll be in touch.