Revive!
£27,500 + VAT
Franchise Description :
Revive! UK Franchise, specialising in SMART Auto-Repairs for body damage and bumper scuffs, bonnet chips and alloy wheel refurbishment.
Finance:
Yes, Through a Third Party
Contact Name:
Cathryn Hayes - Franchise Director

Revive! UK offers an exceptional business building opportunity. Operating in the rapidly growing SMART auto-repair industry, our franchise owners provide a vital service, repairing damage to car and van paintwork including bumper scuffs, bonnet chips and the refurbishment of alloy wheels.
About The Revive! Opportunity
As a Revive! Franchise Owner, you will provide a SMART repair service from one or more vans, fitted out to a very high standard providing you and in due course your employees with a 'state of the art' mobile workshop. You'll provide a top-quality service for automotive repair which includes: minor damage, scrapes, chips and scuffs to vehicle paintwork, bumpers and alloy wheels; all of which costs well within an insurance policy excess.
Being mobile allows you to keep your overheads low whilst at the same time offering convenience to your customers. Every van is branded in the Revive! livery, which together with your own business contact details, provides an outstanding mobile advertisement for your services. Revive! is looking for ambitious individuals, from all working backgrounds.

Smart Repair Training
No previous experience is required to become a Revive! franchisee.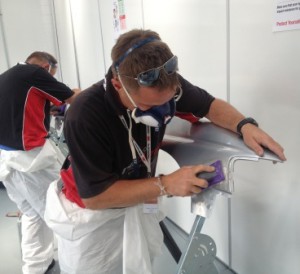 All new Revive! franchisees are trained on a 4 week residential programme in our IMI approved Training Academy. You will also receive a week of training in the field, where you will be working out of your own Revive! van, supported by one of our Technical Trainers. During training, you will learn all there is to know to be successful, including sales & marketing, application & product repair, colour mixing and health & safety.
With our unequalled, fully certified training we provide you with an unsurpassed standard of skills and knowledge, which in turn will ensure you have every opportunity of achieving your potential and future business aspirations.
What is included with the franchise investment?
A Revive! franchise business will cost £27,500 + VAT. Subject to status, major banks can lend up to 50-70% of the total amount.
You will receive:
The highly recognisable Revive! brand
A large exclusive territory
Active National Marketing
A Head Office Sales team generating National Account work
Our ever expanding fleet and insurance programme where we provide repairs for insurance works, auto-sales and company vehicles
Your own area of the main Revive! UK website, promoting you and your services in your own territory.
A great business launch package supplemented by ongoing training and support
Award winning, fully Accredited Training & Support
Committed Head Office Staff dedicated to helping you achieve success
Access to a proportion of at least 30 million vehicle owners in the UK largely disenchanted with having massive excess values applied to their insurance policies
What's Next?
We are proud of our brand and we care about our team of franchisees, so we are looking for individuals who can live up to our values of Technical Excellence, Outstanding Customer Service, Integrity and Unity. If you would like to find out more about the Revive! franchise opportunity, please fill out the enquiry form below, and we'll be in touch.
White Collar Franchises
White collar franchises are a leading sector within franchise recruitment. White collar franchise opportunities are often an ideal choice for a franchise seeker wishing to own a business and work alongside other business professionals. These opportunities are usually business to business.
Many white collar franchise opportunities can be home based so the need and expense for office premises can be eliminated, although the level of investment will vary among franchises some have low start up costs.
With training and a highly developed business method for many, a white collar franchise can be an ideal turn key solution for a business profession or anyone wishing to enter the world of business.
Unsurprisingly many franchise seekers attracted to white collar have often risen through the ranks in management posts for large corporations and may find themselves in a redundancy situation or perhaps decide to take early retirement and wish to take control of their lives, income and use the valuable business experience they have gained through their careers.
There are a vast scope of different types of businesses that fall under this genre these include business coaching and mentoring, consultancy, recruitment, cost reduction, accountancy and finance.
Browse more white collar franchises below
Management Franchises
Management Franchises remain to top choice amongst white collar franchise seekers. With business consultancy services estimated to be worth £7bn to the UK economy. Many companies chose to employ franchised business consultants in order to reduce costs and improve their businesses operations.
This can be both enjoyable and a lucrative area of business. Working as a management consultant is considered by many to be a professional role, if you have a passion for business and are brimming with enthusiasm, the training programmes that many management franchise can provide you with the right skills, techniques and on-going support required for you to operate your franchise.
A management franchise can also offer a good life work balance, with consultancy hours mainly being set around traditional office hours, a management franchise could be the solution for more leisure time and is ideal for people who enjoy business and have a desire to inspire other local businesses to thrive.
Browse More Management Franchises Below
Van based Franchises
Van based franchises are a popular choice for many people seeking a new career opportunity. With a van based franchise there is a huge variety of options available offering freedom to run your business without necessarily needing to employ any staff or allow incur large overheads connected to commercial premises, shops etc. So what types of van based franchises are available?
Home Improvement & Disaster Recovery 
These services are at the top of the list of insurance companies & homeowners in a time of crisis, when there is a disaster at home, such as a fire or flood and many several franchise networks have been grown into national networks just supplying major insurers.
Courier 
This type of van franchise is an attractive option for many franchise seekers, who like to be out and about dropping off parcels to businesses and homeowners. Courier franchises can be flexible and some are low or even no investment and sometimes can even be run alongside an existing business or full or part-time job to create even more flexibility.
Oven Cleaning 
Many homeowners and businesses recognise the efficiency of professional oven cleaning. This business is a great source of repeat business as well as of course the oven will need to be cleaned on a regular basis.
Mobile Coffee Shop 
Coffee shops have grown to a huge size in the UK and is worth billions to the UK economy but there are now mobile coffee shop franchises that can tap into this growing market. The beauty of this sort of franchise is that you can take a quality product to areas that may not have had a major coffee brand nearby such as offices or industrial premises in retail and/or industrial estates. They also benefit from far lower overheads compared to retail coffee shops which are usually in expensive, prime retail locations.
Auto Car Repair 
Car scratch, bump and windscreen repairs have become increasingly popular with car owners wanting to keep their vehicles looking good. These automotive franchises specialise in many automotive services including alloy wheel repair, dent and scratch removal, windscreen repair & mobile tyre replacement.
Cleaning 
Both commercial cleaning & domestic cleaning are services often contracted by businesses and homeowners. These franchises can provide specialist cleaning services such as carpet and rug cleaning, as well as regular household and contract office cleaning.
Gardening 
Us Brits love our gardens and are prepared to spend, spend, spend to keep them looking good, there are many different type of gardening van based franchises available.  The specialist services provided include professional lawn care and maintenance, fencing, garden design and landscaping. If you enjoy working outdoors gardening franchises could be a viable business option.
Browse More Van Based Franchises Below