An Experienced Electrical Business at the Forefront of the UK's Electric Car Revolution.
Meet Mr. Electric, Your Future Million Pound Business…  
Are you a Mr. Electric Person?
At Mr. Electric we're looking for motivated induvial that can use transferrable business management skills to lead a team of technicians. This isn't for anyone, we need serious franchise prospects to consider a serious business opportunity. Mr. Electric is growing, so if you possess the skills we require we'd love to grow with you onboard.
Mr. Electric offers a worldwide brand for you to explore. Launched in 1994, Mr. Electric now operates in 5 different countries under the same proven brand and business model.
The Mr. Electric franchise provides those looking for a developed business opportunity, the chance to manage a team of technicians to achieve the target turnover over £1million and beyond. Without industry experience, you can use your leadership and management qualities to build a successful business empire.
We provide the systems, marketing, and industry experience to give you a developed business opportunity. Mr. Electric provides established business relationships for you before you've even walked through the door…
Government approval to take the Electric Vehicle market by storm!
The electric vehicle (EV) market has opened a lucrative new business opportunity for Mr. Electric's franchisees.
EVs' popularity has jumped with customers and businesses looking for ways to reduce rising fuel bills – over 500 new electric vehicle charging units are installed across the UK every month!
Mr. Electric is a government-approved installer of EV charging points and is playing a key part in shaping the EV revolution by being able to install and manage EV charging points for homes, workplaces and public areas throughout the UK.
We have also signed partnerships with major suppliers of EV equipment, which means we are now ready to support those wanting to realise the opportunities of EV charging.
In addition to this, we hold a number of major corporate accounts, companies who request work to be done by our franchisees through our in-house National Accounts Team at no extra cost to our franchise partners. This is an established business for you to invest in at just the right time.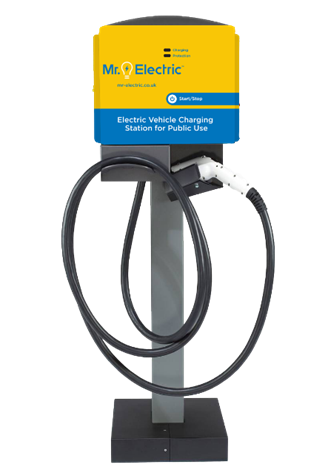 When you invest in Mr. Electric, you become a part of one of the largest franchise groups in the world. With a network of over 3,200 business owners worldwide The Dwyer Group is the go to for service franchises. Being a Dwyer Group Brand, you can be safe in the knowledge that you'll be benefiting from expert training, proven systems, and dedicated franchise support.
Mr. Electric Business Owners
Steve Barlow recognised a need to change how he ran his local electrical business…
We currently have two Dwyer Group brands within our business. My father liked the idea of working with a big brand like Mr Electric, which his previous business partner hadn't been interested in. But as a small local electrical company, we had been losing clients to some of the larger, more-recognisable companies. We felt Mr Electric, and The Dwyer Group presented us with a very real opportunity to compete with the big names and drive our business forward. We have some great future plans to develop our multi-franchise business further, by investing in more of The Dwyer Group brands.
Richard Smith was looking for a staple business he can build which will put him in good stead for his future retirement…
I don't have any experience in electrical contracting, but I have experience where it counts, in managing a successful business. People are always going to need electricians, I'd have to do something really silly to not make my Mr. Electric business work. And work well. It's a staple business. Having the Dwyer Group behind the franchise opportunity, was both impressive and reassuring. They have a long pedigree within the franchising industry.
Mr. Electric franchise territories require an average total investment of approximately £50,000 + VAT. This included the initial fee and working capital to see you through your breakeven point.
We have a strong working relationship with lenders who will finance up to 70% of your investment, subject to status. This means you could get started with £15,000 + VAT.
Have we sparked your interest? Enquire below to learn more…