Minster Cleaning Services Franchise
£60,000 Minimum Investment
Franchise Description :
Minster Cleaning Services management franchise opportunity

Minster Cleaning Services is the UK's largest commercial cleaning franchise business and has been established for 35 years with branches across the UK. We offer exceptional support to help your business succeed. With expertise in marketing, operations, finance and IT, we'll provide you with the necessary business tools and training to make sure you're set up quickly and seeing a healthy return on your investment. Across our franchise network, our top branches are each achieving sales in excess of £2 million and half are achieving sales of more than £1 million with £200k + net profit potential. Our territories are large and exclusive to each branch offering a wide geographical target market to maximise. On average franchisees have been with us for 14 years, showing that our tried and tested business model works and is providing secure and profitable futures for our partners.
Our management franchise business offers a low risk opportunity with a guaranteed geographic territory. Thousands of local organisations throughout the UK trust Minster to take care of their cleaning requirements. Sectors include general office, manufacturing, leisure, local government, retail, education and healthcare (including medical and dental practices requiring specialist cleaning).
There are opportunities to develop high returns in a recession resistant and growing commercial cleaning sector and Minster Cleaning Services is a well recognised brand name throughout the industry.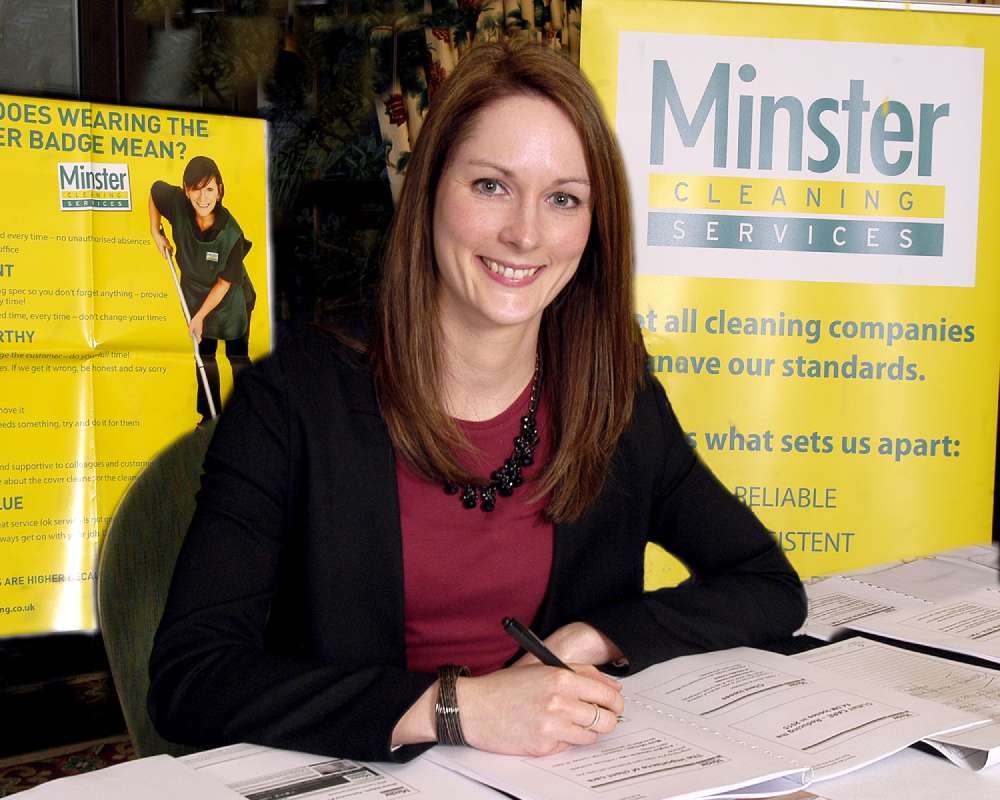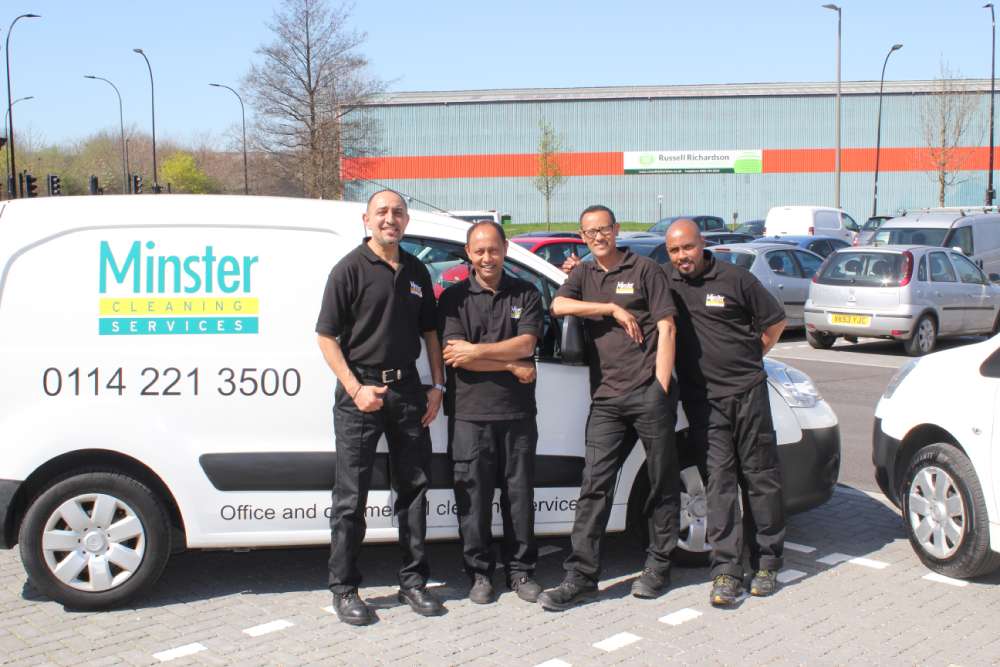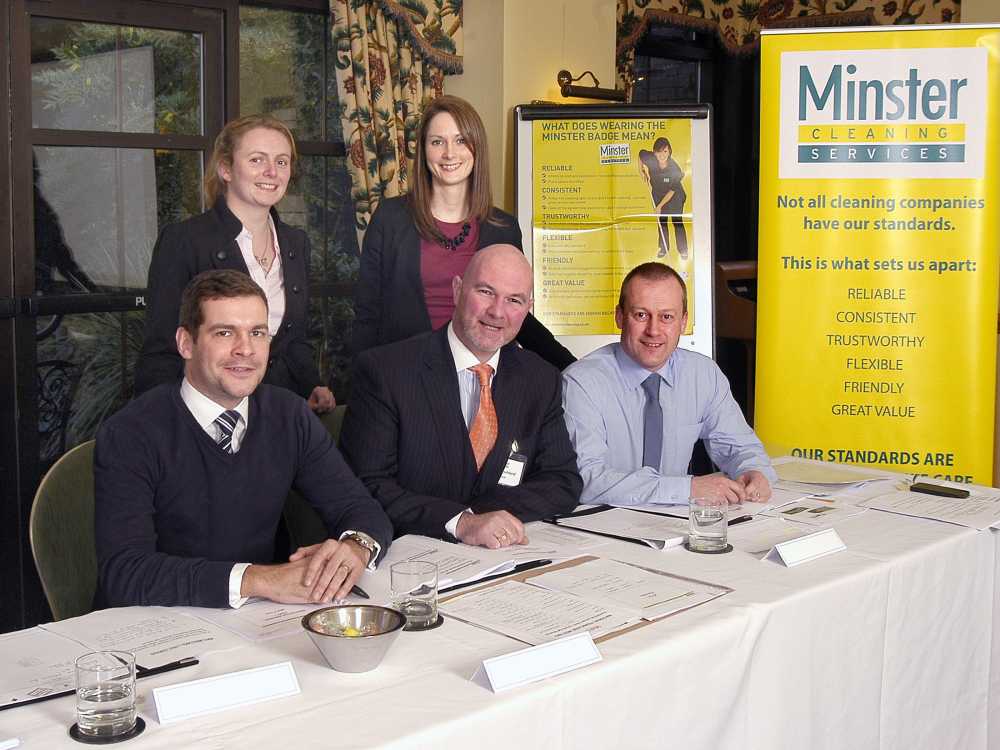 We offer one week's initial training at our Birmingham Head Office covering operational aspects of running a Minster Cleaning Services business. You will then also receive structured visits within your branch from Head Office support team members over a further 8 week period, plus ongoing support and guidance as required.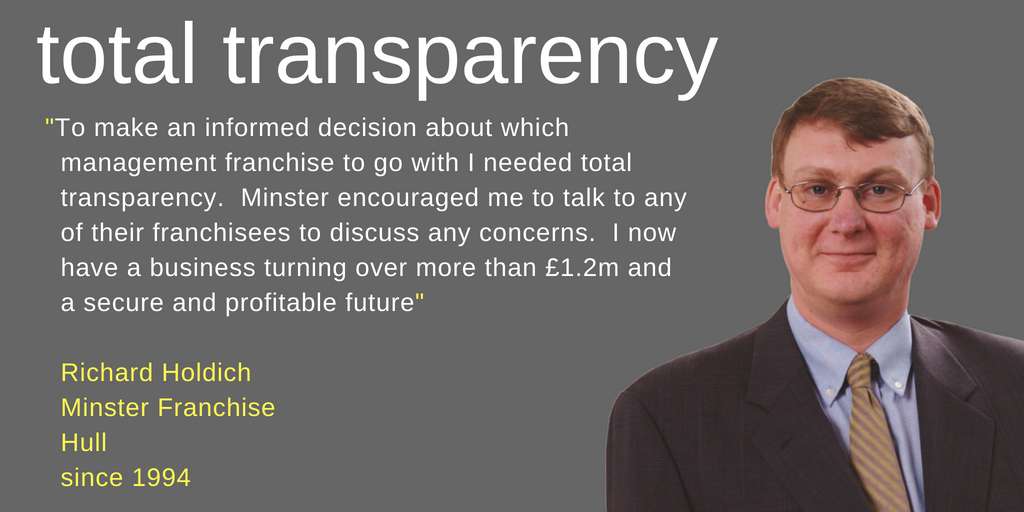 The Ideal Minster Cleaning Services Franchisee
New Branch Investment

License, Territory and Training
£22,000

Supplies (Guide prices only)

Marketing launch package
£5,025
Computer Hardware
£1,000
Miscellaneous Stationery
£200
Total Initial Package
£28,225 + VAT
Working Capital Requirement £40,000 – £60,000 (estimated, dependent on drawings and financial costs) Note: Finance support is available from leading high street banks, subject to status.
The Ideal Minster Cleaning Services Franchisee
Our franchisees are special – we look for people with drive, ambition and determination to achieve their goals. You will be a people person who is customer-focused and totally committed to the business. As a strong motivator, you will need to lead, manage and direct a workforce. By following Minster's systems, you will be building a rock solid investment for the future.
Minster Cleaning Services' History
If you'd like to find out more about the Minster Cleaning Services franchise opportunity, please make an enquiry below. We'll send you more information about the Minster Cleaning Services franchise.
Vending Franchises
According to a recent survey by the Automatic Vending Association in the UK a staggering £6bn products are vended each year. Vending alone is responsible for 15k jobs throughout the UK. The most popular vended products include beverages, with coffee being among the most favourite vended items purchased by consumers.
Vending is a growing sector within the UK economy. Our lifestyles and need for products 24/7 is why vending has become such a great success from humble beginning in 1880 the first coin operated machine allowed the user to create postcards, now you can buy drinks, snacks, personal hygiene products to suggest but a few ideas.
Many vending franchise opportunities are van based. Ideal for a would-be franchisee who wants to escape from the 9-5, and would enjoy visiting outlets within the franchise territory replenishing, maintaining equipment and most importantly collecting the cash!
Browse More Vending Franchises Below
White Collar Franchises
White collar franchises are a leading sector within franchise recruitment. White collar franchise opportunities are often an ideal choice for a franchise seeker wishing to own a business and work alongside other business professionals. These opportunities are usually business to business.
Many white collar franchise opportunities can be home based so the need and expense for office premises can be eliminated, although the level of investment will vary among franchises some have low start up costs.
With training and a highly developed business method for many, a white collar franchise can be an ideal turn key solution for a business profession or anyone wishing to enter the world of business.
Unsurprisingly many franchise seekers attracted to white collar have often risen through the ranks in management posts for large corporations and may find themselves in a redundancy situation or perhaps decide to take early retirement and wish to take control of their lives, income and use the valuable business experience they have gained through their careers.
There are a vast scope of different types of businesses that fall under this genre these include business coaching and mentoring, consultancy, recruitment, cost reduction, accountancy and finance.
Browse more white collar franchises below