Menopause Workplace Training License
The Menopause Workplace Training Network is on track to becoming the UK's leading Menopause in the Workplace business training community. Menopause impacts lives and can be a hugely challenging time for both individuals on their journey as well as for their families, friends and colleagues.
Introducing the Menopause Workplace Training Network, an exclusive community of trainers, licensed by Henpicked, to deliver the UK's leading, CPD accredited, menopause workplace training to small and medium sized businesses. As a licensed trainer, you'll prove critical in bringing Henpicked's tried, tested, and trusted menopause training to SMEs, schools, independent healthcare providers and charities across the UK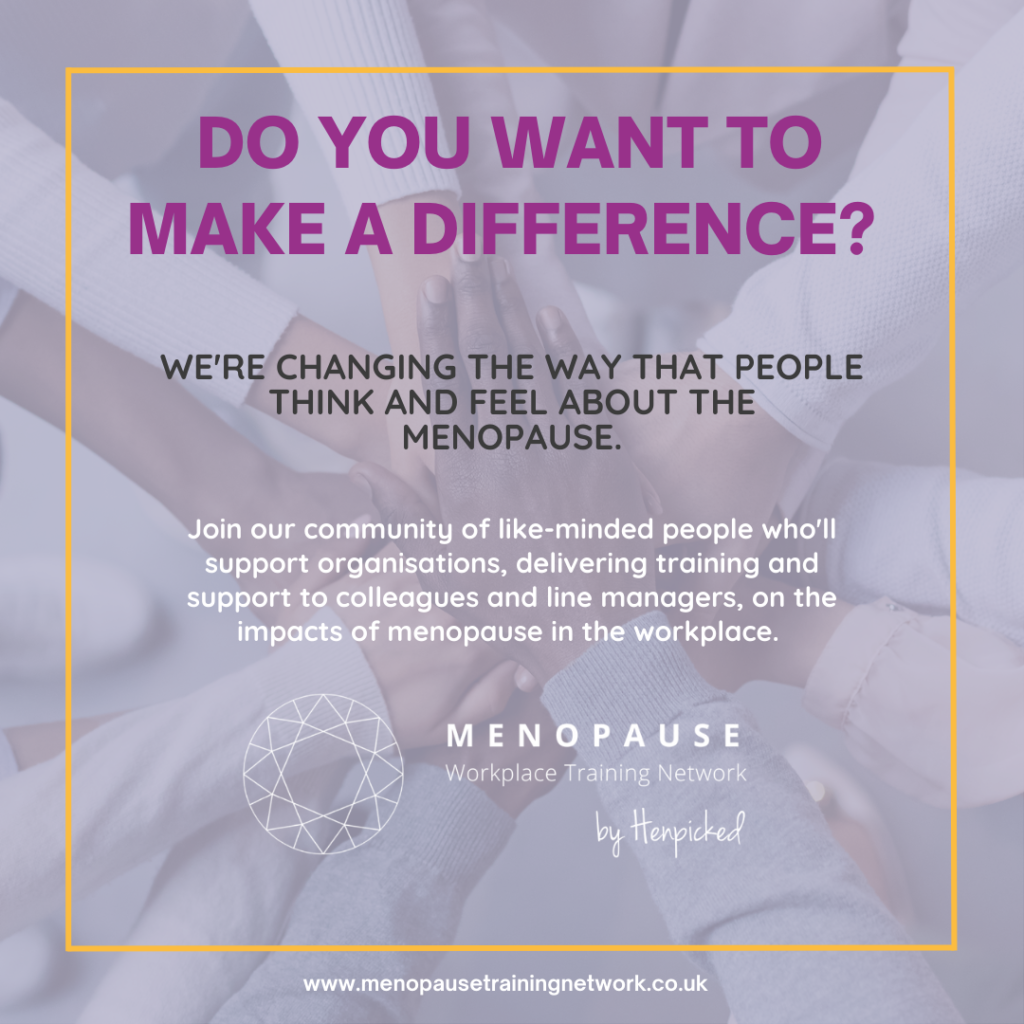 As a Menopause Workplace Trainer, you'll work on a self-employed basis, either as an enhancement to your current work, a part-time business opportunity or even as a new career. Through our suite of training, you'll work with organisations to help spark the conversation, educate around the subject and help them to create inclusive environments where nobody feels afraid or embarrassed to discuss their individual experiences. Offering Colleague, Manager and Support Group solutions, you will ensure the quality of workplace menopause training and that it reaches the full community.
No matter what your experience or current knowledge of menopause, if you share our passion, we'll provide you with the tools and knowledge required to empower a change of hearts and minds around the menopause. Through our self-study programme, we'll equip you with the confidence and expertise to help support organisations and their people to effectively manage menopause in the workplace.
As part of our training community, you'll benefit from the ongoing peer support from fellow trainers as well as that provided centrally from your dedicated Trainer Support team. Through quarterly team meetings and our trainer forum, we'll work together to provide advice, guidance and all the latest learning in the menopause space to give you the confidence to provide quality, evidence-based support.
In addition, we'll provide you with business coaching and guidance to help you build a successful menopause training business and will even provide your marketing materials for course promotion!