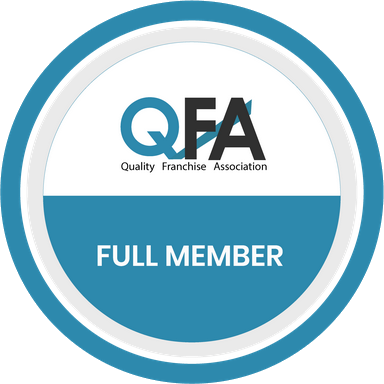 Kingsmaid & Uver Cleaning Franchise
£12,500 - £14,950 inc. vat
Franchise Description :
Run your own cleaning business with the Kingsmaid Franchise. Run your business either as a cleaner/operator (Uver brand) or as a management business (Kingsmaid)
Finance:
Yes, through a third party
Contact Name:
Sharron Davis
Run Your Own Cleaning Business – However You Want!
The team at Kingsmaid Domestic Cleaning are offering two exciting yet unique business models for entrepreneurs to be their own boss. Whether you want to operate the business in a management format (never doing any cleaning yourself) or as a solo cleaner operation, Kingsmaid have the opportunity for you!
About Kingsmaid multiple revenue streams
Kingsmaid: A Trusted Brand Kingsmaid has over 20 years of experience in the domestic cleaning industry and a proven track record of success. We also provide Office, Communal Area, End of Tenancy, Carpet & Oven Cleaning. The company leverages its position as an industry leader through partnerships with major news networks and the development of cutting-edge technology, such as a custom app for franchisees, and Eco-friendly own-brand cleaning products. The Franchise Fee is £14,950 inc. Vat.
About Kingsmaid
Join the industry leader in Home & Office Cleaning. Kingsmaid have over 20 years experience in the domestic and office cleaning sector, having started life in the Manchester area. Leveraging the power of national news networks such as Sky News and BBC, Kingsmaid continue to develop fresh ideas and stay ahead of competitors making this one of the best domestic cleaning franchise opportunities on the market. The company leverages its position as an industry leader through partnerships with major news networks and the development of cutting-edge technology, such as a custom app for franchisees, and Eco-friendly own-brand cleaning products. 
The Kingsmaid Cleaning Franchise is £14,950 inc. Vat. Kingsmaid has multiple revenue streams, with Home, Office, End of Tenancy, Carpet & Oven Cleaning packages.
About Uver
Uver benefits from all of this, but as an owner operator, with a cleaning assistant, you do the cleaning for just a few high-end clients.
The Uver Cleaning Franchise Fee is £12,500 inc. Vat
Two Franchise Opportunities
Join Kingsmaid and take advantage of the high demand for domestic cleaning services. Both franchise opportunities come with competitive franchise fees starting from £12,500 and include:

A protected territory

Initial stock and training

Custom Kingsmaid app

Operations manual and website

Full CRM software and ongoing support

Digital marketing done for you, with 3 months management free

Year 1 on target earnings in excess of £50k for both models

Flexible Franchisee Options: In the early stages of the Kingsmaid Franchise, franchisees have the opportunity to maintain employment or personally engage in cleaning services, allowing them to enhance cash flow and gain valuable hands-on experience.
Unlock Financial Stability with Kingsmaid's Manchester Franchise Opportunity 
Kingsmaid offers a lucrative franchise opportunity in Greater Manchester Cheshire with just 3 exclusive remaining territories. Join us for immediate financial stability and a secure customer base.
Manchester & Cheshire Availability 
One Extended protected territory with long established existing customers in place. From £25,000 inc. Vat with an average Monthly Gross Profit from £5000 plus massive potential for growth.

Full Training and Support
Kingsmaid provides comprehensive training and ongoing support to ensure your success as a franchisee. Receive modular training through the Kingsmaid training portal and benefit from ongoing marketing support for a competitive monthly management fee from just 4% of your turnover.
Start Up-loans Available 
A Start Up Loan is a Government backed scheme, helping more people to start businesses. It's a low-interest loan, and a great alternative to a traditional bank loan. It includes free business support and mentoring. You can customise your loan to borrow the exact amount you need, when you need it.
Interested? 
If you can see yourself running your own business, either hands-off (Kingsmaid) or hands-on (Uver), get in touch with our team below. We'll send you a copy of our franchise prospectus which details more about the opportunity such as estimated turnover and investment. We look forward to hearing from you!
Management Franchises
Management Franchises remain to top choice amongst white collar franchise seekers. With business consultancy services estimated to be worth £7bn to the UK economy. Many companies chose to employ franchised business consultants in order to reduce costs and improve their businesses operations.
This can be both enjoyable and a lucrative area of business. Working as a management consultant is considered by many to be a professional role, if you have a passion for business and are brimming with enthusiasm, the training programmes that many management franchise can provide you with the right skills, techniques and on-going support required for you to operate your franchise.
A management franchise can also offer a good life work balance, with consultancy hours mainly being set around traditional office hours, a management franchise could be the solution for more leisure time and is ideal for people who enjoy business and have a desire to inspire other local businesses to thrive.
Browse More Management Franchises Below
Cleaning Franchises
The domestic cleaning industry alone in the UK is worth over £4.7 billion according to the Office of National Statistics. Commercial cleaning according to Facilities Management Journal ( FMJ ) the contract cleaning sector is set to grow by £100 million and the total contract cleaning market to rise by £500 million . The cleaning sector and therefore cleaning franchise businesses represents a great potential investment as the commercial sector grow and increase in older people in our communities will mean more people will seek the assistance from local companies to provide domestic cleaning to enable them to remain in their homes.
A cleaning franchise is usually what is called a white collar franchise. That is that the franchisee, the business owner tends not to actually carry out the physical cleaning but manage staff and the overall business including potentially new customer acquisition and general day to day management duties. Because of this management style and that most franchises provide such thorough operational training & support many successful franchisees have  come from management backgrounds from completely different industries.
Browse More Cleaning Franchises Below