The Host & Stay Opportunity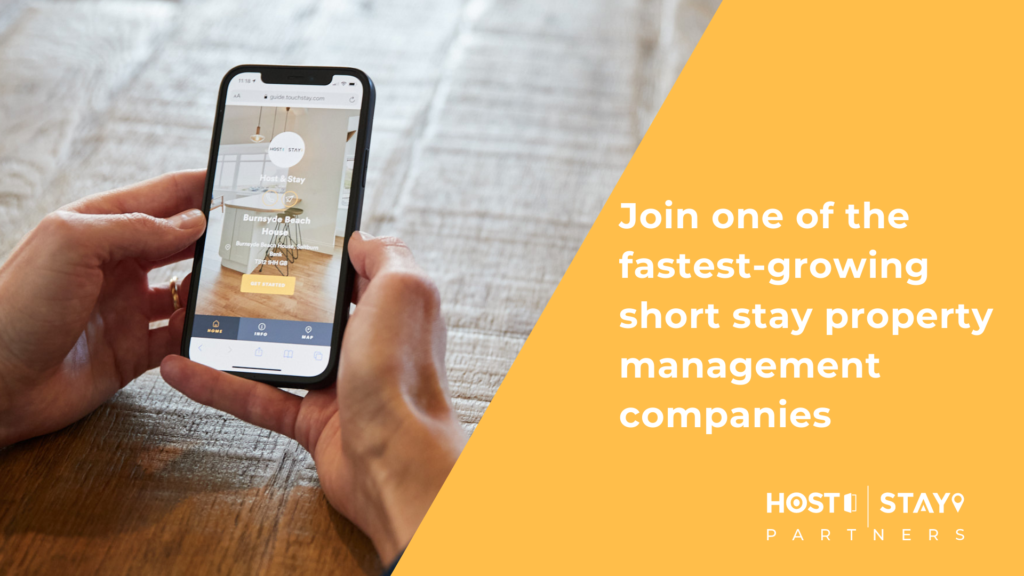 We're here to help more homeowners and partners unlock the potential in their homes, we list our properties on Airbnb, Booking.com, 60+ Booking Platforms including access to exclusive Platforms. We handle the entire process for our homeowners; including marketing, revenue, property, and guest management and generating income – our technology helps us run every element of a booking. With better guest experiences through technology and lightning-fast response rates.
All resulting in more revenue for our holiday homeowners, and with less hassle due to our completely hands-free service. We're Host & Stay and born from a love and passion for property.
How Our Partnership Prospers
Whether you are an independent sale or letting agent, or an entrepreneur, we want you to focus on what you do so well: building lasting relationships with your clients.
In return, we'll provide you with everything you need to succeed. Our support is extensive, and your business will benefit from our proven systems and processes, helping you to grow your operation under an established brand. As a Host & Stay Partner we can guarantee the following:
The Short-Term Rental Landscape
As the hospitality and property sectors continue to merge, we are seeing an increasing demand for the full management services offered through Host & Stay. Fuelled further by our flexibility, ease of use and the incremental returns we deliver for our property owners.
According to a report by letting agent professional body ARLA Propertymark last year, nearly 50,000 properties have been changed from long-term to short-term letting. Its research, which was carried out by Capital Economics, found that a further 10% of landlords were considering offering short-term lets in the future.
Host & Stay is an industry leader, and our service ensures we are the ideal partner for those looking to enhance the performance of their assets professionally and responsibly.
We're looking for business partners
No matter where you're located within the UK.
Like us, if you're passionate about property, have great local knowledge, and are an ambitious like-minded individual entrepreneur, or experience property professional within lettings or estate agencies – then we'd love to hear from you! Our partnership models are a unique relationship between our team and you. Our solution gives you access to the knowledge, support, and infrastructure needed to build a multiple income stream portfolio without having to do all the work yourself. Not everyone has the time or expertise to build a Short-stay lettings property portfolio.
We will help you grow a portfolio of properties across your hometown and beyond, managing meaningful relationships with your own loyal customers. We'll be with you the whole way. With our experience, teams, and technology. Your passion and local knowledge.
Host & Stay has always been strong in growth. We offer a variety of opportunities and growth in elevating your business and being part of a respected and passionate brand with one of our professional avenues below.
Our Franchise Partnerships are perfect for those individuals that are looking to take the next step in their career and want to open their own short let management company but with the backing of Host & Stay's brand recognition, established database and network.
Franchisees can find this route highly rewarding in the long run as cold start opportunities give potential franchisees the autonomy to set up the office and grow it how they see fit right from the beginning.
Our Host & Stay licence structure allows you to utilise the intellectual property of the brand and its trademark to enhance your business in an exclusive territory as a full-service holiday lettings company whilst retaining the freedom of operating your business independently.
This is where an independent estate agency, letting agent, property management, or a property professional business wants to enhance their growth into a new market segment within the local property marketplace.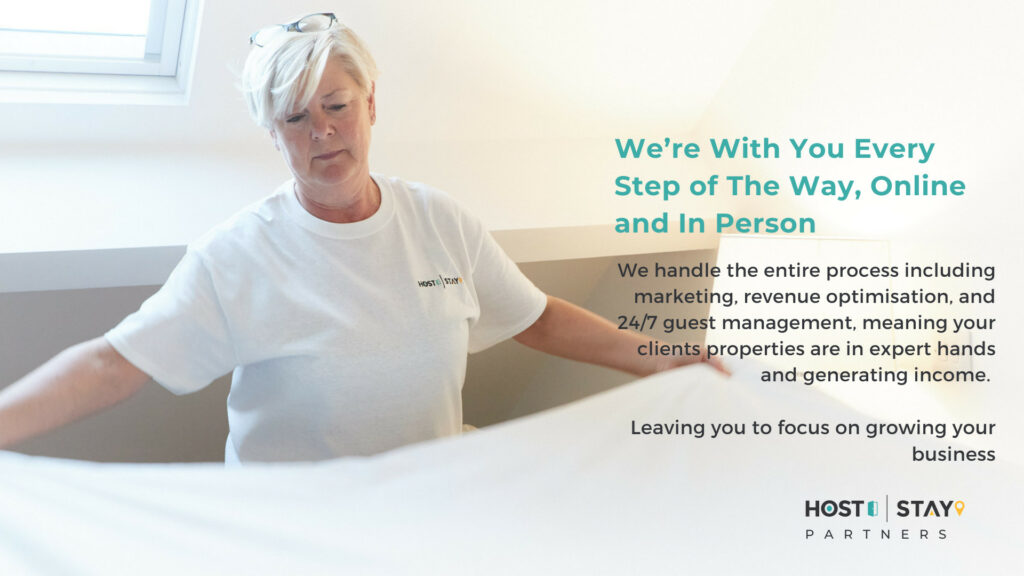 When you become a Host & Stay Partner, you automatically become a member of our Host & Stay Academy. You'll learn who we are, what we do, how we do it, when we do it, why our customer centric approach is at the heart of our core values, and where we're going on this journey to revolutionise the short-stay industry.
We'll team you up with a Partnership Manager here at Host & Stay HQ, who will provide you with long-term individual support.
We're With You Every Step of The Way, Online and In Person.
We handle the entire process including marketing, revenue optimisation, and 24/7 guest management, meaning your clients properties are in expert hands and generating income. Leaving you to focus on growing your business
How much will it cost me?
This does vary on the size of your area, but typically, for a 'cold start' franchise, you should budget £15,000 to £20,000 for the Initial franchise fee plus ongoing investment for the first 12-18 months. A licensee is only available to existing businesses with the infrastructure in place, the monthly licensee's fee is £500.00 however factors such as variations in the size of the territory may mean a multi licence fee.
If you are a property professional or an entrepreneur and you are interested in joining the Host & Stay family, we would love to hear from you. Get in touch below to make an enquiry.