Fit20 Franchise
£15,000
Franchise Description :
Fit20 offers an unparalleled opportunity to join an award winning, established, and rapidly growing international brand.
Finance:
Yes, through a third party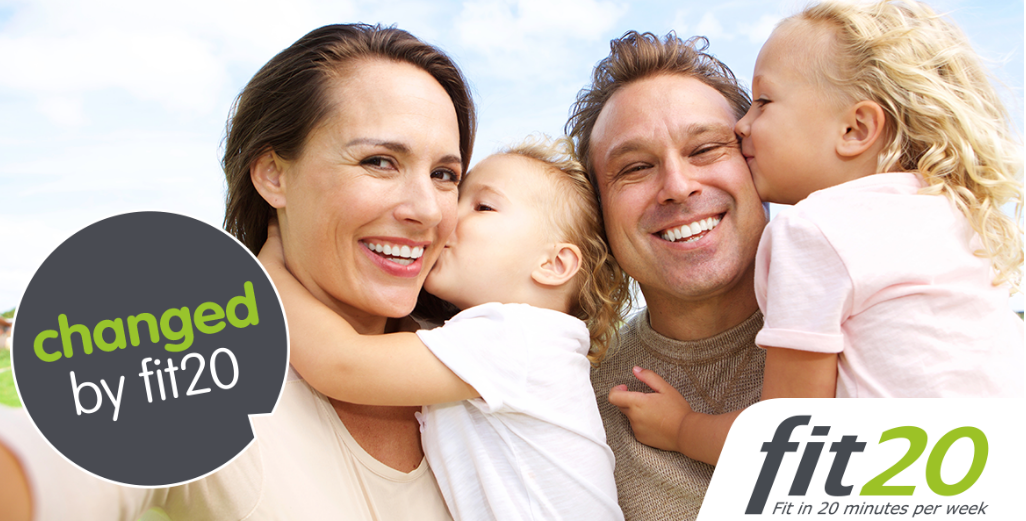 An opportunity to earn a six figure income while working flexibly and helping others to improve their health and well-being
fit20 is transforming the gym industry with a recession proof business model. Studios have excellent economics, units are small so rents are low, operating costs are low, energy costs are minimal (there are no changing rooms or showers to heat or maintain). We provide highly effective training with a minimal demand on time and so our membership numbers are continuing to grow, already up by over 25% in the past year and up over 100% on our pre-lockdown high (while traditional gyms are still struggling to catch up).
This is an unparalleled opportunity to join an award winning, established, and rapidly growing international brand.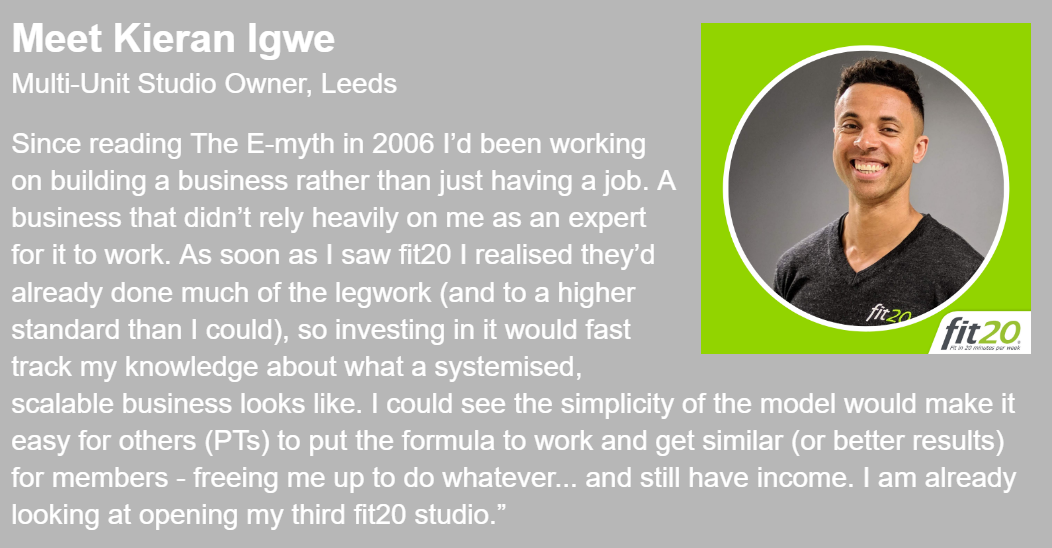 What you get from fit20
Proven Franchise Formula
Launched in 2009, fit20 was voted the #1 Franchise Brand in the Netherlands in 2020 and is now located in 10 countries, with over 170 studios, and more than 20,000 members worldwide.
Outstanding Economics
Great unit economics and return on investment (ROI), with only £35K Average Investment and £75K Average Revenues. Typically break-even is achieved during months 6 to 7, at around 60 to 80 members. Return on investment usually within 2 years.
Comprehensive Training
You don't need a background in health & fitness. We provide our Franchise Owners, and their Personal Trainers, with comprehensive training in our unique training method, through our fit20 Academy. You will also be provided with extensive training in all fit20 business systems enabling you to become a successful studio owner.
Excellent Business Support
You will receive excellent support setting up your studio, from finding the best location, studio design & fitting out, to marketing for launch. Ongoing business and marketing support is provided along with enjoyable weekly meetings with the fit20 UK Head Office team.
fit20 training is unique and effective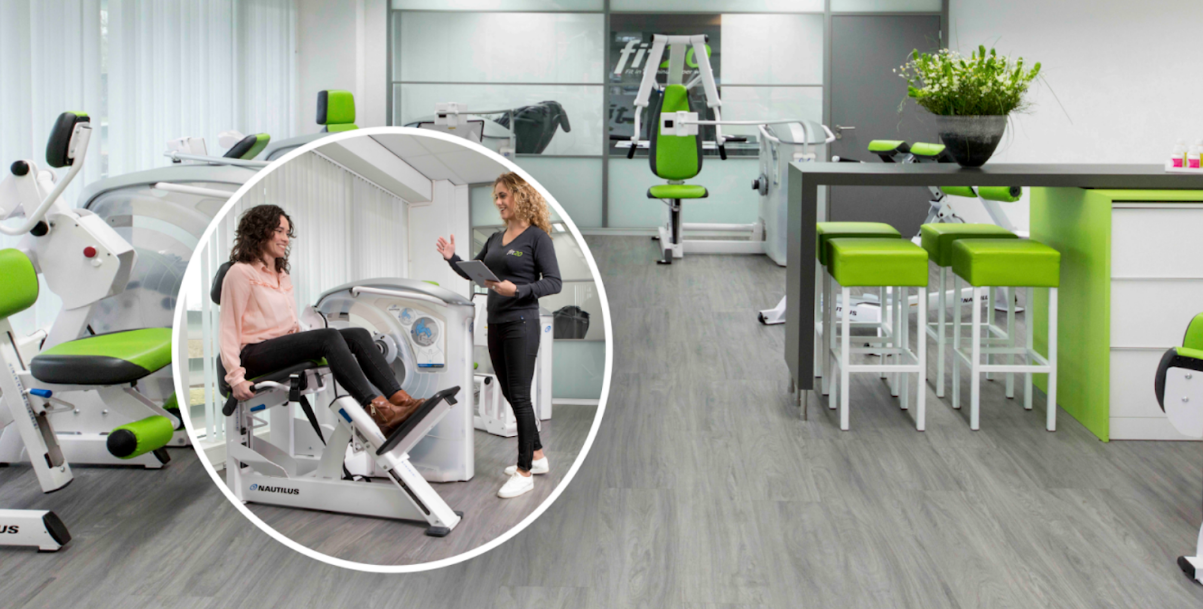 Most people believe that fitness training takes at least a few hours every week with several sessions per week, but science is starting to tell a different story. The largest ever study in sports science suggests that fit20 training, once a week for 20 minutes with a personal trainer, is optimal.
Our training method is based on the latest scientific findings about effective and efficient training to improve fitness and health. You book your 20 minute weekly session ahead of time to stay on track. Because you have an appointment, you don't have to wait. There is no need to change or shower because we train at a slow and precise pace in a custom cooled studio. Most members show measurable results within a few sessions, and more importantly, they feel stronger and fitter.
Our studio members love us
Our customers do love us, and this is reflected in our industry leading customer retention rates!

Next Steps
Please fill out your details below to request more information and we will send you a copy of our prospectus. You will then be able to arrange a call to discuss the fit20 franchise opportunity further and to ask any questions that you may have.
Note: You can have a fit20 studio up and running for £30,000 to £50,000 (expenses may vary with the fit-out for your new studio influencing total start-up cost), this includes the initial franchise fee of £15,000 for a single fit20 studio.
We recommend a minimum £20,000 personal investment.
Government led funding may be available for up to 75% of the startup costs.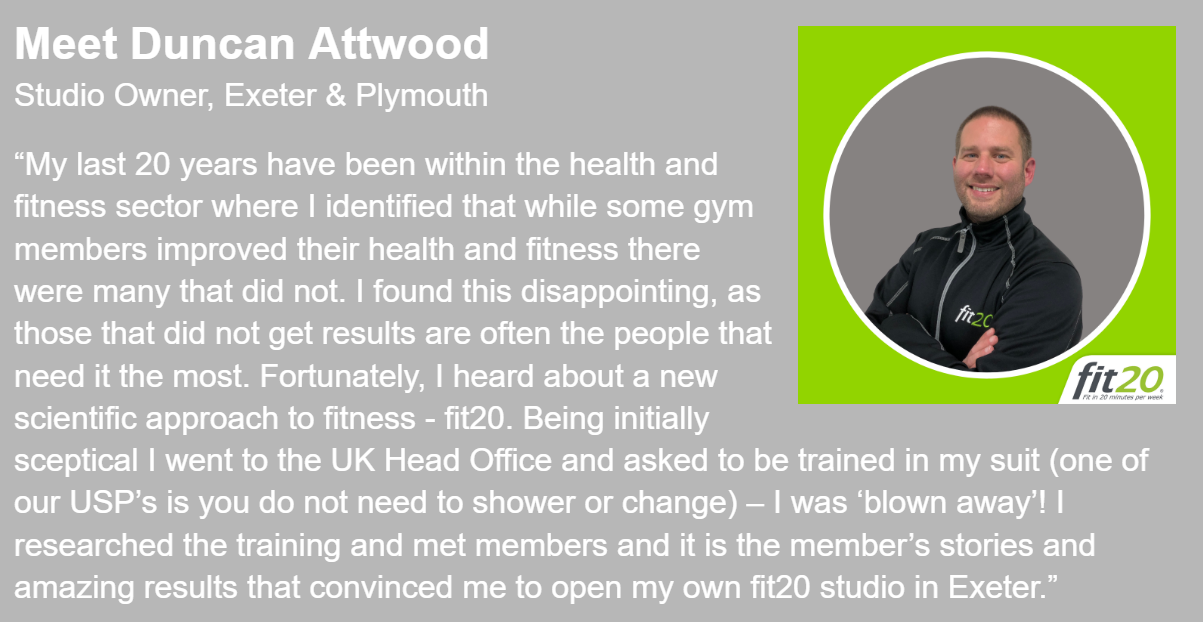 Fitness Franchises
According to research published by Statista the UK market size of the wellness & fitness segment has been growing steadily & is estimated to reach £22bn by 2020. When broken down by category, the greatest increases are to be made in alternative medicine, sports equipment &  weight loss, which made up the majority of the market in past years, along with gym memberships. The growth of the market is also reflected in the number of sports and fitness occupations held in the UK, which also show a steady increase in years past. The majority of employees in the sport activities sector are between 25 and 54 years old, with slightly more men than women working in the sector.
This has also given rise to more fitness and well being franchises including franchises of gyms, workout classes, children fitness classed, weight loss group & classes. With the UK government stating that unless we change our habits that more people will become obese the need and it would seem demand for more of this type of franchise is sure to increase and become an even more potentially lucrative market.
Developing a "fit" and healthy business takes time, hard work and dedication. Also as with any business purchase or franchise get professional help & advice and know what your commitment is before you invest.
Health & Beauty Franchises
According to The National Association of Hairdresser the hair and beauty businesses alone contribute a staggering £7bn to the UK economy.  With over 40,000 businesses in this industry sector in the UK, many Hair Salons employ less than 10 people. In addition to hairdressing there have been huge growth in the demand for other health and beauty services, products & treatments including weight loss, nail salons, eyebrows, tanning salons, massage and cosmetic surgery.
This trend for health & beauty products looks set to continue to grow in the UK and represents an existing large business sector where many existing businesses are now franchising to capitalize on this growth and grow their businesses by offering various different franchise opportunities, distribution licences and business opportunities.
Some of these opportunities require a shop front, for example a hairdressers, nail bar salon but many also are home based and go to their clients home to provide the services which would appeal to anyone who would like to work from home and/or balance their family and home life with running a business.
Browse More Health & Beauty Franchises Below