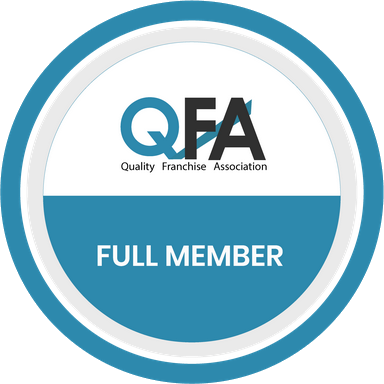 eDivert Franchise
Franchise Description :
eDivert provide businesses with a range of services including marketing support, administrative support and customer service solutions.
Finance:
Yes, through a third party.
Contact Name:
Franchise Recruitment Manager
Have you got what it takes to grow a successful business?
We are looking for growth-minded entrepreneurs who want to break through the corporate glass ceiling and create their own value.
The eDivert franchise is a unique business opportunity with low overheads and high profit margins. An eDivert business can be started from your desk at home, but has the potential to be developed into having a team working for you remotely or from an office location.
eDivert and its franchise network deliver high quality business support services to companies in every sector. Our services include:
Customer service solutions, including telephone answering, live chat answering and managing social media messages on behalf of other businesses.

Marketing services such as email marketing, social media and telemarketing.

Administrative services, such as bookkeeping, invoicing, diary management and transcription.
Buying an eDivert franchise is a jump-start that will fast track your business growth.
I am keen to grow the business to the point where I would have a team of my own.
RobeDivert Lichfield
Our ideal franchisee is a go-getter who is good with people.
Previous experience in customer service, sales, marketing or administration is helpful, but most importantly, you will need a can-do attitude! We are looking for individuals with drive, dedication, passion and an eagerness to learn.
You must be highly organised, efficient and professional with a sense of urgency and tenacity.
Don't worry if you have not had previous experience in the services that the eDivert business model offers; full training and ongoing support is provided.
Our franchisees are all self-motivated and resourceful, approachable and natural networkers.
eDivert is a well-established brand that caters for diverse business requirements with varied packages to meet needs of customer and franchisee.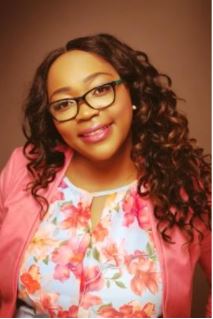 PreciouseDivert Oxford
We don't sell protected geographical areas, which means keen franchisees can develop a country-wide portfolio of customers.
As you grow, you can partner-up with other eDivert franchisees to help you handle bigger contracts if you need to.
As a business, we are passionate about our people. Franchisees are invited to attend a regular webinar session. This meeting is a great opportunity for franchisees to learn from each other and build relationships. The sessions also include training and updates on industry developments.
We also organise several meetings a year throughout the country, which offers franchisees the opportunity to meet in person with each other.
Our company structure guarantees that you will have a strong team ready to support you in any situation.
After all, our success starts from yours!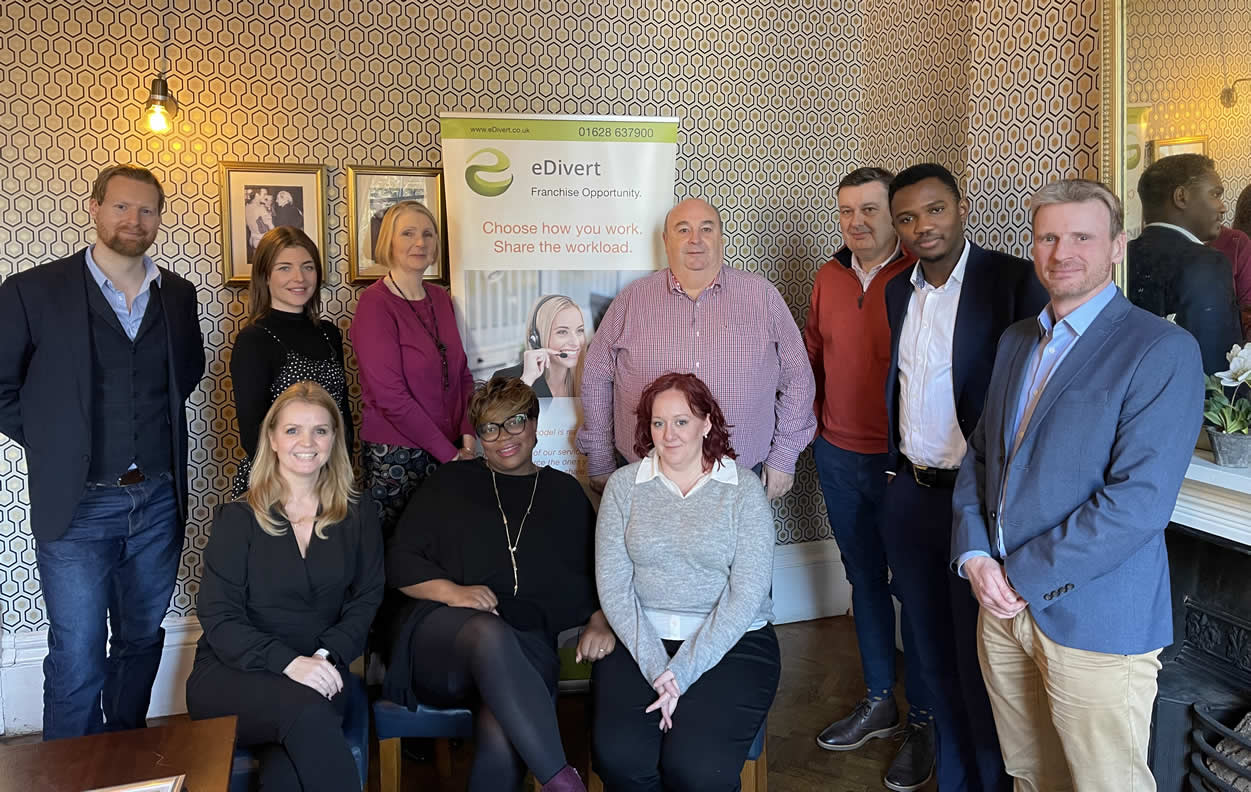 I like that there is no geographical limit which should enable business relationships to be leveraged around the country.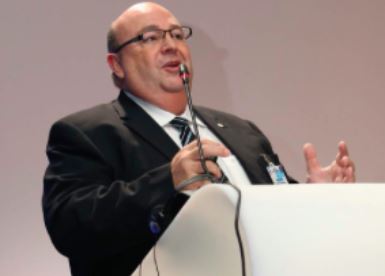 StewarteDivert Chichester
To find out exactly what you can achieve with an eDivert franchise and what the costs are involved in running an eDivert business, request more information about our franchise.
Our training and support are second-to-none. We like to get to know you. Therefore some of our training is provided in-house. But most of the training is provided remotely through interactive webinars and our online training system.
In the training, we provide you with all the information from starting your business, to what marketing strategy to use to grow your business, and how to deliver the services. We also go in more depth into how to close a sale with a potential customer and how to retain customers. We supply you on a regular basis with marketing materials, training videos, help with business planning, an annual conference and ongoing training.
After the initial training, we have a solid program in place to help you build up your business, grow it bigger and support you to achieve your goals. When you enquire ask about our development program.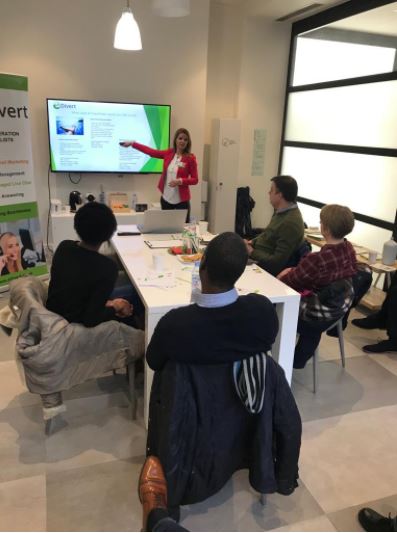 The franchise offers flexible working, which I need with a young family. It offers the opportunity to take on work from other franchisees; to start working and earning as soon as possible is a priority.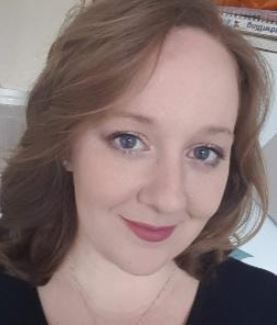 SharnaeDivert Ipswich
If an eDivert franchise opportunity sounds ideal to you, simply complete the form below to find out more!
Or Add to Enquiry Basket Below
White Collar Franchises
White collar franchises are a leading sector within franchise recruitment. White collar franchise opportunities are often an ideal choice for a franchise seeker wishing to own a business and work alongside other business professionals. These opportunities are usually business to business.
Many white collar franchise opportunities can be home based so the need and expense for office premises can be eliminated, although the level of investment will vary among franchises some have low start up costs.
With training and a highly developed business method for many, a white collar franchise can be an ideal turn key solution for a business profession or anyone wishing to enter the world of business.
Unsurprisingly many franchise seekers attracted to white collar have often risen through the ranks in management posts for large corporations and may find themselves in a redundancy situation or perhaps decide to take early retirement and wish to take control of their lives, income and use the valuable business experience they have gained through their careers.
There are a vast scope of different types of businesses that fall under this genre these include business coaching and mentoring, consultancy, recruitment, cost reduction, accountancy and finance.
Browse more white collar franchises below
Low Cost Franchises
So what is a low cost franchise? Well I suppose everyone will have a different definition of what they think a low cost opportunity is but for these purposes we will use an investment level of £15,000 or less as the guide price for a low cost franchise.
So does low cost therefore mean low earnings or profit? No, some low or even no upfront investment franchise or business opportunities can represent very high earnings potential. So why would a franchise business sell it a low cost even if the earnings potential was high? Well the initial franchise is generally determined by the cost to set-up which includes training, equipment, product and premises not the actual earnings potential. Sure sometimes with a recognized brand just the area alone will have a impact on the price as the largest the franchise area or territory, the more business will be obtained. That said that's generally not the case for less known brands or new brands and if a franchise requires a lot of franchisees to provide national coverage and set-up costs are quite low then many will have an initial fee of under £15,000 to try to recruit as many franchisees as quickly as possible to grow their brand and provide a better service to their customers.
Some of the low cost franchises for sale under £15,000 include product distribution, pet related, children fitness and swimming, travel agency and even financial and business advice franchises so there is a huge choice of opportunity even if you are seeking a lower initial investment. The main thing to consider if the "overall" investment, just because a franchise has a low initial fee doesnt mean you won't need to invest additional funds so when choosing a low cost franchise opportunity make sure you find out about all costs involved before you invest and as always seek professional advice.
Just because a franchise investment is low cost doesnt mean you should not carry out thorough research before you make any commitment. Regardless of initial investment check out the business and seek professional advice.
Browse More Low Cost Franchises Below
Home Based Franchises
Home based franchises, a business run from home have steadily risen over recent years, why? Home based franchises offer many opportunities, some of the include;
More family friendly
Better work & home life balance
Increased earning potential, work when you want and potentially outside usual business hours
Reduced child care costs
Reduced overheads, less travel time, fuel and travelling expenses
Home based franchises have also steadily grown. Many so called white collar franchises are home based and include areas such as business consultancy, accountancy and bookkeeping, business training and coaching and internet businesses. In addition to these white collar home based franchises there has also been a steady rise is so called "Mumpreneurs", mums that instead of seeking full or part-time employment around family life decide to set-up their own business on their own or via a home based franchise. Some of the businesses popular with Mumpreneurs include;
Child care
Childrens fitness such as football, swimming, dancing
Beauty including hair & nail salons, tanning
Fitness
Cosmetics
Home based franchises can provide such great flexibility for men and women along with improved technology are surely set to continue to rise in the UK and therefore could provide a great opportunity for anyone seeking greater flexibility and a work life balance. That said always find out everything about the investment and business and seek professional advice before any investment.
Browse More Home Based / Stay at Home Franchises Below