Caremark UK
£30,000 Minimum Investment
Franchise Description :
Caremark is a white-collar management franchise, focusing on the huge home care market in the UK.
Finance:
Yes through a third party
Contact Name:
Franchise Recruitment Manager
Address:
Caremark Limited, C1 Yeoman Gate Yeoman Way, Worthing, West Sussex, BN13 3QZ
Start a Homecare Franchise with Caremark
Caremark is proud to be a wholly UK owned and operated home care franchise with an established and successful UK based network.
As a franchisor we seek to be responsive to the changing needs of homecare. This has led us to add to our existing award-winning system of home care by creating an innovative approach to supporting people, primarily to address the growing problem of loneliness. This we call PatchCare®. By creating communities through care, vulnerable people receive the best of both worlds – great care at home and ongoing companionship.
Our franchisees come from a variety of backgrounds, some with extensive business experience and others with very little. Whatever your level of knowledge, we will work in partnership to give you a solid foundation in the care sector as well as our business model.
Our service is regularly recognised in the industry. We are ranked 7th in the Elite Franchise Top 100 franchises 2019. Alongside this, numerous offices and individuals across our network regularly win care and franchise awards, with our youngest franchisee Hannah Drury, Caremark (Sutton) scooping yet more business awards this year.
Caremark is proud to be a full member of the British Franchise Association.

The Lowest Monthly Management Fee in the Sector
The demand for quality home care in the UK is constantly on the rise due to the ageing population. Since 2005 Caremark has built up a reputation for excellence and the company has remained one of the leading UK providers of home care services.
Our proven home care business formula works because it provides people of all ages with the option to receive excellent care at home in a form tailored to their needs. Our specialised complex care services delivered by qualified and experienced carers also helps alleviate pressure on limited NHS resources. Most importantly, people benefit from being looked after at home, where they want to be. The care and support they receive enables them to enjoy independent, fuller, happier lives.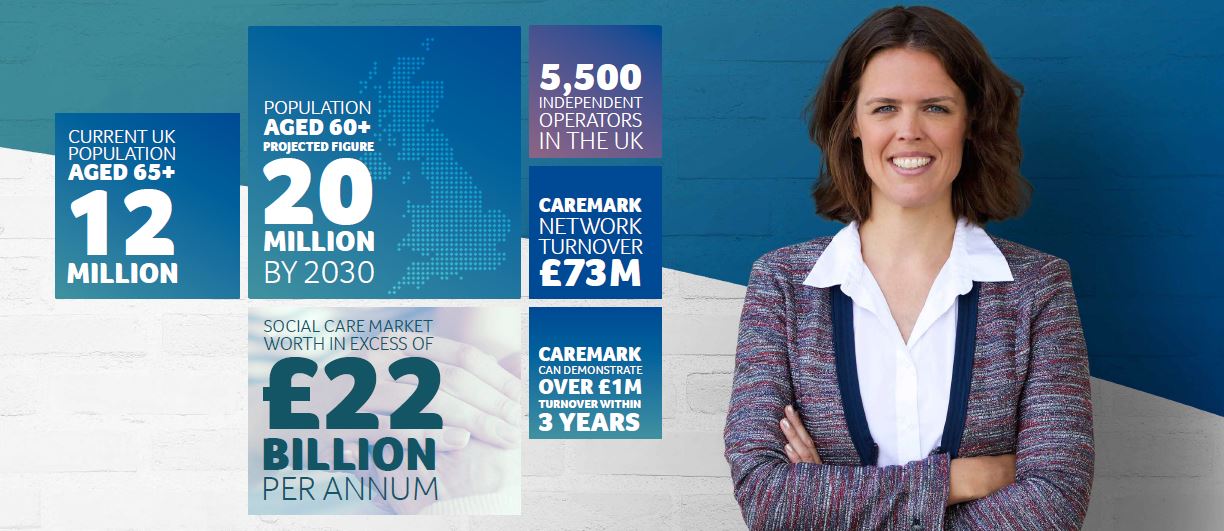 The Caremark franchise fee is £29,750 + VAT, plus working capital with a minimum personal investment of £30,000. Caremark has a strong relationship with major banks, who will consider lending 70% of your first year's running costs, subject to a satisfactory business plan.
A Simple Effective Process with a Full Start-Up Package
You will receive a comprehensive package when you buy a Caremark franchise. This includes a ten-day training programme, business planning, marketing tools, rostering and payroll software and much more! Chiefly, you have your own exclusive territory in which to trade as well as a licence to use the Caremark brand which gives instant credibility as a highly respected care service provider.Five reasons why buying a Caremark franchise could be the right choice for you:
If you would like to find out more about this exciting franchise opportunity with Caremark, please click below.
A Straightforward Setup Process
At Caremark, we want to make it as easy as possible for our new franchisees to set up their business and get going. To facilitate this, we have developed a start-up plan that each new franchisee undertakes to ensure they are prepared and ready to run their new business.