Amazon Freight Partner
£26,000 Minimum Investment
Franchise Description :
Set up your own trucking business – no trucking experience required – or grow your existing operator business as an Amazon Freight Partner.
Contact Name:
Partnerships Team
Build and Grow Your Own Company, Fuelled by Amazon
Set up your own trucking business – no trucking experience required – or grow your existing operator business as an Amazon Freight Partner.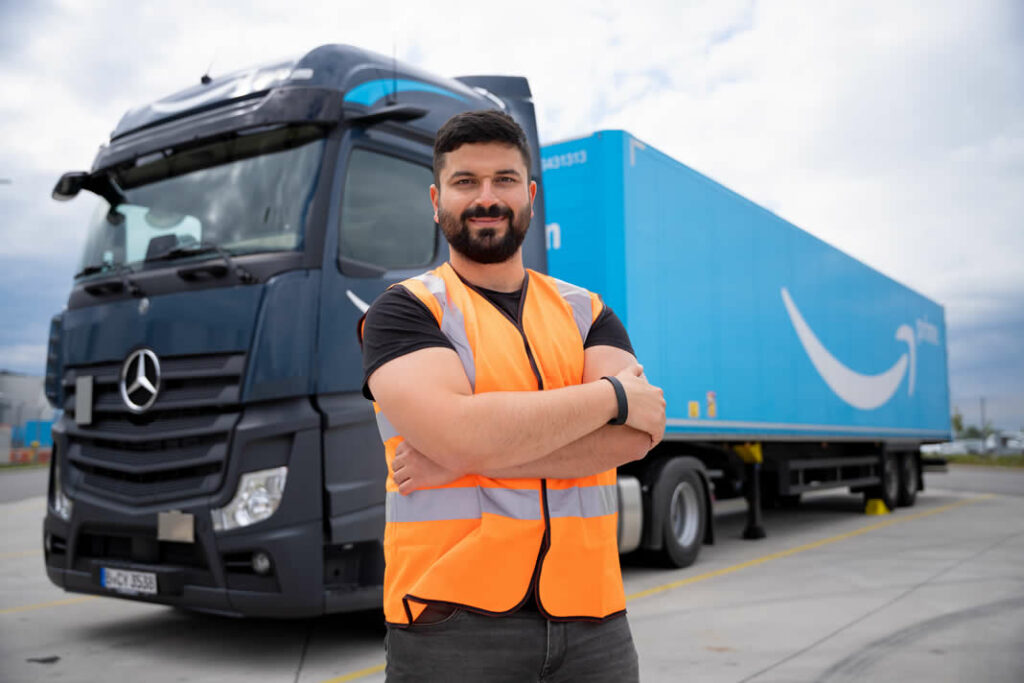 Why become an Amazon Freight Partner
Competitive startup costs
Start your business with costs as low as £26K* and no upfront deposits on our Amazon-branded trucks
*Estimate based on 5 Amazon-branded trucks to get started, excluding liquid asset requirements to secure an operating license. Actual costs can vary.
Grow your business alongside Amazon, receiving consistent work and £1.1M-£1.6M** in annual revenue potential
**Figures are projections for owners operating 10-15 Amazon-branded trucks. Actual figures can vary depending on operations.
Jumpstart your business with hands-on training and ongoing Amazon Business Coach support
Hire a local team of drivers and reduce environmental impact with fuel efficient trucks
Having Amazon behind you really puts your mind at ease. The program provides the assurance that you have work 7 days a week. Also, we were able to increase our fleet quickly with Amazon-branded tractors. My advice to any entrepreneur that wants to start off in logistics – this is the program for you.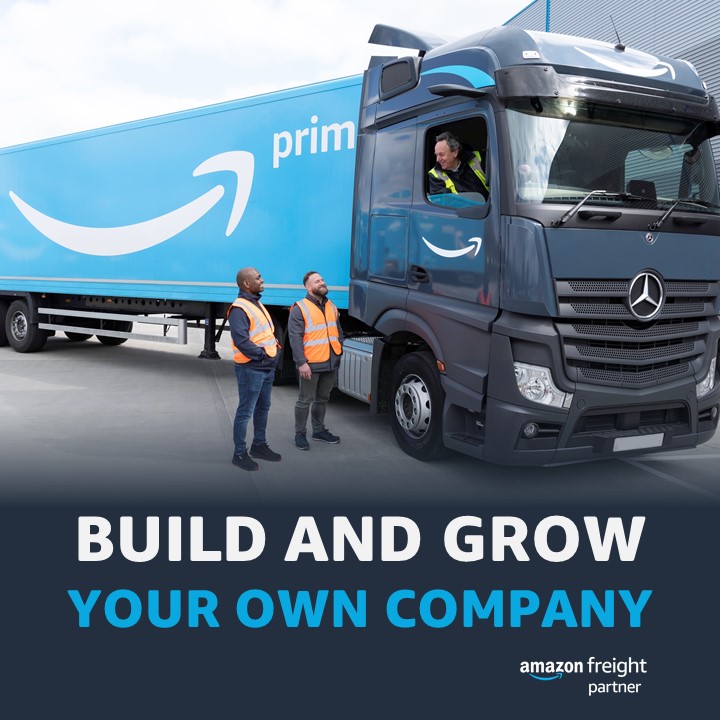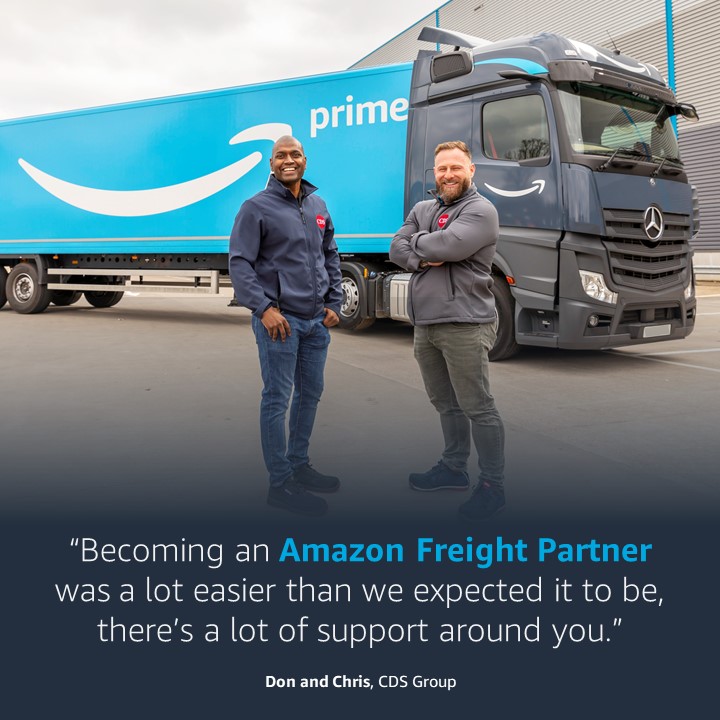 Startup costs as low as* 26K
Annual revenue potential** £1.1M-£1.6M
Annual profit potential** £60K-£200K
Lead, coach, and motivate your team
We are looking for hands-on leaders who are excited at the idea of running their own business, full-time, in a fast-paced environment. You will be hiring and coaching a great team of up to 15-30 local commercial drivers, elevating their work experience through a strong safety-first culture.
Backed by Amazon expertise
Amazon provides unique training to help you succeed, and ongoing 1:1 expert coaching to fuel your growth. We give access to state-of-art Amazon-branded trucks, with no upfront deposits. When you're ready, Amazon will start assigning you a stable workload with the opportunity to grow with available demand.
Becoming an Amazon Freight Partner was a lot easier than we expected it to be – there's a lot of support around you. What do I love the most about running my business? It gives me flexibility. Working with someone who has the same belief as you, and believes in you – that's massive. I feel so proud.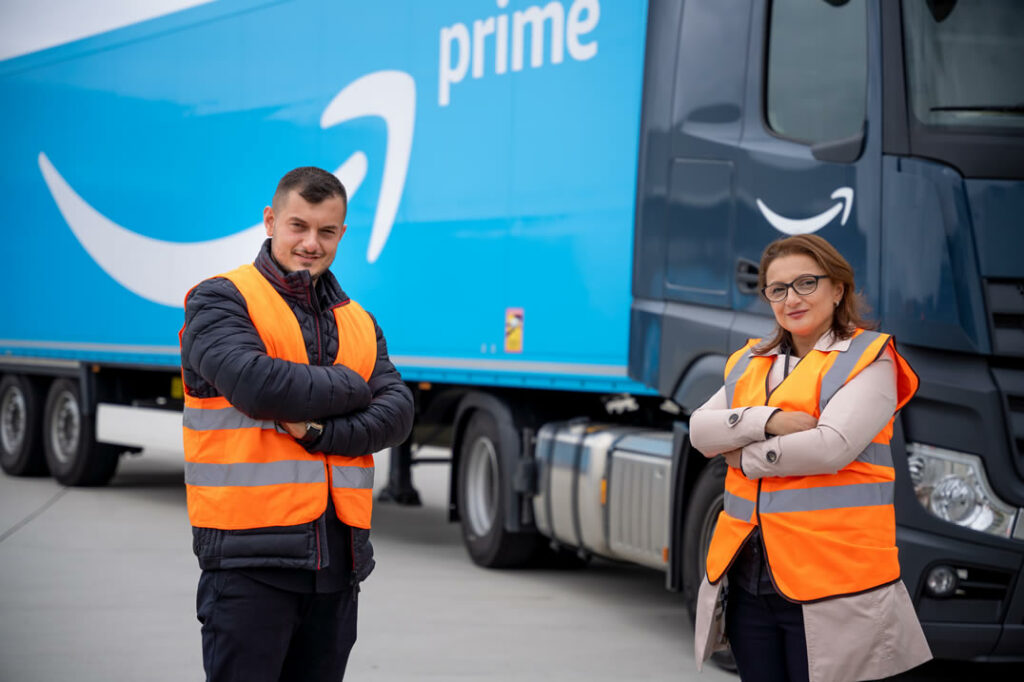 Amazon Freight Partner Accelerator
To prepare for launch, you'll participate in an Amazon-exclusive training program to learn how to establish and optimize your business. You'll be operating your first truck as an AFP within 4 – 11 weeks of starting this program (subject to your experience, O-license approval and other conditions).
Accelerator phase – What you'll do
Introduction to trucking:
Our community of Amazon Freight Partners operate in regions throughout the United Kingdom. Please request information if you are interested in operating a business as an Amazon Freight Partner located near the following locations, and we will notify you to apply when available in your area. If you are seeking opportunities outside the United Kingdom, please visit our FAQs for more information.
I feel so proud seeing my husband start a small business. We have grown so quickly since joining the Amazon Freight Partner programme, and we've had no issues. To run Compressed Natural Gas vehicles within our fleet is a great opportunity to lower carbon emissions. We want to invest in our children's future.