Why Advertise with Franchise UK?
0
Leads
Generated in last 12 months
£
0
Advertise from less than £4 per day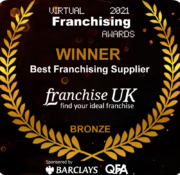 What Client's Say
Thank you to the Franchise UK team for the seamless setup of our listing. The number of applicant responses has certainly exceeded our expectations, and they began the moment our listing went live. The reporting tools are helpful too and give us a clear view of who is applying.
Just a shoutout to Joel Bissitt VFP of Franhcise UK for the amazing service and results we've had since Family Law Assistance started offering a franchise a year ago! We're gaining more team members across the country and we'll continue to grow our time for the forseeable future. Would highly recommend!
We already had a fantastic franchise business model tried and tested and working well for for our business partners, we just needed to send more of the right people in our direction.  We took the decision to put our faith in Franchise UK's leads generation platform, we are delighted to have made this decision, the promises are genuine!
We work with a number of lead generators and have found our time, effort and money is spent wisely with Franchise-UK. Joel and his team not only deliver an all-round service to suit you and your budget, but also work hard to generate a good flow of leads, some of which are exceptional. We're working closely with another of their high quality lead enquiries right now who has reserved his territory and is completing his due diligence. We highly recommend Franchise-UK
Franchise UK Special Offers
Upgrade 3
Premium Upgrade Pack + Global Reach (12mo offers only)
Our ultimate upgrade package. This massive upgrade includes;
Premium social media marketing to our 26,000+ followers

3 x solus eShots to 36,000 franchise seekers

3 x SMS sends to 10,000 franchise seekers

12 months Platinum advertising on global franchise directory franchiseek.com. Multi lingual exposure in over 60 countries globally! Find out more
Special Offer Just £2,500 + VAT
(Rate card £7,500 + VAT, incredible value for money!)
Established 2004, 17 years driving quality franchise leads
High level exposure on search engines
Strong social media presence
State of the art lead tracking platform, monitor leads 24/7
Strategic partnerships to enhance lead quality & lead flow
Terms – Although daily equivalent rates are shown all offers & upgrades are on a pre payment basis. Upgrades must be booked at the time of booking to qualify for special offer rates.
Offers end 1st September 2021. By submitting your booking above you constitute commitment to booking and bookings are non-refundable. Approximate lead time to go live is 2-3 working days after payment received.
*indicates a rolling subscription billed until cancelled