Raja Suriyar and Hicham Al Maghouch commenced trading on the 26 March after completing their initial 6-week training course.
They were joined on the course by a third franchisee who will commence trading shortly and a further two new franchisees who will be completing on purchasing existing TaxAssist practices in the near future.
Raja and Hicham will hit the ground running as they will benefit from the publicity generated by the TaxAssist Accountants National TV advertising campaign launched on the 24th March, alongside other marketing campaigns.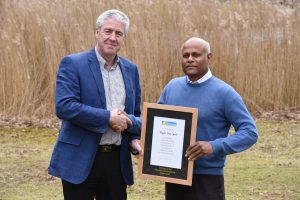 Experienced accountant Raja will initially be operating from a serviced office in Wimbledon and subsequently open a shop in Colliers Wood near Wimbledon. He said: "I have over 20 years' accountancy experience and am now looking forward to building my own practice alongside my wife who is also a qualified accountant. It has been a long-held wish of mine to operate my own practice, and with the additional support provided by TaxAssist, I can confidently open my practice knowing I will be offering the very best service to my clients."
Hicham will be opening a shop in Lewisham. He said: "The TaxAssist six-week initial training course has been excellent and has prepared me extremely well for launching my practice. I am looking forward to getting out there to meet and help the small business owners in my area with their tax and accounting needs."
There are many changes afoot in the accountancy industry, particularly for small business clients, most notably with Making Tax Digital and cloud technology. These changes will bring opportunities for TaxAssist's two newest franchisees who, along with the entire network, are trained and ready to offer support and advice on the way ahead."
TaxAssist Accountants will be delivering its next six-week training course in June. If you would like more information about becoming part of the TaxAssist Accountants network, please enquire below.