Two Edinburgh businesses are celebrating big successes after seeing substantial growth this year.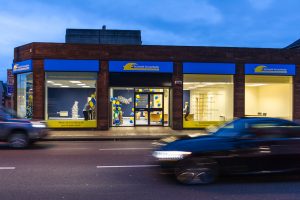 Business owners, Renee Mackay, who runs TaxAssist Accountants in Corstorphine and Alan Johnston who runs TaxAssist Accountants in Goldenacre are together celebrating reaching well over 1,000 small business clients across the city.
Their two shops, which work closely together providing tax and accountancy advice and services purely to small businesses, have each seen significant growth. Seven years since it was launched, TaxAssist Accountants in Corstorphine has secured its 1,000th client and just nine months since opening, TaxAssist Accountants Goldenacre has clocked up its 100th client.
Over the last seven years, Renee and Alan have been providing tax and accountancy expertise specifically for the small business community within Edinburgh, and more recently have been working with individuals and businesses to prepare them for digital tax accounting.
Commenting on the successes, Renee said:
"We're thrilled to be celebrating so many achievements and it's testament to the hard work and commitment of our respective teams. The small business community has been through some tough times, but it's great to see how they rally round and support one another. We'd like to thank them for their support; word-of-mouth recommendations have really helped us see client numbers grow year-on-year."
Alan added: "We've developed a reputation locally for our jargon-free advice and the support we give small businesses and start-ups to achieve their goals. With Cloud accounting now our specialty and 'Making Tax Digital' changes on the horizon, we're already seeing an increased demand from small businesses starting to prepare for the new tax regime and bringing everything online."
If Renee and Alan's success has inspired you about the Tax Assist Accountancy & Financial Franchise Opportunity, please give our friendly team a call on 0800 0188297 for a confidential chat to find out more about joining our network.
Read more franchising news at Franchise UK directory.