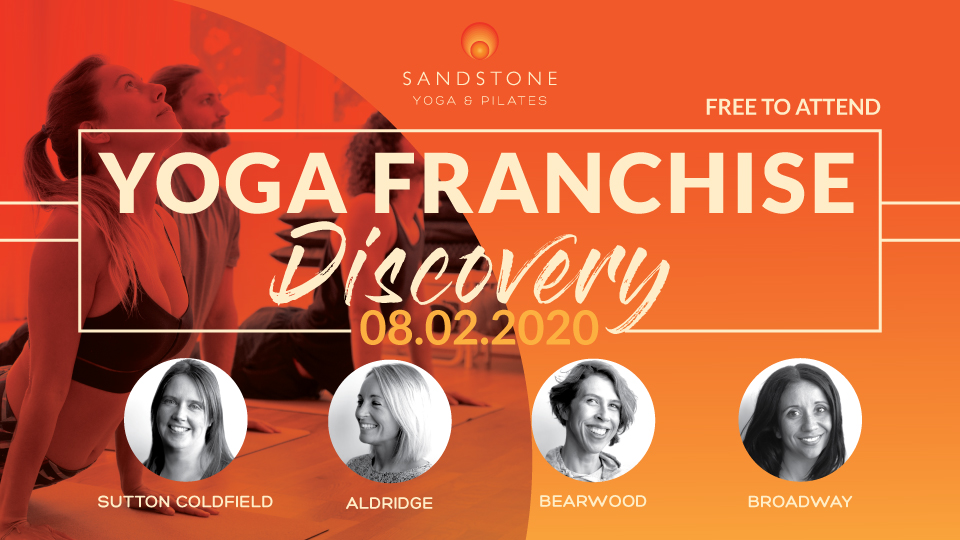 Sandstone Yoga & Pilates – FREE Franchise Discovery event
Come and discover our franchise! Looking for a career change? Exploring self employment? Build a scaleable resilient business within the leisure industry with Sandstone Yoga & Pilates. Speak with our studio owners, teachers and Founder Michelle Nicklin SYT. Find out if you're right to run a yoga studio and get all your questions answered by the people that have already done it!
Often when people enquire about Sandstone Yoga, they're not entirely sure what we do or how our organisation is structured, but you love the concept!
Sandstone Yoga is a franchise business which means that you're not just purchasing a yoga teacher training course, but a complete Sandstone Yoga & Pilates business with your own exclusive teaching territory; marketing, yoga and business set up assistance; systems and equipment. Everything you need to make your business thrive.
With this structure comes an ongoing commitment between Sandstone and you, the franchisee, both financial and in terms of support and communication. If you're not sure if this is what you're looking for right now, why not come along to find out more on:
Saturday 8th February
Bearwood studio, 596 Bearwood Rd
Birmingham, Smethwick B66 4BW
11am – 1.30pm
We will start with a short yoga practice to get you feeling yoga-fabulous, then take to the floor to ask questions to our Founder, Michelle Nicklin SYT who will guide you through the process of becoming a Sandstone Yoga studio owner.
We're looking for people who want to run a successful business.
You can be from a yoga background, but you don't have to be. With our model you receive a spot on our yoga teacher training 200 hours course so you are able to understand yoga, and perhaps teach some of your own classes.
Maybe you just like running successful businesses and want to expand your porfolio?
Yoga teachers looking for the next step in their career and running a successful studio are also perfect for our franchise.
Maybe you already run a yoga business but don't have your own premises? Talk to us on how to make that a reality.
You run a yoga studio and would like to convert it into a Sandstone Yoga studio? That's also a great option.
With over 30 years industry experience, a head office team that fully support in the areas of marketing and finance, and a network of teachers, studio owners and business mentoring, our opportunity is worth discovering.
Our 4 existing studios are Aldridge, Bearwood, Broadway and Sutton Coldfield. We're excited about new territories across the country to share the Sandstone Yoga & Pilates journey, so if you feel that you could succeed in running a Sandstone studio where you live, then contact us today!
Head Office: 01922 277684