CAFÉLAVISTA Expands UK Operations with Launch of Vista Rental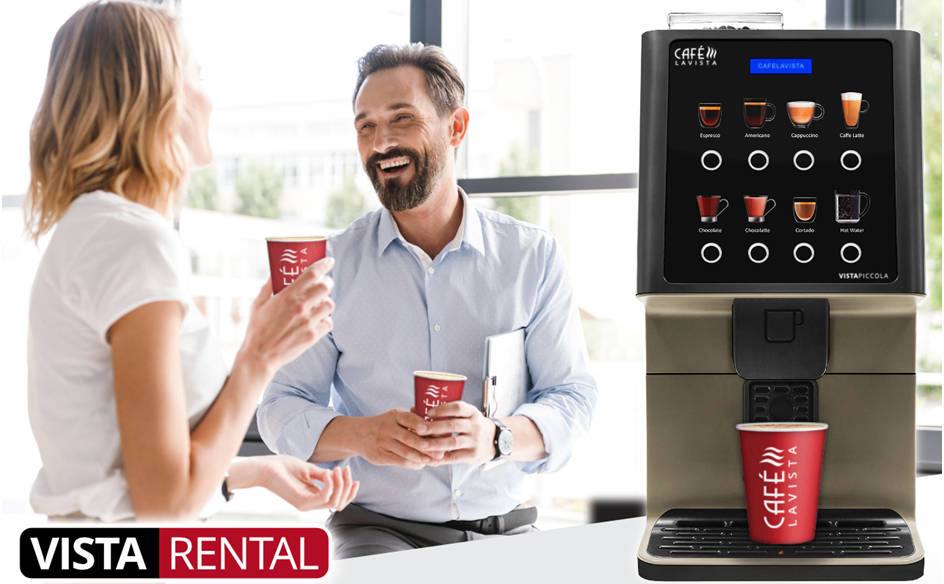 CAFÉLAVISTA has recently launched a new rental division to manage the huge demand from customers for their commercial coffee machines. Vista Rental will now manage all rental installations, servicing and customer training for the group.
This expansion has been driven by unprecedented demand for rental machines due our unique easy in – easy out proposition. It allows businesses owners to have professional 'Bean to Cup' coffee machines installed without the overhead and commitment associated without taking out long-term personal loans or business leases to finance the machine.
The rental market is booming and a CAFÉLAVISTA coffee machine is perfect for use in all retail outlets, offices, hotels, guesthouses, busy café's & restaurants, gymnasiums and health clubs or anywhere that people love great coffee!
This amazing rental offer makes it accessible to all business – large or small.
No Long-Term Finance Agreements
3 Years Servicing, Parts and Labour Included
Delicious Tasting Branded Coffees
FREE Installation and Training
Plumbed or Unplumed versions
97% Guaranteed Acceptance
Low Prices from just £3.29* / Day
With unprecedented demand for rental machines, this is now a fantastic opportunity for individuals and businesses to invest in their own coffee machines and profit from this rapidly growing marketplace.
Our Coffee Investment Franchise provides investors, people just like you, with 12% – 16% annual returns that is paid to you monthly PLUS we give you a significant share of all the ingredients used.
For further information on the CAFÉLAVISTA Coffee Investment Franchise, Click Here
* Vista Piccola Bean 2 Cup Coffee Machine is £99 per month excluding VAT. Cost based on average 30 days per month. Excludes branded coffee pod stand.