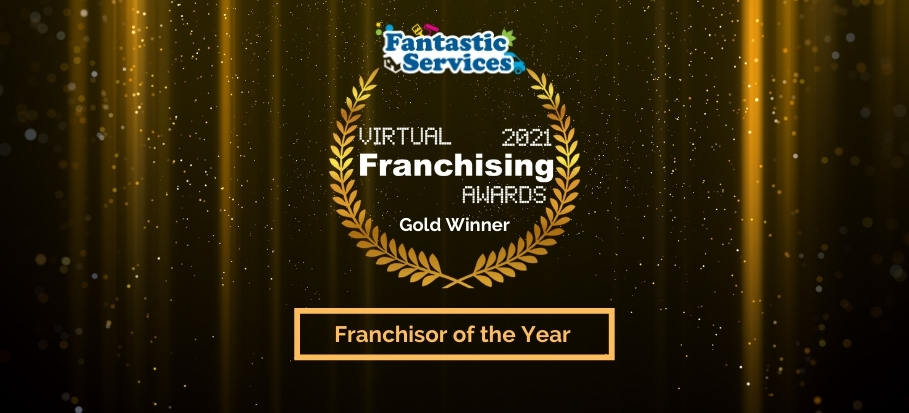 Fantastic Services grabbed the Gold in 'Franchisor of the Year' & 'Franchisee of the Year' categories at 2021 Virtual Franchise Awards
The property-services company Fantastic Services, was announced a Gold Winner in the Franchisor of the Year & Franchisee of the Year categories at this year's Virtual Franchise Awards, organised by the Quality Franchise Association (QFA).
For yet another year, the multi-service franchise company proved that both sides of the business are thriving and this didn't go unnoticed by the QFA, aiming to recognise success within the franchise industry.
While successfully navigating through the economic crisis that COVID-19 has brought, Fantastic Services has drastically expanded their global network of franchise partners with tens of new Area Development franchisees who took exclusive rights for different territories in the UK. Being true ambassadors of the franchising sector, they've demonstrated outstanding growth, support for their franchisees and disruptive innovation.
Focusing on industry development, Fantastic Services continuously supports its existing franchisees by implementing new strategies and creative marketing campaigns. As a result, their franchise partners have successfully retained their customers since the COVID-19 outbreak and kept their business not only running but growing and expanding.
A true representation of this growth in the middle of the crisis is Ivanka Obreshkova – Fantastic Services' Area Developer who took first place in the Franchisee of the Year category.
"From а managing franchisee to an independent business entrepreneur, Ivanka Obreshkova is a true inspiration to the business world. She started as a cleaner at Fantastic Services and a few years later, she became the most successful franchisee of the company with 30 teams operating under her management. Strongly devoted to her work, always seeking innovation and both personal and professional growth, Ivanka believes that franchising means a mutually-beneficial relationship," proudly shares Fantastic Services' team.
"We are truly inspired by each nominated company in this year's awards. We believe that there are some remarkably powerful minds in the franchise industry and we are thrilled to share insights and experience with such innovative brands and the people behind them,"  says Anton Skarlatov, co-founder and CEO of Fantastic Services.