Cleaning Franchises UK – The must knows about finding & running a successful cleaning franchise in the UK. 
How much demand is there for cleaning franchises in the UK?
Cleaning franchises are in great demand in the UK. The industry saw a turnover of £24 Billion last year alone, a turnover greater than many other franchises. 
Cleaning franchises have been on an upwards trajectory for years now. This was the first industry that recovered from the global recession in 2008 and since 2010 growth in this industry is 21% per year. To put that into context the rest of the economy is only 17%. So from this we can see that the opportunity offered to you from this franchise is massive.
What is a cleaning franchise?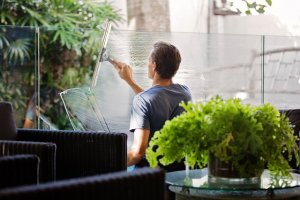 Now that you have seen the amount of potential that a cleaning franchise has lets find out more. A cleaning franchise is a service run by the franchisees for the franchisor. Traditionally the franchisor supplies the required equipment & training in order for the business to run smoothly. There are 3 major categories of cleaning franchises. 
Firstly commercial & industrial cleaning franchises and as the owner of this type of franchise your job responsibilities would mainly to acquire clients, hiring staff and growing the business and this is because for this category your clientele would be on a larger scale for example as opposed to working with individual homeowners the target market would be hospitals, schools and warehouse etc. .
The next category is residential & domestic cleaning franchise. This means what the name suggests, offering services to individual homeowners, landlords for example. It's not uncommon for the franchise to hire a small team of people for the first 2-3 years. As a result of this it does make it possible to run this particular type of franchise from home. 
The third category is customised or specialised & this is when the business will combine between the 2 other categories. These offer services to large businesses such as office spaces. They can also offer services to on much smaller scales, such as dormitories.
Cleaning franchises – How much is the initial investment? 
Of course, there are many factors that are going to affect how much the initial investment would be. These include the required equipment and training. The type of cleaning franchise that you are buying (industrial, domestic or specialised) & the value of the area that you would be working. 
These are the main factors that can effect the initial investment significantly. However they are also factors that are going to mean that you make more profit. Because if your area is more in demand then this is going to result in getting more work which then will result in more profit. 
For a small sized cleaning franchise we are looking in the region of £10,000 for the initial investment. As opposed to a medium sized cleaning franchise will cost about £20,000. However there may be other fees called 'operational costs'. These could include fees such as rent, staff salaries and insurance etc. 
It would be recommended to have at least £30,000 to cover all of the costs. However it isn't required to have as much as this to make a success of your cleaning franchise.