IT pro selects ComputerXplorers as career-change catalyst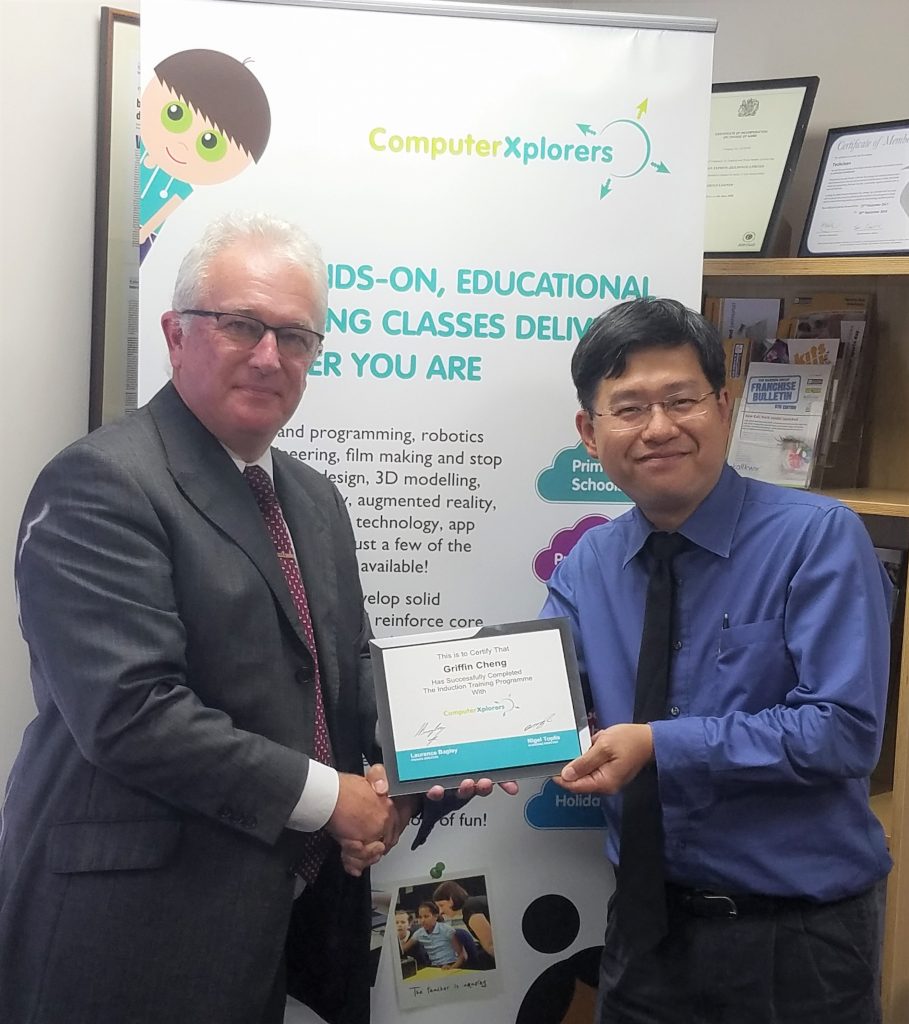 Systems Analyst Griffin Cheng has relocated from Hong Kong to Manchester to set up a new ComputerXplorers franchise and turn his passion for technology education into a business.
With a Computer Science Degree and a Masters in Information Management, Griffin has spent more than 20 years developing complex IT systems. However, after becoming a father, he realised the importance of inspiring the younger generation to take a hands-on approach to technology. He decided to use his own skills and experience to help children embrace IT from a young age, so they can use it to unlock opportunities throughout their education and in future careers.
Griffin chose to move to the UK with his family after learning that the education system' focus on computer skills is world-class. Unsure whether to set up his own business or work with an existing one, he began looking at the different offerings already on the market. Over the course of a year he investigated several different franchise and business opportunities, eventually settling on ComputerXplorers. His choice was influenced by the brand's well-established, proven curriculum that is strategically designed to complement the national curriculum of English schools.
"ComputerXplorers is about more than coding and programming, its lessons also focus on aspects of technology that support wider areas of learning," Griffin explains. "We explore 3D modelling, which can improve spatial awareness and scientific thinking, as well as robotics, and creative topics such as animation. The depth and breadth of the offering, combined with a strong focus on fun, makes it a winner with schools, parents and children alike.
There are currently 12 ComputerXplorers franchises in the UK, and the brand is owned by franchising specialist Bardon Group. Griffin says this network of support is proving invaluable as he finds his feet, especially as he's also getting accustomed to life in a different country.
"Going down the franchise route was definitely the right decision, and ComputerXplorers offers so many benefits that I don't think I'd have found elsewhere," says Griffin. "I feel fully supported, but I also have the freedom to run the business as I choose. It's the best of both worlds"
Bardon Group MD Nigel Toplis says Griffin's deep-rooted interest in technology education has helped him get off to a strong start.
"Griffin came to us with lots of passion and technical expertise, and we've helped him focus that with a proven business model," Nigel explains. "It's a winning combination and I have every confidence that ComputerXplorers Manchester will be a resounding success."
ComputerXplorers is an education franchise and provides specialist computing lessons and clubs in primary schools, nurseries and other settings such as holiday clubs. They are run by fully trained, DBS-checked teachers that are enthused by technology and love passing this on to the children they work with.